October is such a glorious time of year. It's never occurred to me how much I love this month until recently. Fall is in full swing, and the year is winding down in a finale of holidays. So much goodness!
For a look at some of my latest discoveries from this past month, check out my favorites below.
October Favorites
Reversible Holiday Decor – I'm all about holidays, changing seasons, and making our home reflect the time of year—but I hate storing all the stuff. This year, I've been on a mission to DIY some multi-season signs and banners so they do double duty. I'm in the process of crafting a few others right now, but this candy corn-give thanks banner is almost complete. It can stay up all October and November, so I consider that a win!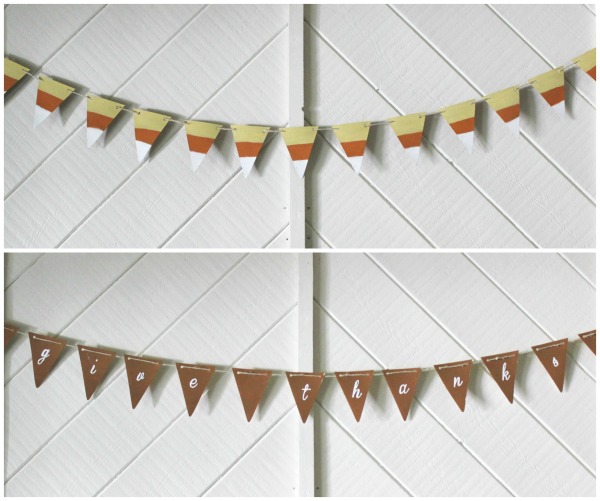 Suit and Jacket by Judah & the Lion – Looove Judah & the Lion ever since they opened for the Incubus concert we went to over the summer. This song, in particular, makes me really happy—I can't get enough of it!
Dried Pineapple – Fruit may be nature's candy, but dried pineapple is on the next. level. I've raved about it before, but after a recent batch of fruits we dehydrated, I was reminded of how sweet the flavor of dried pineapple is and how satisfyingly chewy it is as well—it deserves its own spot on a monthly favorites post.
Repurposing Glass Candle Jars – So…I have this love for glass jars. It's becoming a problem because I don't know what to do with them all anymore. Some I buy, others I repurpose from empty candle jars. Once I've burned through all the wax of a candle, I place the jar in a saucepan, heat it until the remaining wax is melted, and carefully wipe out it out with paper towels. Then I use a scratcher pad and dish soap to wash the remaining residue so it's clean! It's surprisingly simple and the jars can be used in so many different ways.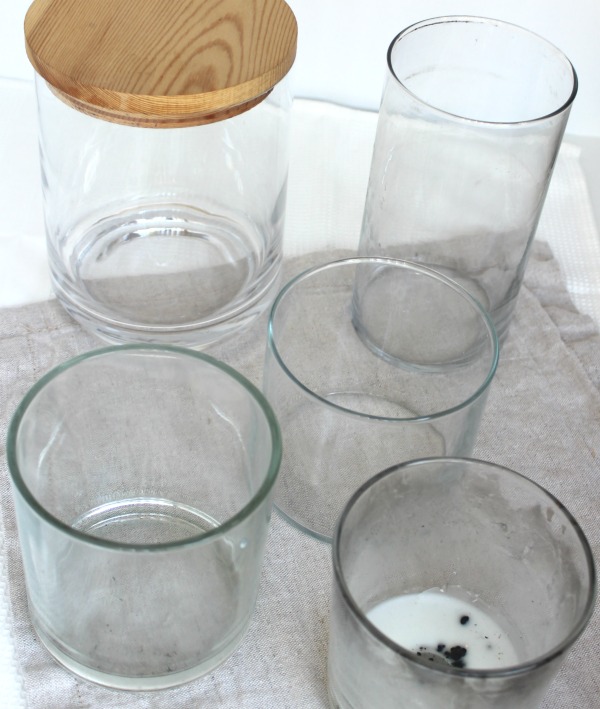 Fewer Yet More Intense Workouts – In the past, I've talked about having a weekly workout schedule that involved six days of workouts. This has always worked for me because the more I workout, the better I am at sticking to my schedule. Throughout my time going to classes at Ashley Lane Fitness, though, I've been really appreciating quality versus quantity. I'm starting to prefer working out less often but making those workouts hard. For me, that means longer workouts, since my usual routines are about 25 minutes on average. This is something new, so we'll see how it goes over the coming months, but for now I'm really appreciating a workout schedule that allows weeknights to be completely free for me to tackle other tasks on my to-do list.
Scarves with Pockets – Yes, this actually exists. My sister, queen of getting me things I didn't know I needed, found this glorious invention and gifted it to me for my birthday over the summer. Since it hasn't exactly been scarf weather for awhile, I haven't worn it until recently. (Let's be real, it still isn't scarf weather here in San Diego, but I don't care anymore.) It is everything and more. Do I normally need pockets in my scarf? No, but that doesn't mean I don't want one there just because. I feel like it would be perfect to hold my credit card and ID when I go somewhere and don't want to haul a purse around—or, you know, to hoard snacks because that's the type of person I am.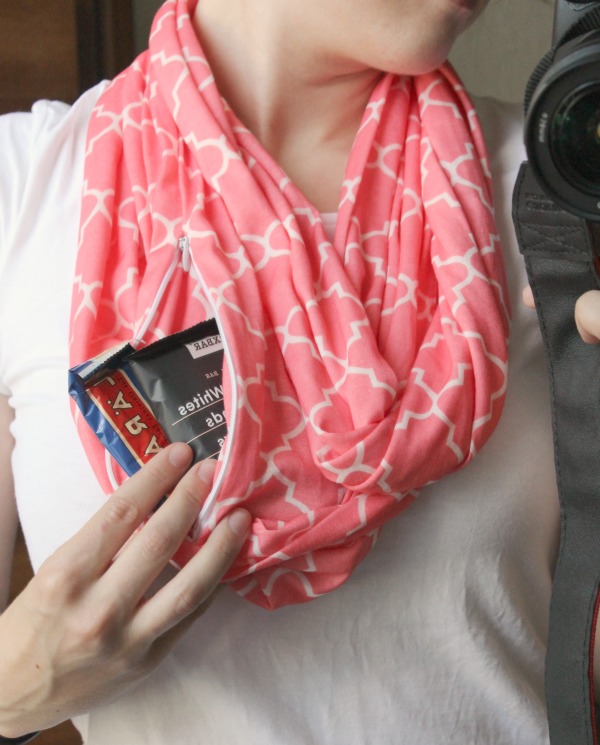 Concrete and Gold by Foo Fighters – The Foo Fighters can do no wrong in my eyes. I've only loved them more since we went to the Foo Fighters concert a few years ago. They released a new album, Concrete and Gold, last month, and I love everything about it. If they go on tour and come to San Diego, I will most definitely be attending. The song below is one of my favorites from the album: Make It Right.
Soup Season – SOON! In my head, it's soup season…because it's almost November and it's supposed to be cooler out. But San Diego's all "nah," and we've been having a couple 100-degree days here lately. (Gahh!) Despite this, I made soup a few days ago because…if I want soup, I'm going to make soup. Now, if the weather could get its act together, that would be greaaaat. I might wait a little longer, but pretty soon I'll be busting out some more of my favorites, like this Roasted and Spiced Acorn Squash Soup that I shared last winter.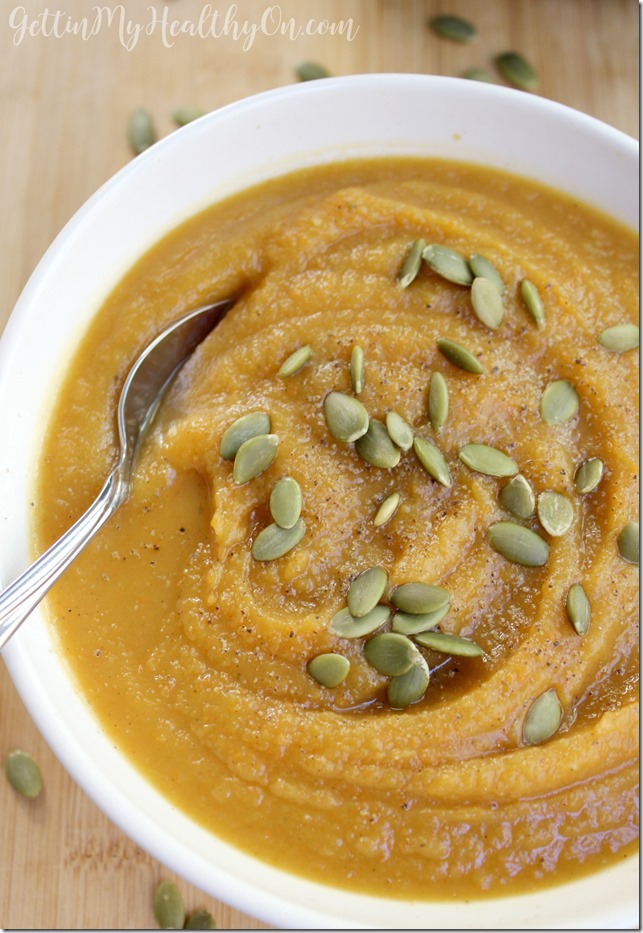 Oversized Bowls for Salads – Living a life of excess can be fun sometimes—you know, like using an excessively large mixing bowl to hold a normal-sized salad. I don't know why I haven't been doing this until just recently. You can aggressively toss/mix your salad without worrying about causing a situation all over the table. Try it. It's great.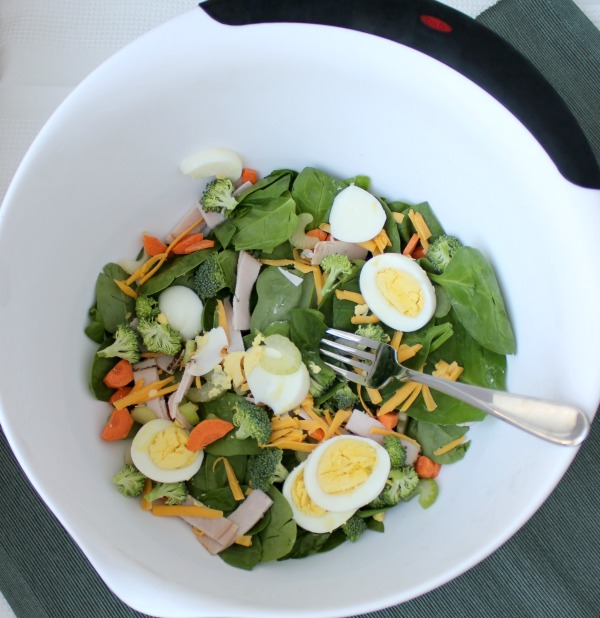 Cut-Out Sleeves – This is one of those styles that I wasn't sure about for awhile, and then suddenly found myself on the bandwagon. Even somewhat plain cut-out-sleeved shirts look cute. Yay for easy, albeit wrinkly, fashion!