For a sweet and decadent dessert, try this single-serve cheesecake recipe that's lightened up with Greek yogurt and topped with fresh blueberries.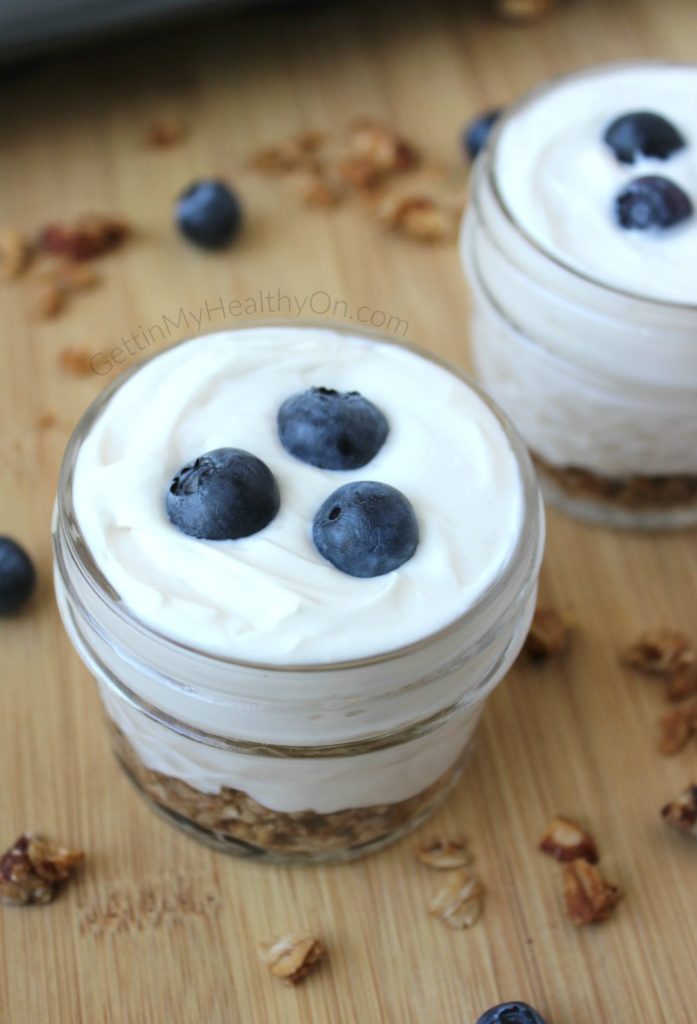 Cheesecake is one of my biggest weaknesses when it comes to dessert. The creamy texture…the rich flavor—it's pure heaven. If I'm ever given a dessert menu, you can pretty much expect me to land on the cheesecake option. There's really no choice in the matter.
Coincidentally, I'm also obsessed with cream cheese (there's a reason I don't keep much of my Pumpkin Cream Cheese Dip leftovers at home). When I discovered that to make cheesecake, you basically just need cream cheese + a few other random things, my eyes had been opened.
Although I don't think I've ever made a full cheesecake at home, I have made a single-serving version, which also just happens to be lightened up because that's how I roll.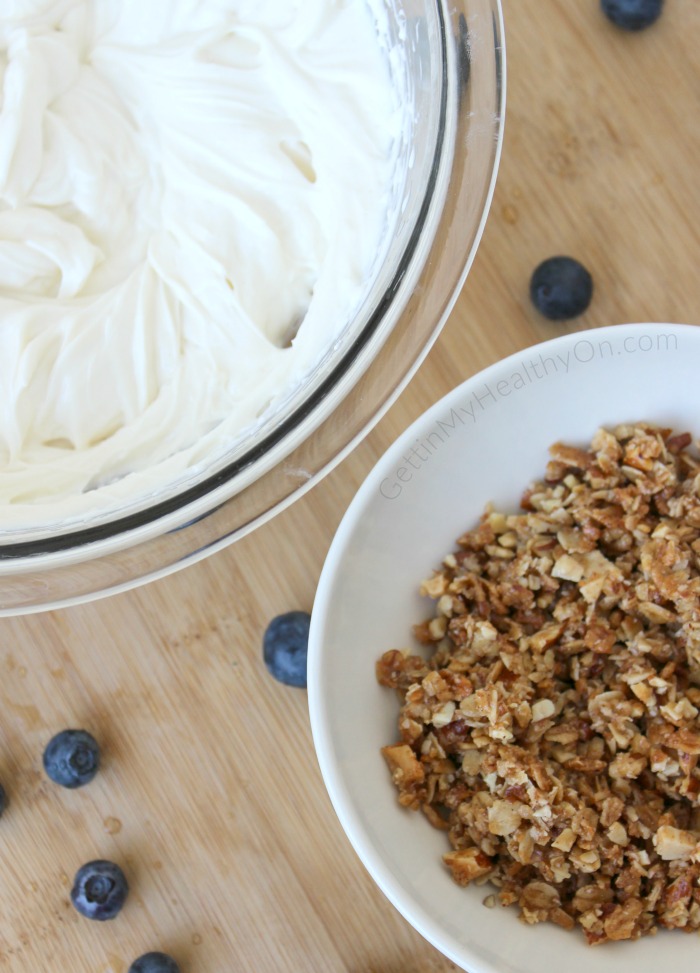 I made these no-bake blueberry cheesecakes last weekend as a post-Valentine's Day treat for us. In order to make them a little healthier (as well as to make them go farther), I incorporated Greek yogurt into the mix. Even though there are equal parts yogurt and cream cheese, I was shocked at how delicious and not-healthy-tasting it was.
Since we never have graham crackers on hand, which is a popular ingredient for making a cheesecake crust, I decided to utilize something else I had on hand: homemade maple vanilla granola. To make it into a crust, I poured a handful of it into a resealable bag and smashed it until it was much finer. Once I had the perfect amount for a crust, I mixed it with melted coconut oil, which helps it stay together as a crust after refrigerating it.
Once the crust is down and the cheesecake mixture is in, just top it with some fresh blueberries and BAM…mini blueberry cheesecakes. Since they don't require baking, these are pretty fast and fail-proof to make.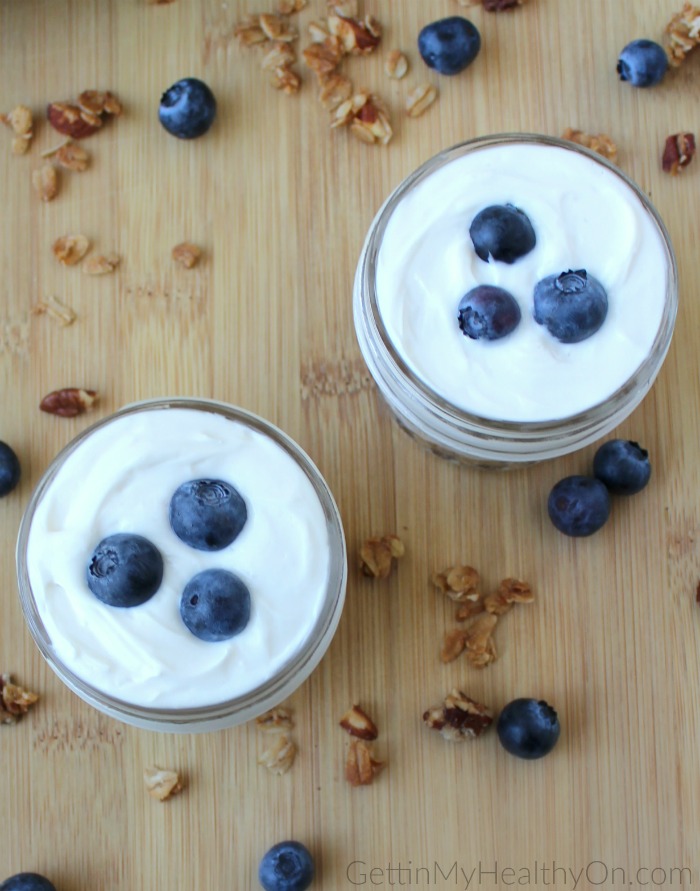 I was so pumped with how these turned out. They worked really well in little 4-ounce mason jars. Just grab a spoon and dig in!
No-Bake Blueberry Cheesecake
Ingredients:
3/4 cup crushed granola
1 Tbs coconut oil, melted
8 oz. cream cheese, softened
1 cup plain Greek yogurt
2 Tbs pure honey
2 tsp vanilla extract
Instructions:
In a small bowl, stir together the granola and coconut oil. Spoon about 2 Tbs. of the mixture into each 4- to 6-oz. jar, and press down with fingers or a spoon to create the crust. Set aside.
In a large bowl, mix cream cheese, yogurt, honey, and vanilla until incorporated. Spoon the cream cheese mixture into each jar on top of the crust.
Refrigerate for 1-2 hours to allow it to set up.
Recipe from GettinMyHealthyOn.com
Are you a cheesecake person? Or do you prefer other types of desserts?