Roasted acorn squash acts as the thick and creamy base for this soup, while the spice combination adds a warmth to the overall flavor of the vibrant dish.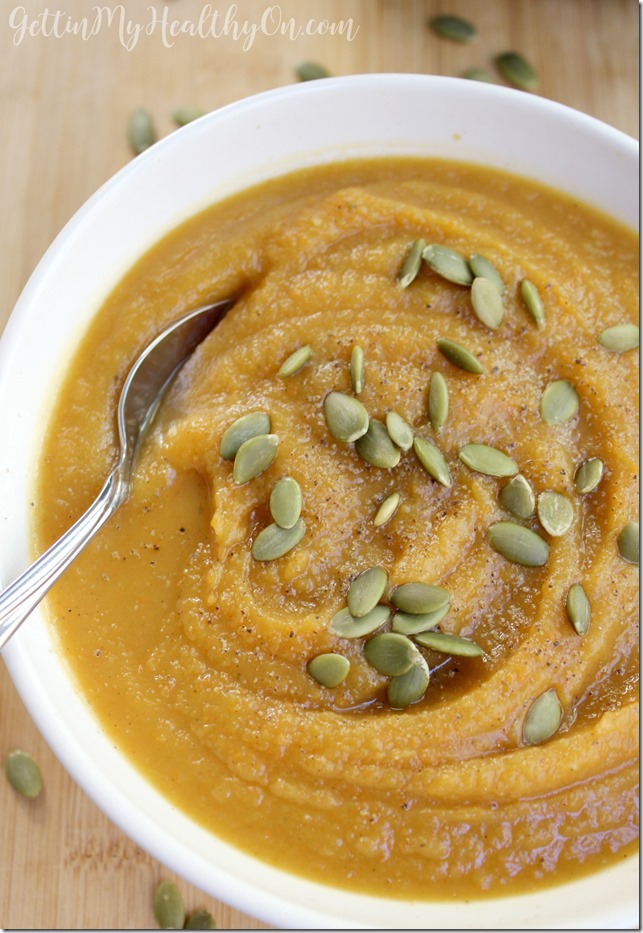 I'm not usually a big squash lover, but when walking through the produce aisle recently, I spotted the little green fruit known as the acorn squash. Seeing as how it's winter, I've been wanting to try new soup recipes, so I figured what better time than now to try making a soup out of roasted acorn squash.
Some things I didn't know before about the acorn squash:
Especially nutrient-dense compared to other squash varieties.
Can be dark green, orange, yellow, or tan.
In season during the winter.
Can boost the immune system along with a number of other health benefits.
So, apparently they're a magical little superfood, and I had absolutely no idea until now.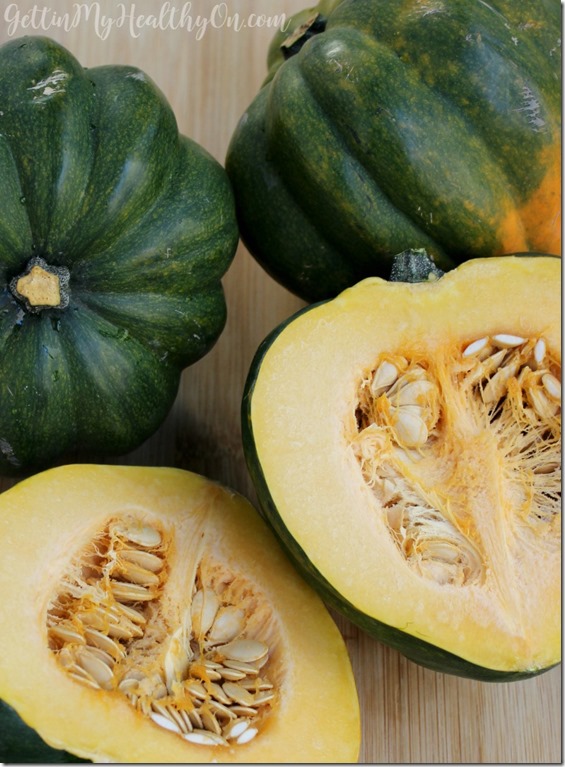 I really went out on a limb buying these three acorn squashes, because I had no idea if I even liked them. But! I was determined to roast them and make a creamy soup out of them. To roast them, I first cut them in half through the stem (during which time I successfully didn't slice my hand off, so that's cool). Then I lightly salted and peppered them and laid them cut side down onto a baking sheet lined with aluminum foil and sprayed with non-stick cooking spray. I proceeded to bake them for 45 minutes at 400 degrees, at which point I could easily pierce the skin with a fork.
My squash were coming along quite nicely. I let them cool face side up because yours truly is impatient and wanted some soup STAT.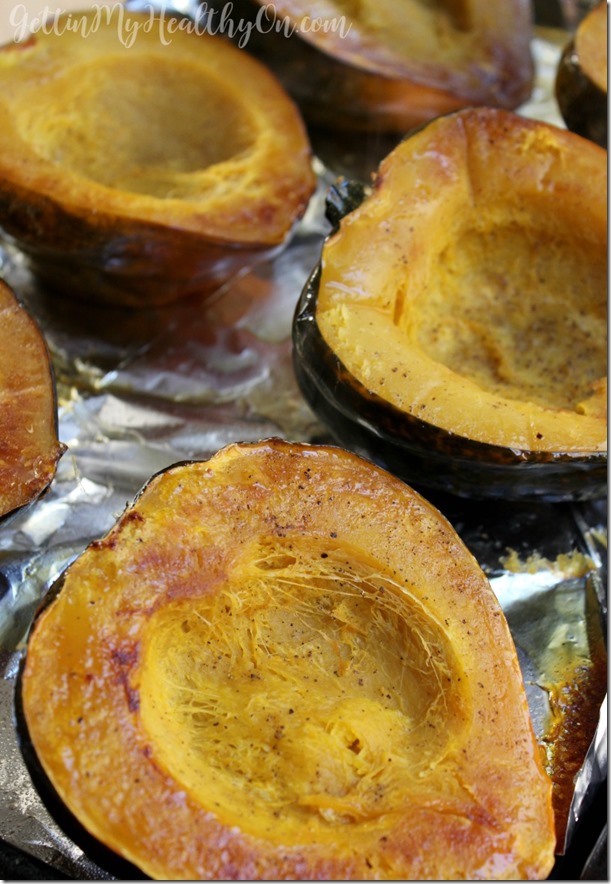 I then scraped out all the fruit/flesh from the skin and set it aside while I went forward with making the rest of the soup. Although this took awhile because of the roasting, it all wasn't too overly labor-intensive. Oh, and spoiler alert, it was definitely worth it.
In addition to roasting the squash, I really wanted a spiced flavor to the soup because it just felt right at the time. So I referenced a bunch of different acorn squash soup recipes to find my winning combo: cumin, cinnamon, ginger, sage, and allspice (and of course S&P). I was a little concerned about the cumin and sage mixing with the cinnamon and allspice, but they all worked together to create this interesting depth to the soup…as well as that warmth of spices I was going for.
I highly recommend picking up some acorn squash at your next visit to the store! My first attempt at using the winter fruit was a happy decision, especially with some crunchy, green pepitas on top. Yum!!
Roasted Acorn Squash Soup
Ingredients:
3 acorn squashes, halved (through stem) and seeded
1 tsp sea salt
1 tsp ground black pepper
2 Tbs olive oil
2 carrots, chopped
1 apple, peeled and chopped
1/2 yellow onion, chopped
4 garlic cloves, chopped
1 tsp cumin
1/2 tsp cinnamon
1/2 tsp dried ginger
1/4 tsp dried sage
1/8 ground allspice
4 cups chicken broth
Garnish: pepitas
Instructions:
Salt and pepper flesh side of squash and place cut side down on baking sheet. Bake at 400 degrees for 45-50 minutes, or until flesh can be easily pierced with a fork. Remove from oven and let cool.
Remove squash flesh from its skin, and discard the skin.
In a large pot, heat olive oil over medium heat, and sauté carrots, apple, and onion until tender, about 6-8 minutes.
Add garlic, cumin, ginger, sage, allspice, squash, and broth. Stir together and bring to a boil. Reduce heat and simmer uncovered for 15-20 minutes.
Remove from heat and puree in blender.
Serve in bowls and garnish with pepitas.
Recipe from GettinMyHealthyOn.com
Warning: the more I ate of this, the more I wanted. So…eat at your own risk!
Have you ever tried acorn squash?
What squash varieties have you had before? I've had spaghetti squash, zucchini, and acorn squash—pretty sure that's it.