One of the most powerful things you can do to eat healthy is plan ahead. I spend a couple hours every Sunday preparing for the week to prevent us from eating like crap (most of the time). When I don't do this, the busyness of the week gets the best of me, and I end up turning to foods like cereal for a quick solution (#sorrynotsorry). Basically, I just lose all interest in making nutritious meals and snacks, so I rely on less healthy options. The past week has been a classic case of no meal prep—chips and salsa have been my go-to.
So when I want to stay on track with this healthy eating thing, meal prep is crucial for me. Whether I'm making my Fruit & Nut Bars or just cutting up carrots, getting these little things out of the way so I don't 1. have to do them later or 2. pick a less healthy alternative makes such a huge difference. Keep reading for five tips I've learned during my weekly meal prepping.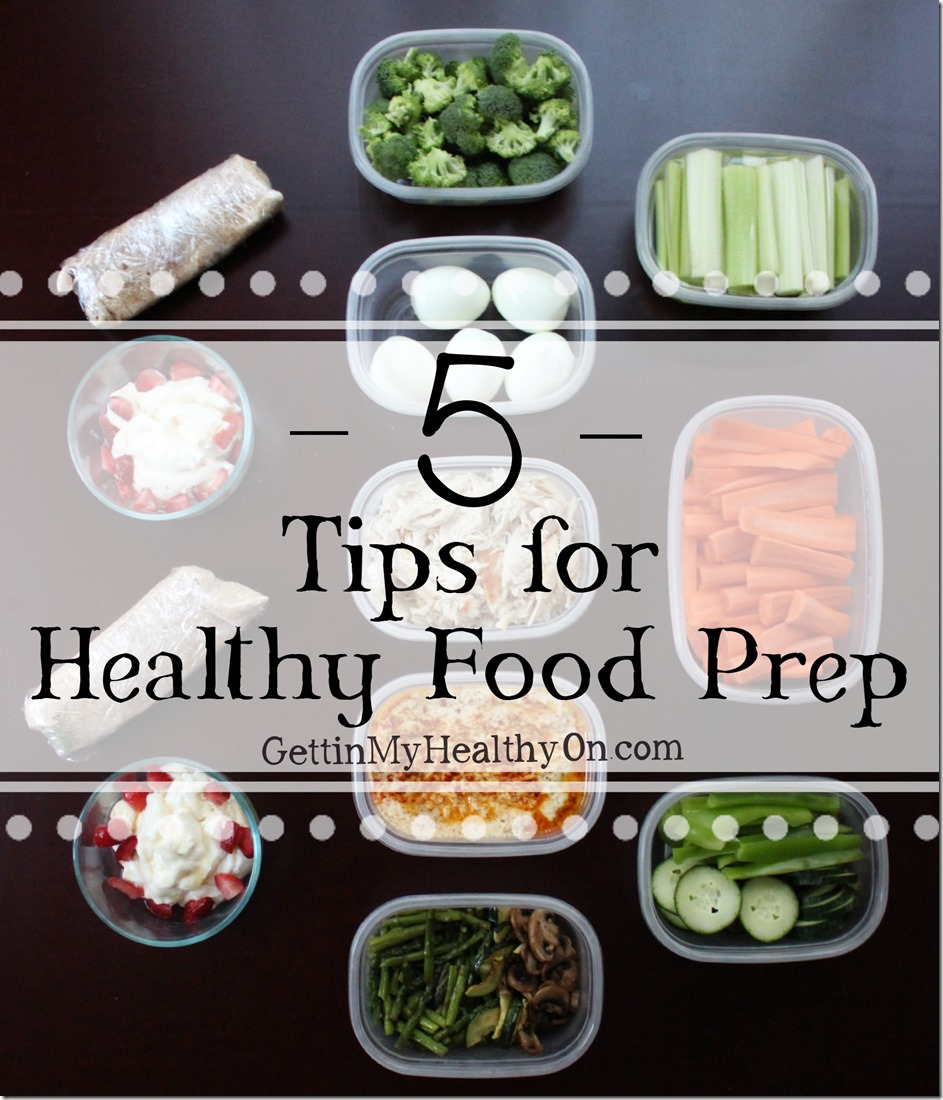 1. Plan what you're going to eat for the week.
I wrote about this a couple years ago, and it's just as important as ever for me. By sitting down and meal planning for the week, which usually just entails what I'm going to cook for dinner every night, I can get what I need from the store up-front and plan my time accordingly based on how my week looks. I recommend incorporating as many easy meals that don't take a long time to cook as possible. Bonus if you figure out a way to re-invent leftovers into something new for minimal prep.
2. Prepare ingredients for planned meals for faster cooking mid-week.
This is something I've been trying to do more lately. I can have my meals planned for the week, but if I still have all the prep work to do when I get home from work, it can be way too time-consuming. Chop the veggies for a stir-fry; pre-cook the chicken for the chicken salad; make the Italian meatballs and put them in the fridge so you can pop them in the oven tomorrow; and so on and so forth. While it depends on the recipe(s) you're making, there are usually some steps you can do ahead of time to save time and effort the day of.
3. Make quick, simple snacks to grab when you're busy.
As mentioned in my wedding fitness plan, snacking is an aspect of healthy eating that I find more difficult. That's why I try to keep different options on hand for effortless snacking between meals throughout the week. I whipped together a batch of my creamy garlic hummus yesterday along with a bunch of different veggies for a super healthy and delicious snack. While my snack prep varies from week to week, I almost always hard boil some eggs because they're such an easy and protein-packed snack.
4. Prepare multi-purpose ingredients.
I get pretty excited when I can prepare one ingredient for several purposes. This usually just entails cutting up veggies (whether it's chopping, julienning, spiralizing, or whatever), but I'll sometimes cook a batch of quinoa or cook and shred some chicken to use in different ways as well.
5. Get a bunch of food storage containers.
The better I get at food prep, the more I realize I need more food containers. Some people prep their entire week of lunches on Sunday, and while that sounds great, I don't have nearly enough tupperware containers for that. So I'm kind of limiting my preparation by not having the capacity to store it. Do as I say, not as I do.
And that sums up my top 5 tips for healthy food prep! When it comes down to it, everyone meal preps differently. This is just how I do it.
Do you spend a lot of time on food prep? Or do you more so live cook in the moment?
Any tips you'd like to add to my list?
This post is part of The Fit Dish link-up hosted by Jill Conyers and Jessica Joy.