I've had a week off to eat all the things without restrictions, and now it's time for the Mediterranean segment of my diet experiment! If you have no idea what the heck I'm talking about, then here's a quick recap: I'm trying different diets for a week at a time to help inspire my cooking and get more creative. I completed the Paleo diet two weeks ago, and as of yesterday, I'm on a Mediterranean-themed diet.
Well day one was part fail, part awesome. I ate not-so-Mediterranean-friendly foods, but I spent hours preparing for a week of healthy eats! I'll get into more details about the diet next week, but for Mediterranean, I'm basically eating a lot of plant-based foods, whole grains, nuts, seeds, seafood, chicken, etc. One food item that I plan to eat frequently this week is hummus.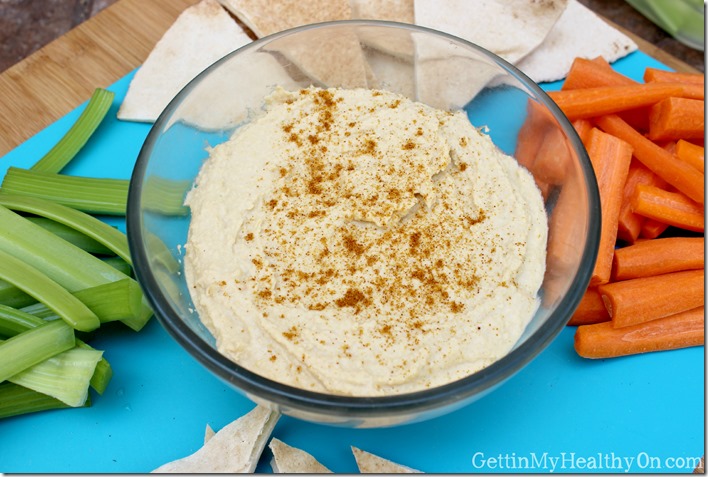 I've actually made hummus numerous times, which is funny because I've never been a huge hummus-loving person. However, I've started to love the dish because of its versatility and health benefits. I plan to get crazier with hummus flavors at some point, but for now I just stick to a basic recipe with a wee bit of garlic flavor.
All you need for this recipe is about half a lemon, tahini, garlic powder, salt, olive oil, and garbanzo beans (aka chickpeas). If you're not familiar with tahini, it's just ground sesame seeds. You can usually find it near the peanut butter in grocery stores, but I actually got the below kind from Bed, Bath & Beyond (and as you can see, I'm fresh out and need more).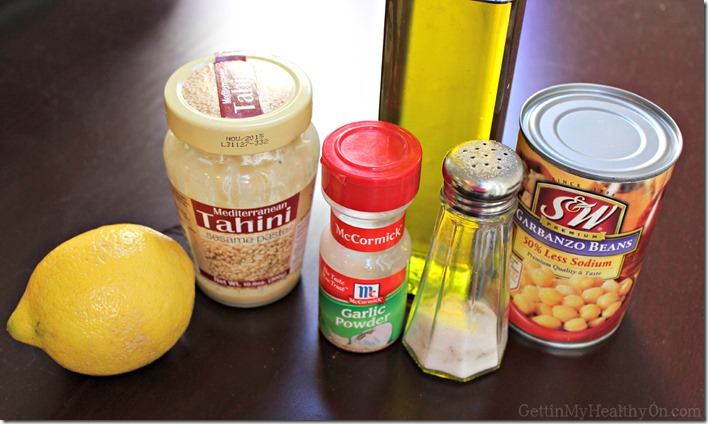 I've tried several different basic hummus recipes and, as a result, have learned a lot about what it takes to make the perfect hummus. Some people swear by using chickpeas without their skins because it makes for smoother hummus; others say you can barely tell the difference. I say that's way too much effort, and I just want some damn hummus.
Another thing I've learned is that you may be able to get a smoother hummus if you whip the tahini and lemon juice for a few minutes in the food processor before adding the beans and such. I've done it both ways, and I think I'm on team "Don't Just Throw It All In At Once".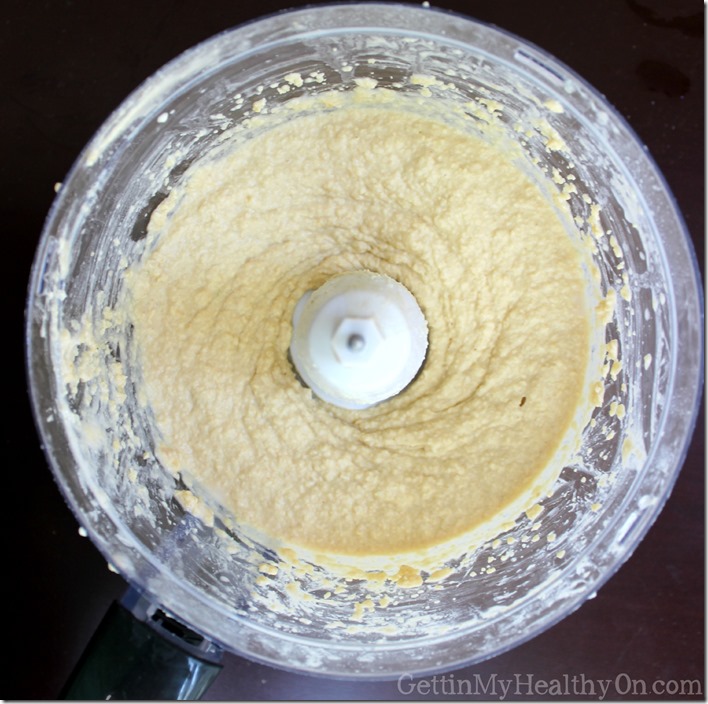 Hummus is so freakin' easy to make, people. I'm a cheapo over here and like to make a lot of things from scratch because 1. it tends to be way more cost effective (if you have the time and energy to make it worth it), and 2. you can alter it any way you want. To make this hummus recipe, all you need to do is whip about 2 Tablespoons of fresh lemon juice and 1/4 cup of tahini in a food processor (scraping down the sides at least once) for a couple minutes. Then mix in 1/2 teaspoon of salt, along with the garlic powder and olive oil.
THEN add in a can of chickpeas (rinsed and drained), along with 1/4 cup water. Process the ish out of it (for about a minute), scrape the sides, then finish mixing it until it's the desired consistency. By adding that bit of water, the mixture should blend more easily and be a good level of not-too-thick. Once it's ready to serve, I like to sprinkle some paprika on top and maybe a bit more olive oil.
Ingredients:
1/4 c tahini
2 Tbs fresh lemon juice
1 Tbs olive oil
1/2 tsp salt
2 tsp garlic powder
1 (15 oz) can garbanzo beans (aka chickpeas), drained and rinsed
1/4 c water
Instructions:
Combine tahini and lemon juice in food processor. Process for about one minute, scraping down sides of container at least once.
Add olive oil, salt, and garlic powder, and process for another 30 seconds.
Add chickpeas and water, and process until smooth (scraping sides as needed).
Pour into bowl to serve and sprinkle paprika on top.
Recipe from GettinMyHealthyOn.com
My favorite way to eat hummus is with pita bread and veggies like carrots, celery, and cucumbers. I've also filled half of a pita with hummus and julienned veggies, and it was the bomb. Or you can spread some hummus on a regular sandwich. There are a lot of options to enjoy the creamy goodness.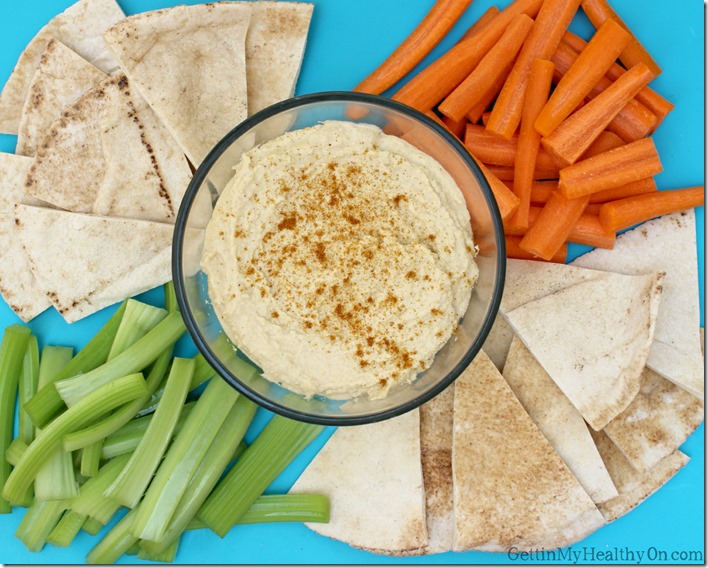 Enjoy!