Now that the first week of my diet experiment is over, I'm excited to talk about my experience on the Paleo diet! Although one week on a specific diet isn't exactly enough to show you its potential, I got what I wanted out of it – I tried new recipes that were very different for me (and plan to make several again in the future), and I learned that I could never follow a Paleo diet religiously because damn.
Let's start at the beginning. I spent a lot of time looking up what it means to be Paleo and recipes that abided be the rules – aka:
DO EAT meat, seafood, fruits, vegetables, eggs, nuts, seeds, and healthy oils.
DON'T EAT dairy, grain, legumes (peanuts too), refined sugar, or processed foods.
Below are most of the goods I got on our trip to the grocery store (I had to run out a few extra times during the week though – womp womp). Most of this I'd get normally, though I did get items like almond milk, extra veggies, coconut milk, dates, and sweet potatoes, which aren't all-too common in this household (and ignore the chickpeas, I didn't realize those weren't Paleo-friendly until the hummus had been made).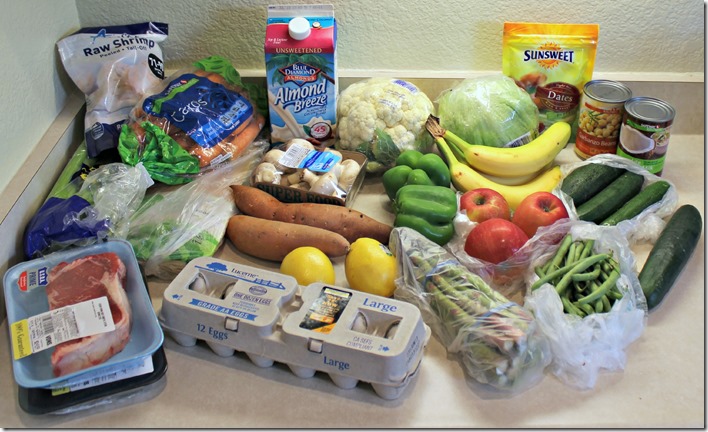 If you're curious, here's a detailed look at what I actually ate throughout the entire week, from breakfast to snack to lunch to snack to dinner: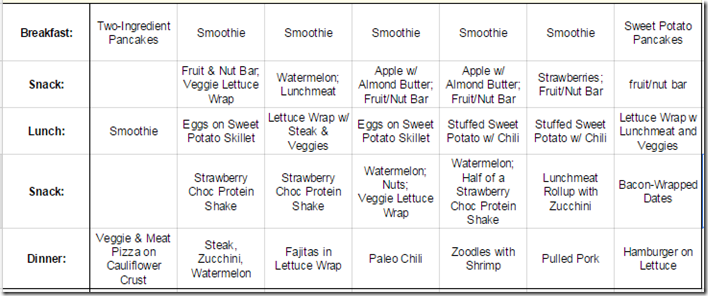 Since that's kind of chaotic, here's a more visual look at the snacks I ate: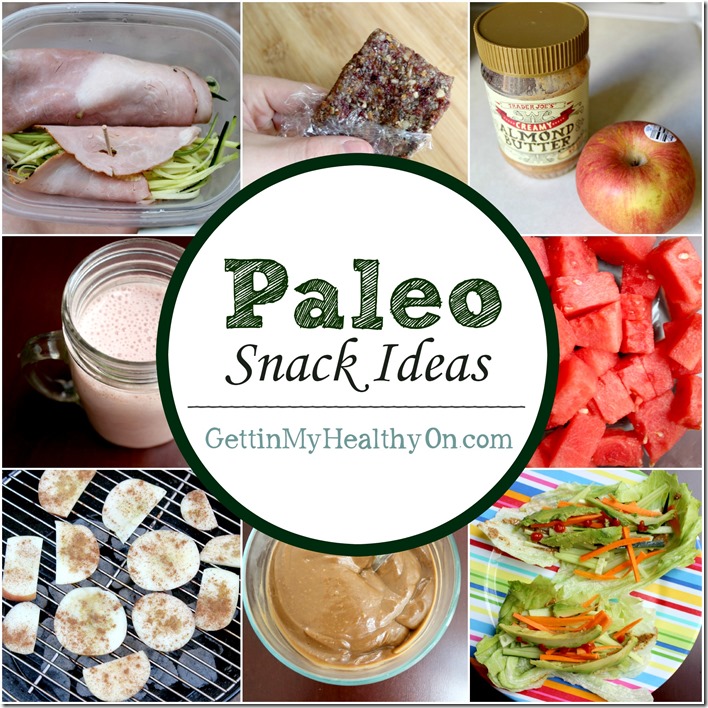 Figuring out what to eat between meals was strangely complicated for me. I couldn't eat a lot of my usual protein-packed snacks, like Greek yogurt, hummus, or cheese, but I gradually got the hang of things. The picture above shows some of what I ate, which maybe will help you if you're considering going Paleo for funsies. My snacks included things like:
Lunchmeat with julienned zucchini inside (weird but not bad)
Fruit and nut bar (with hemp and chia seeds in place of the peanuts)
Apple and almond butter (a classic that always works)
Strawberry Chocolate Protein Shake (best cure for hanger)
Watermelon
Apples topped with cinnamon and grilled  (#gourmet)
Avocado chocolate pudding, which was DELICIOUS (used almond butter and coconut milk)
Veggie lettuce wrap, which was cucumbers, carrots, celery, and avocado with sriracha and almond butter (seriously so freakin good)
Bacon-wrapped dates stuffed with an almond (the smoke detector didn't think these were the best, but I did)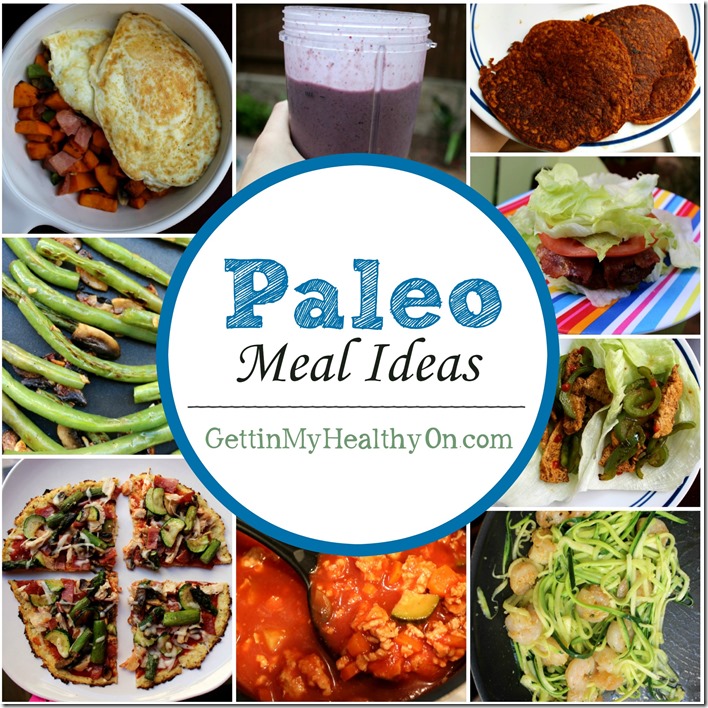 And for the meals I also found myself at a loss. No bread or pasta? Rubbish. Well I did figure it out eventually, and here's some of the stuff you see in the above picture (and some others not in it).
Sweet potato fries with bacon, green pepper, and mushroom topped with over-easy eggs
Smoothies all day errday – okay, just breakfasts, really
Sweet potato pancakes (that actually were a massive fail and I threw most out but that's beside the point)
Green beans with garlic and mushrooms (I could eat this every day; such a good side dish)
Hamburger on a lettuce wrap thing (surprisingly satisfying)
Fajitas in a lettuce wrap
Veggie- and meat-loaded pizza on a cauliflower crust (not as bad as I was expecting but I prefer my yeast-free pizza crust)
Paleo-friendly chili that was basically a tomato base with ground turkey, zucchini, mushrooms, carrots, and celery (plus seasonings).
Zoodles (aka zucchini noodles, which are AWESOME) topped with shrimp and some Cajun seasoning
Two-Ingredient Pancakes (topped with almond butter? Yes, please)
Grilled asparagus
Aaaand now that you know every little detail of every single time I ate this past week…
My Thoughts on the Paleo Diet
As noted in my huge spoiler that began this post, the Paleo diet is not for mwa. I like milk and bread; I'm sorry (not sorry). HowEVER, I made a lot of weird things that I am so happy I finally tried. I've been wanting to try zoodles, avocado chocolate pudding, bacon-wrapped dates, sweet potato pancakes (despite the fact they were a fail), and the cauliflower pizza crust (again) for ages, so this forced diet thing for myself was the push I needed.
I think if you do the Paleo diet right, you could reap the benefits of avoiding foods that are processed, loaded with sugar, and/or irritating (like potential dairy or wheat sensitivities). But since I'm not experienced or thoroughly educated on this Paleo thing, I found myself eating a lot of fat – it was healthy fat but still. I missed the option of whole grains, as well as yogurt for a satiating snack. I will say, though, that I ate so many veggies – like, I'm talking all the veggies. So that was great, especially things like asparagus on the grill and fresh lettuce wraps filled with julienned goodness. There are so many ways to eat healthy if you use some creativity (or just spend a lot of time on Pinterest).
You can check out some of my favorite Paleo-inspired dishes if you want to see/read more about things I fancied throughout my week of eating Paleo. As explained in my diet experiment post, this week I'm back to eating normally (aka without any restrictions so somebody give me milk chocolate), and next week I'll be trying out a Mediterranean-based diet! After last week, however, I think I'll be a little more lenient and just eat foods that follow the diet most of the time. This girl needs milk in her coffee again.
The end finally. Hope you have the best Monday ever (or maybe just settle for a good one).