Give breakfast some delicious staying power with the addition of these sweet potatoes cooked with bacon, garlic, and seasonings.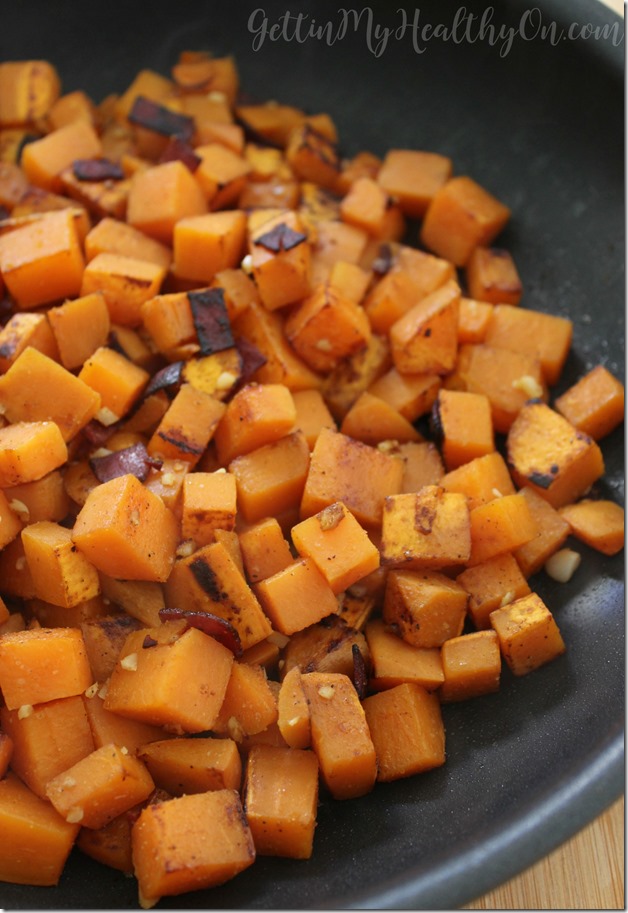 At this point in my Whole 30 journey (okay, so it's only been 3 days), potatoes have been a godsend, especially for breakfast. One of the recipes I've been making a lot—even before I started the program—is a sweet potato home fries concoction. It's extremely simple yet works as the perfect bed for a couple over-easy eggs (which has been my go-to breakfast this week, as noted in my Whole 30 Week 1 Meal Plan).
Fun fact: I've actually never liked sweet potatoes. I really want to like them though because they're such a nutritious starch! I'm still trying to find new ways to use sweet potatoes, but for now this is definitely one of my go-to recipes for using them up. Plus, breakfast food is always fine with me.
Even though I've gradually acquired a taste for sweet potato, I know a lot of people aren't into the flavor—Matt included. I noticed the last time I made potatoes in this style—which is the exact recipe I'm sharing today—they didn't taste as "sweet potato-y" as they normally did. I credit this to adding turkey bacon (any kind is fine though), fresh garlic, and onion powder. It really kicked the flavor up a notch and distracted from the sweet potato.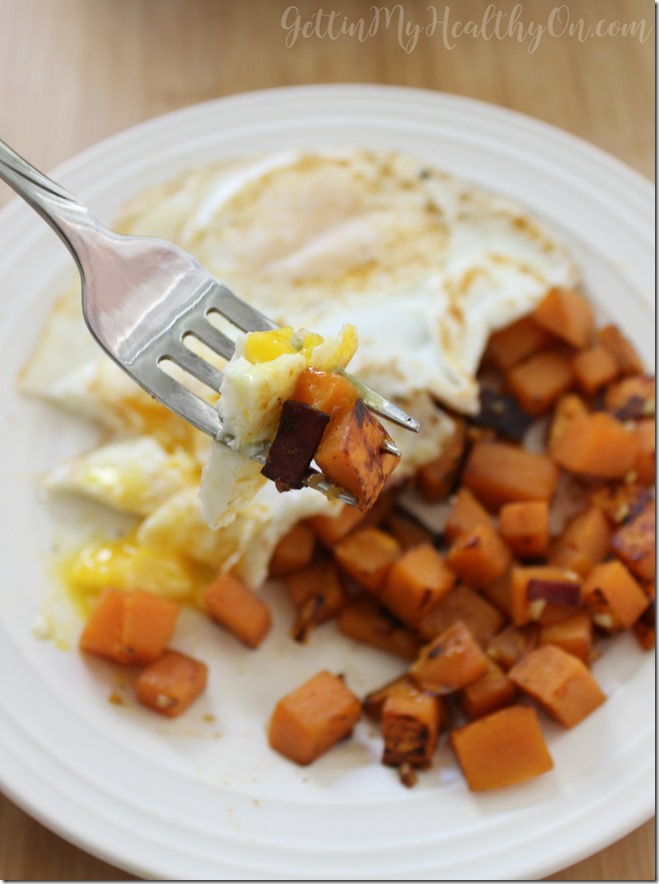 To make these potatoes, you'll first want to peel a sweet potato and chop it into small cubes (the smaller the cubes, the faster it cooks). Set those aside, and finely chop a clove of garlic; set that with the potatoes. Now, slice up two strips of raw bacon and start cooking them in a medium to large skillet until almost cooked through. Then you'll want to throw the sweet potatoes, garlic, onion powder, salt, and pepper (yes, please literally throw them; okay, not really) into the skillet. Cover and cook, stirring occasionally.
Optional: If you notice the edges browning faster than the potatoes can cook throughout, add about 1 or 2 tablespoons of water to help steam them and prevent them from burning. Then return the lid and continue cooking until a fork can be inserted into the biggest potato pieces without too much effort. (This was about 5 to 10 minutes total for me.)
I always add two over-easy eggs to these because it's the perfect breakfast combo, but you could definitely have these as a side for other meals. Here's a breakdown of the recipe:
Ingredients:
1 medium-sized sweet potato (about 2 cups diced)
2 sliced bacon strips
1 garlic clove, finely chopped
1/2 tsp onion powder
Salt and pepper to taste
Instructions:
Cook bacon in a medium to large skillet until just barely cooked. Add sweet potato, garlic, onion powder, salt and pepper.
Cover and cook over medium heat, stirring frequently.
Optional: As the potatoes start to brown, add 1-2 tablespoons of water to help steam them and prevent them from burning.
Cook for about 5-10 minutes total, or until a fork can easily be inserted into the larger potatoes.
Serve topped with over-easy eggs.
Recipe from GettinMyHealthyOn.com
Until I get more creative with sweet potatoes, these will continue to be my favorite way to cook them pretty quickly. After that addition of bacon, there's no turning back.
What's your favorite way to eat sweet potatoes?