Over the past week, I've been, more or less, following a Mediterranean-themed diet as part of a diet experiment I'm doing for cooking inspiration. I finished seven days of Paleo a couple weeks ago, and I just completed the portion of my food adventure that involved eating mostly Mediterranean-esque foods for a week.
If you don't know much about the Mediterranean diet, it basically follows these rules:
Eating mostly plant-based foods (like fruits, veggies, legumes, nuts, and whole grains)
Using herbs and spices to flavor foods instead of salt
Replacing butter with healthy oils
Incorporating fish and seafood regularly into your diet
Adding dairy, eggs, and poultry occasionally
Keeping red meat at a minimum
I've always found this type of diet to be intriguing because it all makes sense much sense to me. It's basically how I try to eat all of the time to be healthy.
Once I had all my meals planned for the week, we went to the grocery store to buy the goods I'd need to make a week's worth of Mediterranean-inspired meals.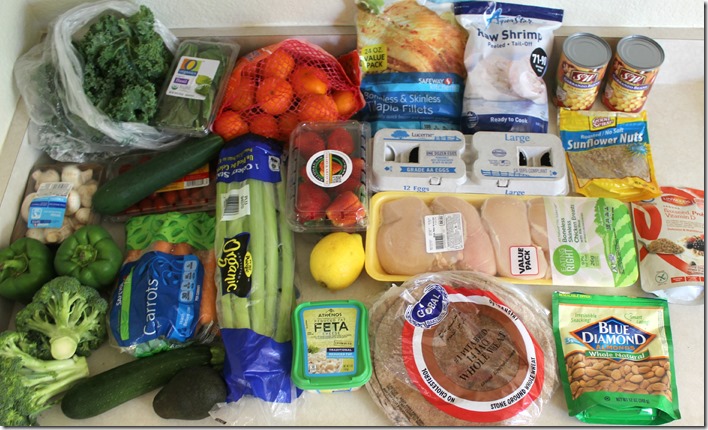 The ingredients I especially loved having on hand were the feta cheese, whole wheat pita bread, shrimp, fresh basil, and chickpeas (for hummus).
One of my favorite parts of following this diet was the simplicity of most of my meals. While some dishes required more work than others, most were pretty fast to throw together, thanks to the emphasis on fresh produce. I shared some of my favorite Mediterranean-inspired dishes last week, and below, you can see in more detail what was on the menu.
Whole grain toast with mashed avocado, over-easy egg, and sriracha
Quinoa with milk, almonds, cinnamon, and honey
Whole grain toast with almond butter, bananas, and chia seeds
Plain Greek yogurt with strawberries, almonds, and honey
Hummus with carrots, celery, cucumber, broccoli, and whole grain pita
Apple with mixed nuts
Whole grain pita filled with hummus, green pepper, mushrooms, carrots, zucchini and avocado
Hard boiled eggs
Kale-based salad with cucumber, grape tomatoes, carrots, celery, and feta
Whole grain spaghetti with olive oil, parmesan, feta, basil, grape tomatoes, and shrimp
Mediterranean Chicken and Vegetable Kabobs on the grill
Pizza on whole wheat crust with homemade pizza sauce, lightly sprinkled mozz, mushrooms, and basil
Tilapia crusted with whole grain breadcrumbs, walnuts, and olive oil, quinoa with veggies and herbs, roasted zucchini
If I learned anything from this week of eating in a Mediterranean style, it's that fresh ingredients make everything better. I really enjoyed the addition of fresh herbs, lots of vegetables, and other goodness to most meals. It was a refreshing change of pace to emphasize veggies, even though I will say I missed using pre-packaged meal components that aren't always so healthy (I'm all about the sugary, bad-for-you condiments).
While I probably won't eat this fresh and clean as frequently as I did last week, it's definitely a goal of mine to incorporate vegetables and seafood more. I highly recommend trying out a Mediterranean diet because it's not super restrictive like some diets, but it emphasizes food groups that seem obviously healthy to me.
And there you have it! The Mediterranean theme is done – next is vegan. Or maybe vegetarian if things don't go very well…or pescatarian. Whatever it ends up being, it starts next week!