Cooking dinner every night can seem impossible when you have a busy schedule. Since my days are always pretty full thanks to my full-time job, blog, workout schedule, and other life things, meal planning has become NECESSARY for eating legit, homemade meals (no offense, cereal; you're my favorite).
A few years ago, I created a meal plan system to help motivate myself to cook dinner most nights of the week. Not only does it eliminate the guesswork of what we're having for dinner each weeknight, but it helps me plan ahead so we have the ingredients we need to make those meals. This system has completely changed how I approach dinner time, and without it I'd probably have brinner most nights (which actually doesn't sound too bad right now).
It all comes down to preparation—but that doesn't always have to mean cooking dishes ahead of time (though food prep does really help). Before Monday rolls around, there are five steps I go through over the weekend that make a world of difference in my ability to consistently put dinner on the table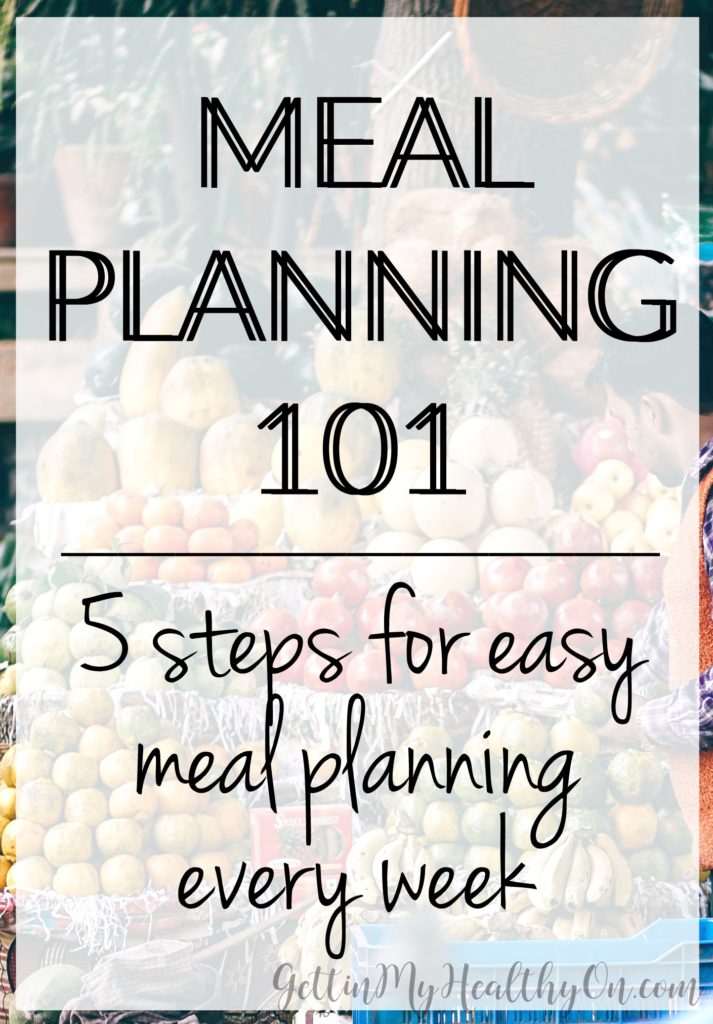 1. Figure out which nights you'll need dinner. 
I usually plan anywhere from three to six meals per week. Somehow, I rarely use more than four of these because of random activities coming up on certain nights, which save me from needing to make dinner (aww yiss).
2. Compile recipes and dishes to make. 
This usually begins with me looking through my Pinterest Main Dishes board and picking a couple new recipes to try. Then I fill in the rest of the week with tried-and-true meals we eat somewhat regularly (e.g., tacos, spaghetti, homemade pizza, brinner, etc.).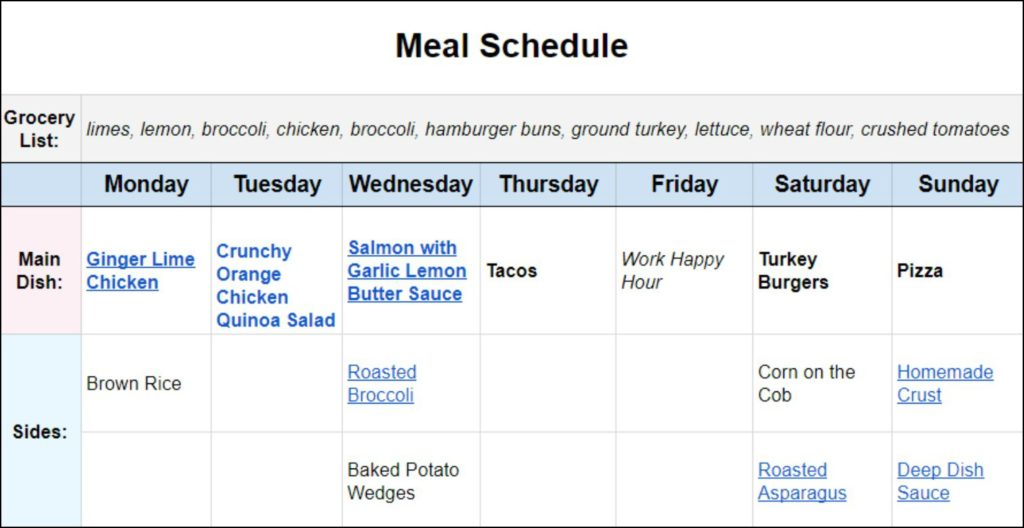 3. Take note of the planned meals in a calendar. 
I have a Google Spreadsheet that I use to keep track of the meals I plan to make each night of the week (or which nights we're busy). This allows me to link to the recipes or make any other notes I want to remember. Then when I'm ready to start cooking on a certain night, I can just pull the schedule up on my phone and get to it.
4. Take inventory and write down ingredients to get. 
Since we do a weekly grocery shopping trip over the weekend, I take a quick inventory of what items we need to restock. Then I look at the recipes I plan to make, writing down what ingredients I need to get. Once this is figured out, I can go to the store with a grocery list that eliminates all guesswork. (I try to keep a running list of items we need to get, adding items as we use them up throughout the week, just in case it's not obvious during this step of my meal planning.)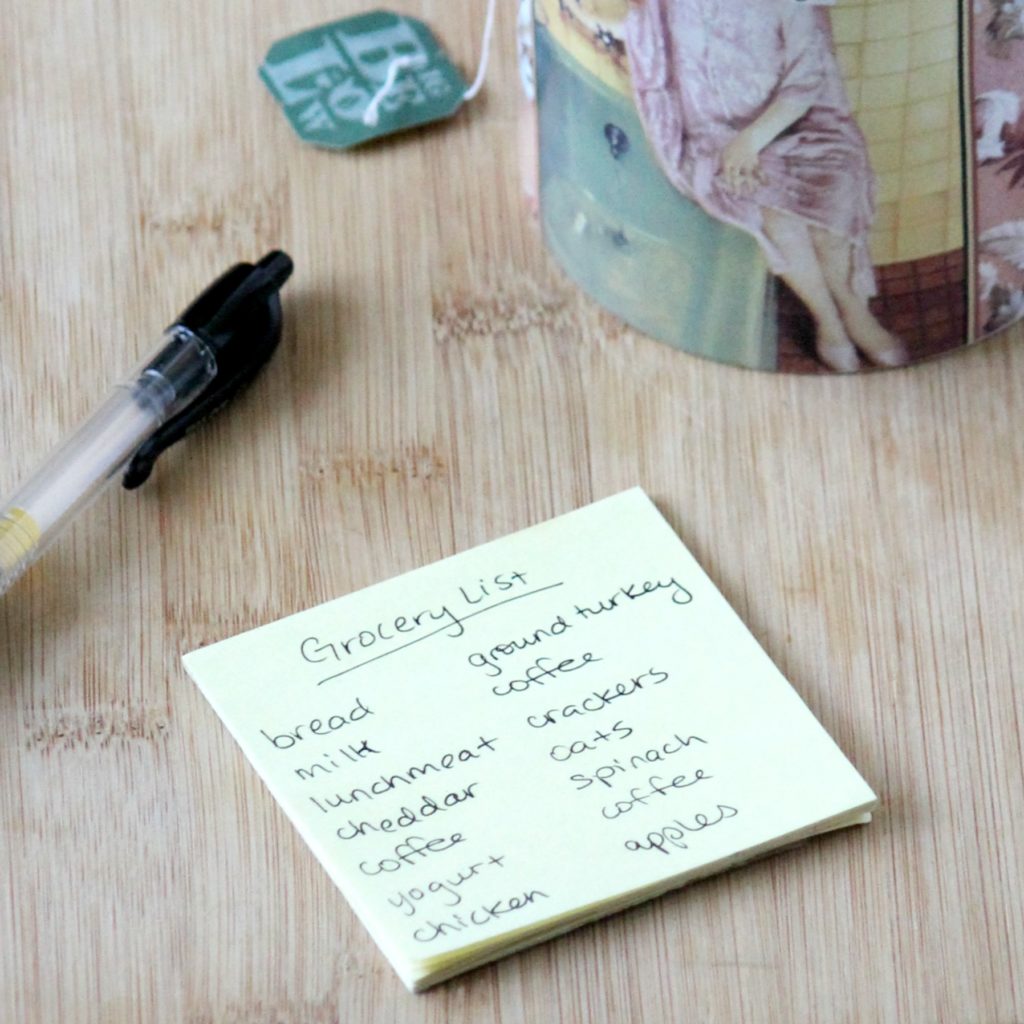 5. Start prepping each night for the next day's dinner.
Each weeknight, I try to glance at the following day's planned meal, so I can start thawing frozen ingredients out, if necessary, or maybe even put part of the recipe together. (I usually put all the ingredients for a crockpot meal in the pot the night before, so I can just turn it on low before I leave for work.)
After work, I'm QUITE unmotivated to slave over a meal, so this dinner prep process is how I make it work. Worth noting: I only plan dinner for us because we tend to eat the same food for breakfast every morning, and lunch is either leftovers, sandwiches, or salads. Dinner is my biggest struggle because it's the one meal we eat together every day, so having it already planned out makes it so much easier. I hope you find my system useful as well!
Do you consistently cook dinner during the week? 
What are some dishes/foods you tend to eat regularly?
The original version of this post was published on April 12, 2013.