Using the broiler to cook chicken is my favorite trick for perfectly cooked meat that doesn't get too dry and can be used in a variety of ways.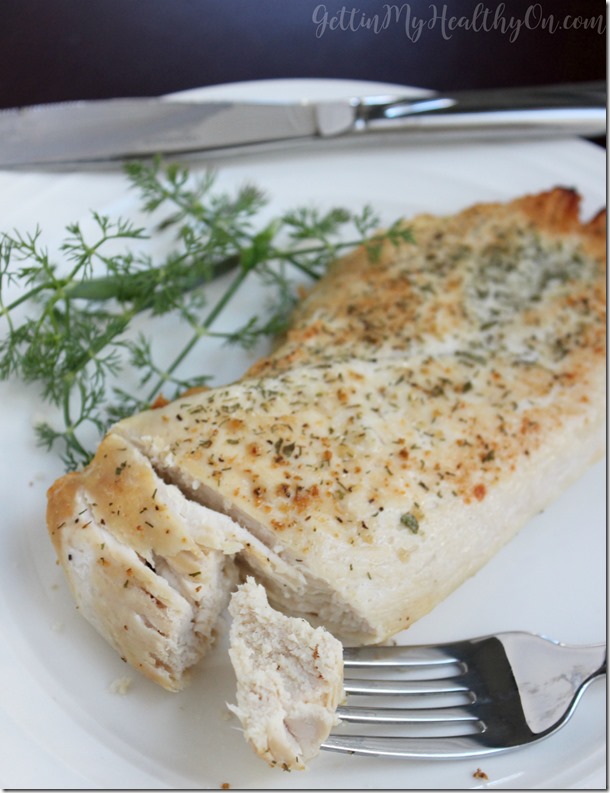 I tend to suck at cooking chicken, plain and simple. This is especially unfortunate because we eat chicken most nights of the week. It's not the flavor that I have an issue with—it's the texture…the level of doneness.
When chicken is cooked in the oven, I'm paranoid and have issues telling whether it's done or not.
When cooked in a skillet on the stove, the chicken tends to get a tough outside and an underdone center.
When in the crockpot, all hell breaks loose, and my chicken becomes so unbelievably dry (even if it only cooked for 3 hours on low).
When I say I suck at cooking chicken, I mean I truly have a talent for messing it up no matter what I do…until about a month ago. I discovered a new method of cooking chicken, and it has changed the way I prepare the lean protein.
You broil it. That's it. I don't know why this has been so groundbreaking for me, but it has. When I just want simply seasoned chicken breasts to add to a variety of recipes and have on hand for the week, this is the only way I cook it now.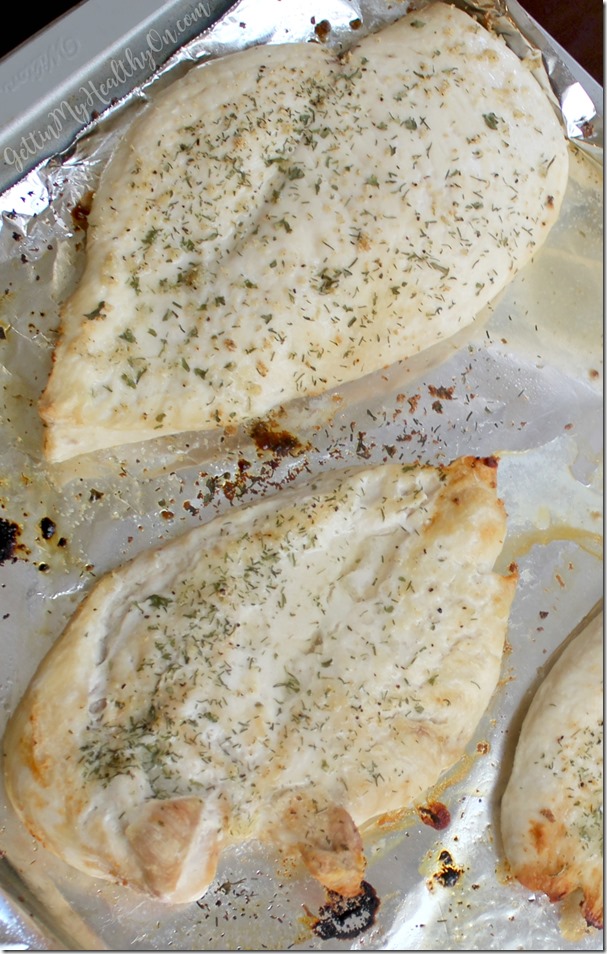 As I'm nearing the end of Phase 2 of the LiveFit Trainer bodybuilding program (and nutrition plan), I've been prioritizing chicken in my diet more than ever. It's so easy to add pre-cooked chicken to dishes for fast weeknight meals. Besides eating it straight up, I've been adding leftover broiled chicken to dishes like Asian Peanut Noodles, BBQ Chicken Pizza, Chicken Caesar Wrap, salads with my maple balsamic vinaigrette, and sandwiches. So ya, broil a bunch of chicken on Sunday, and you've cut off a bunch of prep time for several meals. Easy AF.
Here's a look at how I broil chicken breasts. For this week, I used my Ranch Seasoning Mix for flavor.
Ingredients:
Chicken breasts
Seasoning of choice
Instructions:
Turn on broiler setting on oven and move top rack to be about 6 inches from the top.
Line baking sheet with aluminum foil and spray with non-stick cooking spray.
Slice each chicken breast in half so it is thinner.
Place chicken on baking sheet and season both sides of chicken liberally with seasoning of choice.
Broil chicken for about 7-9 minutes on one side (depending on thickness). Flip over and continue broiling for another 7-9 minutes, or until juices run clear and thickest slice is no longer pink in the center.
Let rest for 10 minutes. Serve immediately or refrigerate for up to 3-4 days.
Recipe from GettinMyHealthyOn.com
Have you ever tried broiling chicken?
What's your favorite way to cook chicken?