Guess where I'm at right now…
Las Vegas! We left this morning for Matt's race this weekend, and I'm pretty pumped. He ran this last year, but I'm much more excited this year since I know what to expect. Should be a pretty good weekend ahead of us.
Unfortunately, I suck at working out when I travel, so I'll probably be taking a few days off. It's probably for the best though because of my random hip/ground/leg pain.
Now, before I get into the main point of this blog post, I figure I should probably reveal who won my Bestowed giveaway!!
The winner is…
Congrats, Ray! If you get me your information, I'll pass it along to the Bestowed people to start shipping your 1st month of Bestowed!
Thank you all of you for showing so much interest in it! I absolutely love the box of healthy samples and hope you all consider trying Bestowed out. If you are still interested in it, you can get $5 off your first month with this code: 5OFFBSTOWED01
Now, let's talk about food.
My System for Planning the Week's Dinners
Cooking dinner (aka not Taco Bell or cereal) every night can be quite challenging when you're super busy. I've discovered this even more now that I'm working full-time.
I have a system that I use ever week that has proven to work really well, and I figured others might be able to benefit from it too. Without this system, I'd probably have brinner most nights.
It all comes down to preparation, which doesn't always mean cooking things ahead of time (even though that does really help). Here are the 5 steps I go through every week in order to make some edible (and hopefully somewhat healthy…ish) food.
1. Find recipes. This means looking through Pinterest food boards over the weekend for me. I pick out 2 or more recipes I want to make. Then I write down some go-to meals to fill in the rest of the weekday meal plans. (I usually plan anywhere from 3-6 meals per week. Somehow, I rarely use more than 4 of the planned recipes because of random things coming up on some days/nights, causing me to not need to make dinner).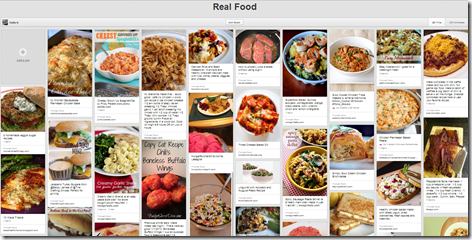 3. Write down needed ingredients. I look at the individual recipes and write down what ingredients I need to get at the grocery store (we usually go on Sundays, so you can adjust this whole schedule based on when you go).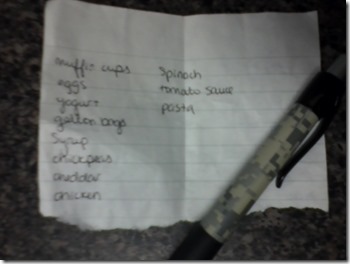 4. Plug recipe info into calendar. I plug the recipe name and URL (when necessary) into a Google Document. That way, I can easily find what I'm making.

5. Plan each night for the next day's meal. Each weeknight, I look at the next day's planned meal, so I can start thawing stuff out or maybe even put part of the recipe together (I usually put all the ingredients for a crockpot meal in the pot the night before, so I can just turn it on low before I leave for work).
Since I use up every minute of the hour I use to get ready for work every morning, I don't have time to prepare at all for dinner, which is why I try to get stuff ready the night before. After work, I am quite unmotivated to slave over a meal, so this dinner preparation process is how I make it work.
Hope you find my system useful! Pretty much, I don't know where I'd be without Pinterest. It helps keep me entertained organized.
I'm going to do my best to pop in on Monday with a Vegas recap, but there's a slight chance I won't have internet access. If this happens, you can expect it on Tuesday!
Questions for you:
Do you consistently cook dinner during the week? Do you have a fancy planning system?
I do my best, but some nights I'm pretty much just like, "Eat what you want because I don't care."
What are some foods you eat a lot? In college I would eat cereal for dinner like every other night because 1. I was lazy and 2. It's delicious. Now, I make tacos and brinner a lot.
Plans for the weekend?