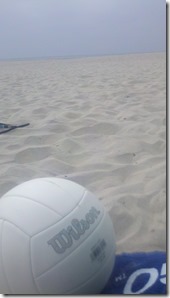 Top o' the mornin' to ya! How was your St. Patty's Day?!
Mine was spent like a true Irish gal…
…getting burnt.
Matt and I met up with some people for some beach volleyball. 'Twas a jolly good time. It was quite chilly though with the sun only coming out when we were leaving. Oh well. Can't complain when we're playing beach volleyball in the winter.
San Diego for the win!
Saturday night we did more "celebrating" by going out and drinking some Guinness while wearing green. That's all you're supposed to do on St. Patrick's Day, right?
I was excited to finally have another excuse to wear my green skinny jeans from Halloween. Matt was excited to start breaking in new running shoes.
Speaking of new running shoes…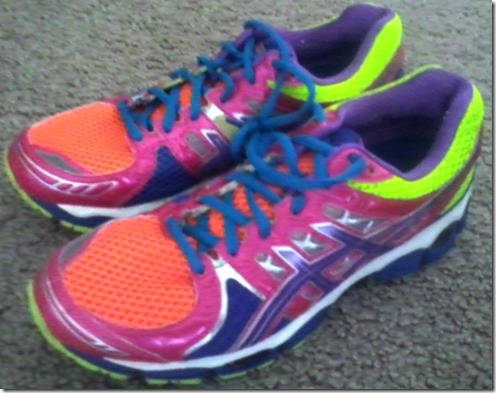 Have you ever seen something so obnoxious loud beautiful in your life?
My next pair of running shoes I wanted to be Brook's to try the brand, but I couldn't resist these colorful and quite affordable Asics Gel Nimbus 14 at RoadRunner.
The magical running store was having an awesome sale in addition to their awesome clearance center that sells lightly loved (barely worn) and heavily loved (self -explanatory) shoes. Matt was getting new shoes. I wasn't planning on it. Once I learned we could get 2 pairs for $90? It was a must.
He got the Saucony Guide 6. I've always wanted green shoes, so I'm a bit jealous. Then again, mine have every color in the rainbow, so I'm content.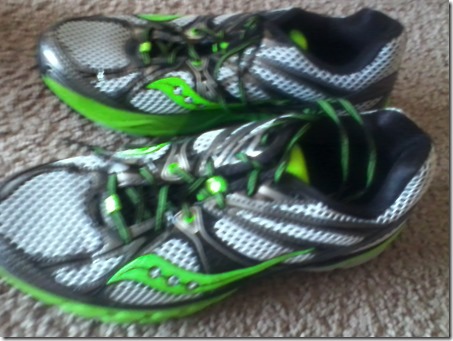 And to end the colorful weekend, Matt made us some green pancakes for dinner with a bit of Bailey's in them. Why? Because it seemed like a good idea. They were pretty good too. The apartment smelled like cake, which is always a good thing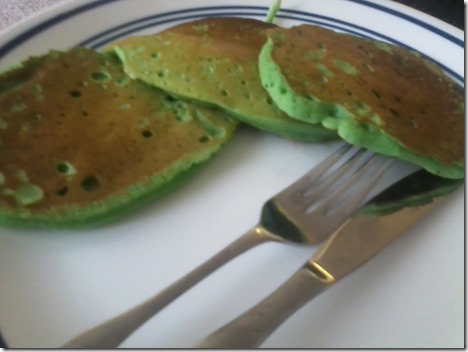 Workout
Now I'm off to spend some quality time with a treadmill. My 35-Minute Gradual Speed Increase Run is in the books for today's workout. I think I'll try out my new shoes, even though I'm sure I'll regret it after since they're not quite broken in yet.
I can't help it. I'm excited.
P.S. If you're like me, you have no idea what St. Patrick's Day is even about. I found this article on Yahoo! yesterday and decided to read it. It gives you a little overview of the holiday and who St. Patrick was.
Did you do any "Irishy" things this weekend to celebrate?
What color are your running/fitness shoes? Do you gravitate towards crazy ones? Pretty ones? Simple ones? I like the crazy, obviously.
Will you be running on this fine day?