Happy Friday, Friends!
I have a request for you: play outside for me this weekend. I'm still recovering from a bad sunburn (and still developing stupid sun rashes! ahh!) from Sunday's adventures, so my weekend will involve a lot of hanging out indoors. Pray that my body starts healing faster because my sanity has been under question the past few days. So. Itchy. And peely. Bleh!
All the time indoors will be good for me, though, because I've been working on an update for Gettin' My Healthy On's design. My lack of extra time during the week has made it quite difficult.
Speaking of blogging, I have a topic for all you bloggers out there…
Why Do You Blog?
I've been thinking lately how blogging has been so different from what I originally thought it would be 9 months ago when I started–and in such a good way. It's been a rewarding hobby that I hope to continue for quite awhile. I figure, we're all motivated to blog for different reasons, so I thought I'd share why I love hosting my own blog. Maybe you can relate!
Check out the reasons for why I blog and feel free to share what it has done for you as well.

Keeps me focused.
Especially in fitness and healthy eating, I've found my blog helps me stay accountable. I mean, I don't want to have a healthy living blog and not be able to relate to what I'm talking about. (Okay, so I eat frozen pizza at least once a week. I at least try to balance it out!) It also motivates me to try new recipes, which I'd probably be too lazy to do otherwise. Lastly, blogging helped me so much when I was still job searching and discouraged. It gave me a sense of purpose and something to work towards. Plus, readers can be very encouraging sometimes. 🙂
Allows me to share my journey with others.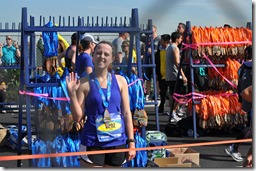 I love sharing what I know, what I research, and what I experience in the world of healthiness. My readers motivate me to actually seek answers to my random questions and not just wonder. I like the thought of Gettin' My Healthy On being a resource for others looking for answers. Besides the healthy side of my life, I also enjoy having an outlet to communicate with friends and family. Since I moved across the country in January, it's nice to share a bit of my life with the people I can't see daily now.
Introduces me to new things.
I began this blog because I loved reading healthy living, fitness, and food blogs. I continue to find new blogs and love how I can make blogger friends I feel I can relate to. Through those bloggers as well as contact with companies, I've also been able to discover new healthy products that I probably never would have tried without my blogging platform (i.e. Bulu Box, Honey Stinger, and BIC Bands). Something else I never would have tried? Website design and maintenance (even though I suck at it). It's beyond frustrating sometimes, but for some reason I absolutely love it.
Acts as an outlet.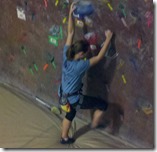 I tend to be shy; I also tend to be an attention whore. It really just depends on the day and who I'm with. At first having my own blog was awkward because it's all me me me! Eventually I was able to establish a comfortable balance between me-ness and healthy living topics though. Overall, I love having the freedom to make it my own and be creative with writing and the design. I talk about my struggles with being healthy (and life in general), and I've found having a blog is a great outlet to get encouragement and advice from others.
Ultimately, I hope that people come here and are entertained. If they can learn something or if they find workouts or recipes they like, then I feel like I'm doing something right.
The blogging gods say to write a blog that you actually want to read. Although my life isn't the most exciting, I hope I can at least fake it am at least worth reading once in awhile. Thank you so much for being a Gettin' My Healthy On reader! It means the world to me.

Questions for you:
Why do YOU blog?
How is it different from what you thought it would be when you started?
What topic do you like hearing about the most on this (or any) blog?