I haven't featured a recipe on here in what feels like ages, so I'm quite excited to share this new pumpkin-themed development!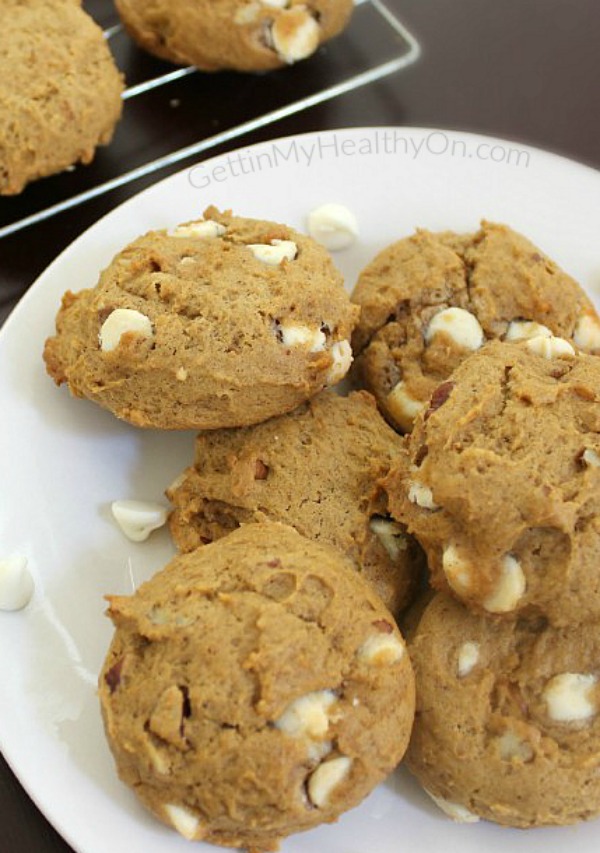 Last week someone brought cookies into work, and they were beyond amazing. I made it my goal to recreate them myself, and I feel like I have accomplished this. I was able to use leftover pumpkin puree in the fridge, which made me happy because I was not about to let that go to waste. I also picked up some white chocolate chips, which is a first for me because I don't even like white chocolate much. There's just something about the pumpkin, white chocolate, and pecan mixture though. You have to try it.
Below you will find my new favorite recipe. I highly recommend it to get in the fall mood!
White Chocolate Pumpkin Pecan Cookies
White Chocolate Pumpkin Pecan Cookies are a delicious fall treat with pumpkin puree, spices, pecans, and white chocolate chips, making for a soft yet chewy cookie.
Ingredients:
1/2 c salted butter, softened
1/4 c sugar
1/2 c brown sugar, packed
1 tsp vanilla
1/2 c pumpkin puree
1 1/2 c flour
1/4 tsp baking soda
1/4 tsp baking powder
1 tsp cinnamon*
1/4 tsp ginger*
1/4 tsp nutmeg*
1/4 tsp cloves*
1/4 tsp allspice*
1/2 c white chocolate chips
1/2 c pecans, chopped
Instructions:
Cream together the butter and sugars in a large bowl. Add the vanilla and pumpkin.
In a separate bowl, combine the flour, baking soda, powder, and spices. Slowly blend the dry ingredients into the wet mixture until just combined.
Mix in the white chocolate chips and pecans.
Drop by rounded tablespoons onto a cookie tray covered with parchment paper.
Bake for 14 to 16 minutes at 350 degrees. After you take the pan out of the oven, slightly flatten the cookies with a spatula. Cool on a wire rack.
Notes:
*You can replace the seasonings with 1 1/2 tsp of pumpkin pie spice and 1/2 tsp of cinnamon if that's what you have on hand.
Recipe from GettinMyHealthyOn.com
Something weird about this recipe: you have to smash the cookies. If you don't, they will be little cookie puffs…which isn't a bad thing. I just like them a little flatter for some reason, so I whack them with a spatula right after they come out of the oven. And yes, if you were wondering, I'm obviously a very classy chef over here…what with my wack-a-mole-inspired cooking techniques.
Happy baking!!
Have you come across any amazing fall recipes lately? Do share!