Now that we're well on our way into the holiday season, what better time than now to share a no-equipment workout?!
I'm all about circuits that only require my bodyweight because you can do them anytime, anywhere (and despite my weight loss story on Friday, I've got lots of weight left to strengthen my muscles with…yay? haha). Whenever I'm traveling, I try to squeeze in morning workouts, even as short as 15 minutes. Some people might not think that's worth it, but I've found it really helps me stay accountable (and do more than just eat good food

). It's way too easy to get busy or get into vacation mode by not caring about my workout routine, but that's how my hard-earned habit of working out goes to crap…like…dead and gone, within a week. It's ridiculous.
So! I have a number of go-to no-equipment workouts that I use to fit in a quick sweat session before I start my activities for the day, wherever I may be. Although I have a bunch I regularly do when we're staying at our family's houses, I realized on our last trip that I didn't have any that were purely dedicated to arms and abs. I'm all about 'dat variety, so I whipped one together really quickly.
This circuit took me about 15 minutes to complete two times through, which worked nicely on a busy day when I didn't have a lot of time to spare. It uses a lot of the exercises I regularly perform in my workouts—aka you can find demonstrations on my exercise guide.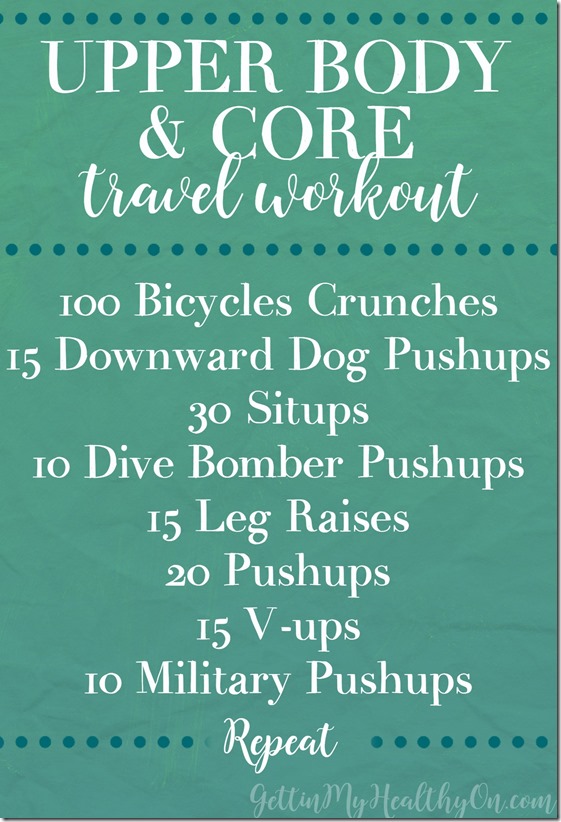 Although it was short, it definitely challenged me and left a lasting impression on my out-of-shape muscles. I have a feeling I'll be doing this a lot in the future—both at home and while traveling—but I know it'll really come in handy as I continue my goal of staying committed and working out during the holidays this year.
I'll probably pair this with a short run or with other workout routines I've created, like my Lean Legs Circuit or Work That Derierre Circuit. But I like having the quick options like this in case I don't have time for something longer—or you know…if 15 minutes is all I can make myself do with a severe case of "I don't want to do a single productive thing because #vacation."
Do you prefer using workout equipment or sticking with bodyweight exercises most of the time?
Are you a pro at working out while traveling / on vacation? Or do you take a long pause and resume when you get back to normal life?