Mix up the classic oatmeal cookie recipe by adding almond flavor for a boost of nuttiness and nutrients.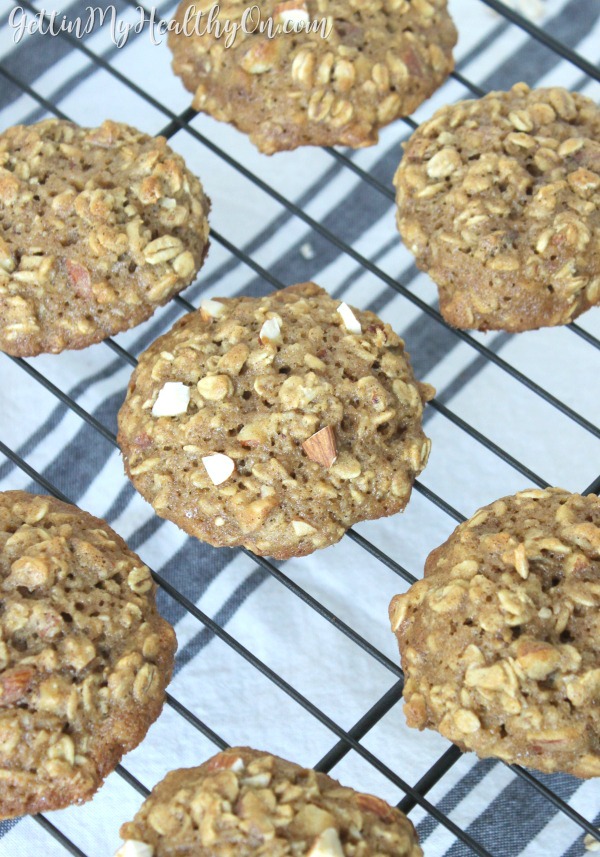 Growing up, I probably made oatmeal cookies more than any other type of cookie because they were my dad's favorite. I'd usually add chocolate chips to half the batch for myself (shocker), but these days, I love pretty much any oatmeal cookie (minus raisins…never raisins). One of my top ways of sprucing up good ol' oatmeal cookies? The glorious flavor that is almond.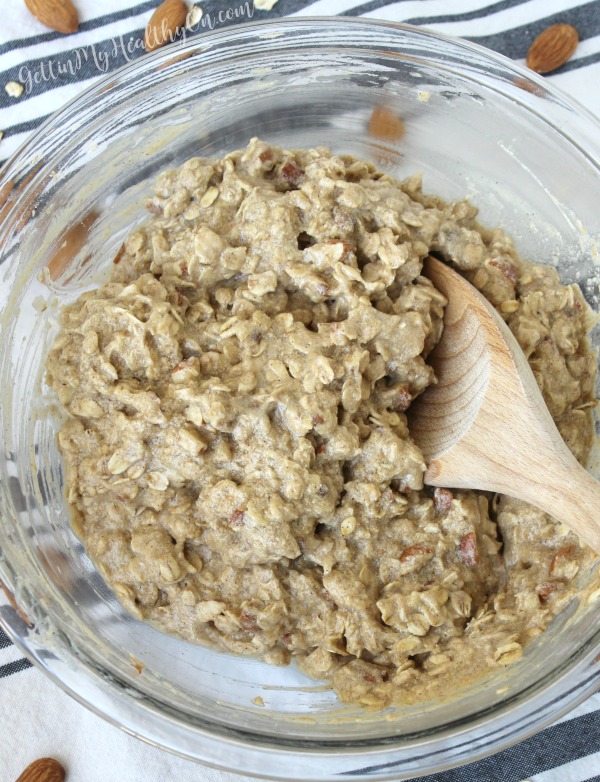 It's all about the almond extract and chopped almonds in this recipe. (P.S. almond extract is my favorite ingredient ever, which I discovered when I first created this recipe five years ago.) I also made it a bit healthier, as I do, by using unsweetened applesauce in place of some of the butter. Although this still uses butter, applesauce helps cut way back on the saturated fat.
I'm all about maintaining the indulgent flavors of desserts by only replacing part of an unhealthy ingredient. Is the recipe healthy? Eh, there's nutrients in it for sure, but I wouldn't categorize it as a "healthy" dish. Is it healthier than it was? You bet your cookie-loving self it is.
Ingredients:
3/4 cup all-purpose flour
1 tsp baking soda
1/2 tsp ground cinnamon
1/2 cup brown sugar (packed)
1/2 cup granulated sugar
1/2 cup salted butter (1 stick), softened
2 large eggs
1/2 tsp vanilla extract
1 1/2 tsps almond extract
1/2 cup unsweetened applesauce
2 cups rolled oats
3/4 cup raw almonds, chopped
Instructions:
In a medium bowl, whisk together flour, baking soda, and cinnamon. Set aside.
In a large bowl, cream together sugars and butter. Slowly mix in eggs, extracts, and applesauce.
Slowly pour dry ingredients into wet, mixing until just incorporated.
Fold in oats and almonds.
Bake at 350 degrees for 12-14 minutes, or until edges begin to brown. Remove from oven and let cool.
Recipe from GettinMyHealthyOn.com
I will say, these cookies are not super chewy like some oatmeal recipes are (e.g., my Chocolate Chip Oatmeal Cookies and Chewy Coconut Oatmeal Cookies). These are a bit softer, though they do still have great texture from the old-fashioned (AKA rolled) oats and the chopped almonds. I absolutely love this recipe, personally, and think it's a great cookie to make once in awhile to mix things up.
Or, if you're like me and haven't made cookies in FIVE months (what's happened to me?!), then I guess this is a tasty recipe to get back into the cookie-baking game! Hope you love it. 🙂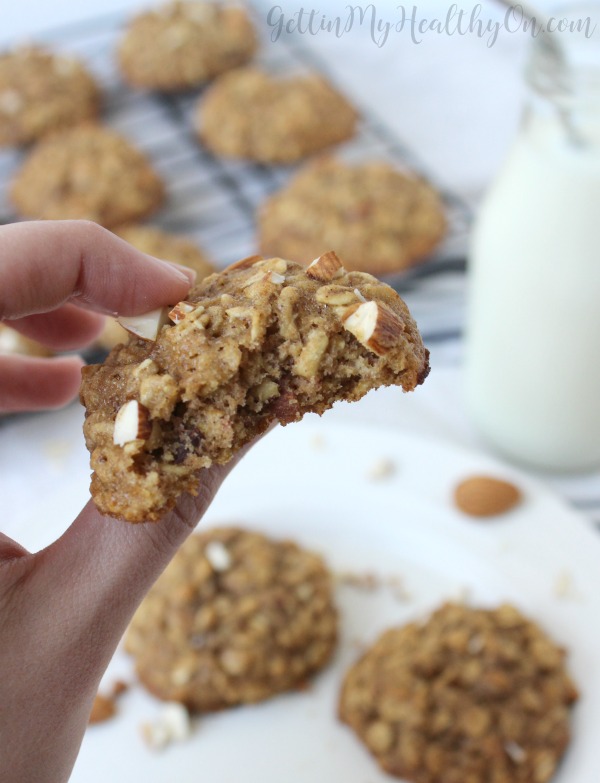 The original version of this post was published on December 11, 2012.