Workout
Running 4 recovery miles at some point (it's currently in the 20's). I'm thinking I'll do my 10-Minute Arms & Core Circuit as well.
My left hip is extremely sore, so I'll be doing lots and lots of stretching today and perhaps a bit of icing too. I hate icing because I find it to be a pain in the arse because I can't do anything else, but I feel it must be done today.
On the plus side, I ate all the cookies there are no cookies left that I made recently for some strange reason, so I won't be eating 500 today (unlike the past few days).
Tasty Tuesday
These cookies that I speak of are my, more or less, perfected recipe for almond oatmeal cookies.
I've been messing around with a general cookie recipe for awhile and made the best one yet last week! I'm super excited. When I discovered the magic of almond extract a few months ago, my life was forever changed. I got some compliments on these babies, and if you like oatmeal cookies and almonds, then you'll probably enjoy these as well!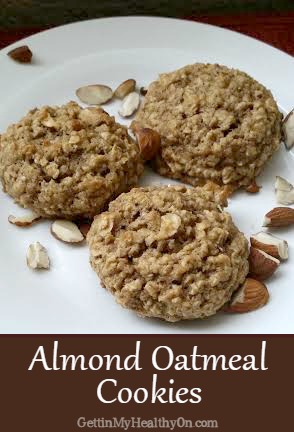 Ingredients
1/2 c brown sugar, packed
1/2 c sugar
1/2 c butter, softened
2 eggs
1/2 t vanilla extract
1 1/2 t almond extract
1/2 c applesauce
3/4 c flour
1 t baking soda
1/2 t cinnamon
2 c oats
3/4 c almonds, chopped
Directions
1. Preheat oven to 350 degrees.
2. Cream together sugars and butter in large bowl. Add eggs and then extracts and applesauce.
3. Combine flour, baking soda, and cinnamon in a smaller bowl. Slowly mix into wet ingredients.
4. Stir in oats and almonds.
5. Bake for 12-14 minutes and cool.
*Makes about 2 dozen Almond Oatmeal Cookies.
Let me know how they turn out if you make them!
Past Tasty Tuesdays:
Beergaritas
Cranberry Salsa
Dark Chocolate Peanut Butter Dip
Protein Oat Pancake