Using coconut oil and shredded coconut, this recipe takes oatmeal cookies to the next level for a flavorful, chewy dessert you can't get enough of.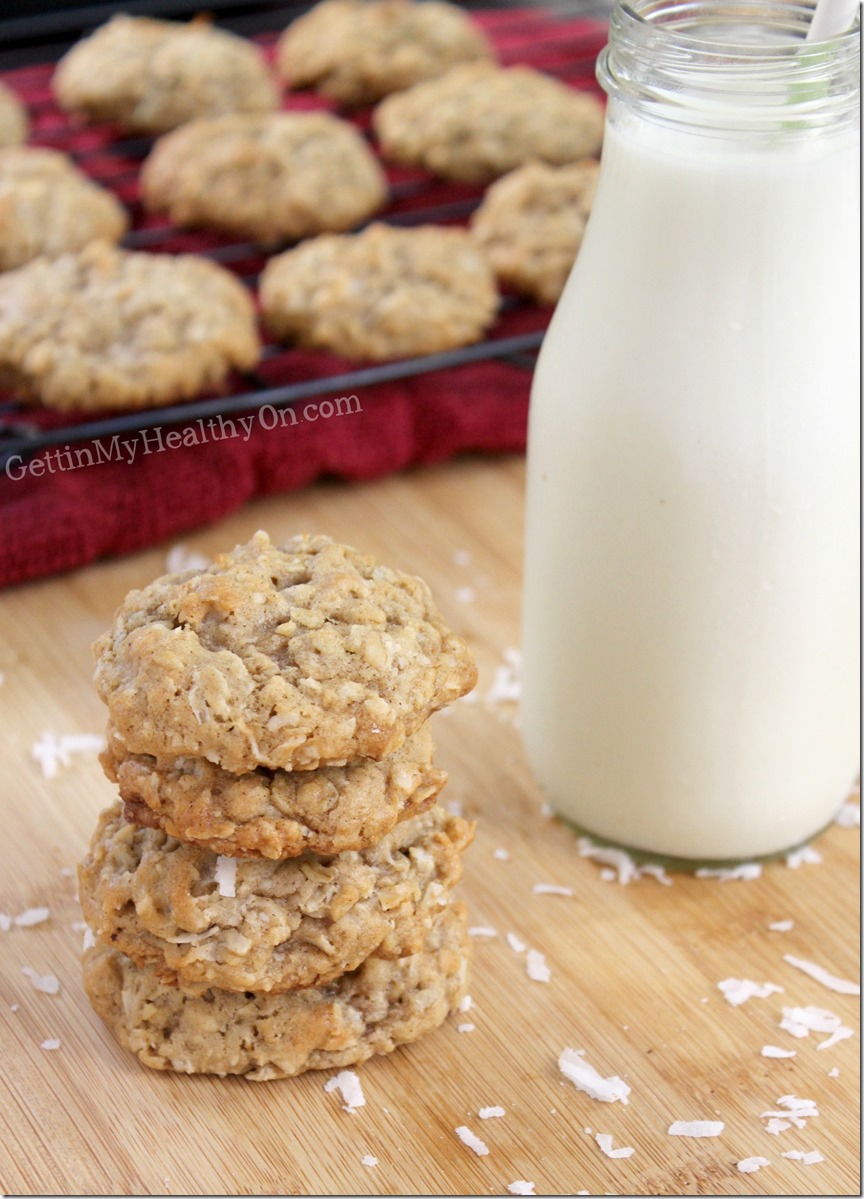 I'm a strong advocate for chocolate chip cookies. In fact, I rarely make cookies without using chocolate chips. They're basically the point of cookies to me – that is, most of the time. Once in a great, great while, I make a recipe, and it holds its own without the need for chocolate. This happened with the almond oatmeal cookies I made forever ago. This also happened a few evenings ago when I made a batch of these coconut oatmeal cookies.
Holy discs of chewy happiness – these cookies are out. of. this. world. I don't know what happened in my kitchen, but God has blessed it. I used a random coconut oatmeal recipe I found online as a base, then tweaked it like woa to my liking to create what is now my favorite non-chocolate chip cookies.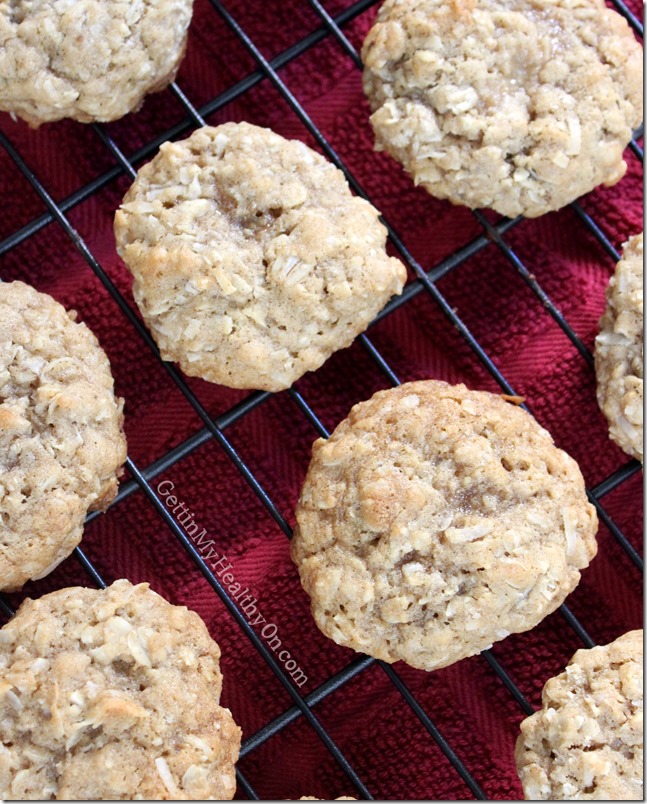 The coconut flavor in these oatmeal cookies is achieved through sweetened, shredded coconut as well as a bit of melted coconut oil. The coupling of these ingredients makes for the most beautiful burst of coconut flavor – it's like a tropical party in my mouth…but with a bunch of oatmeal involved.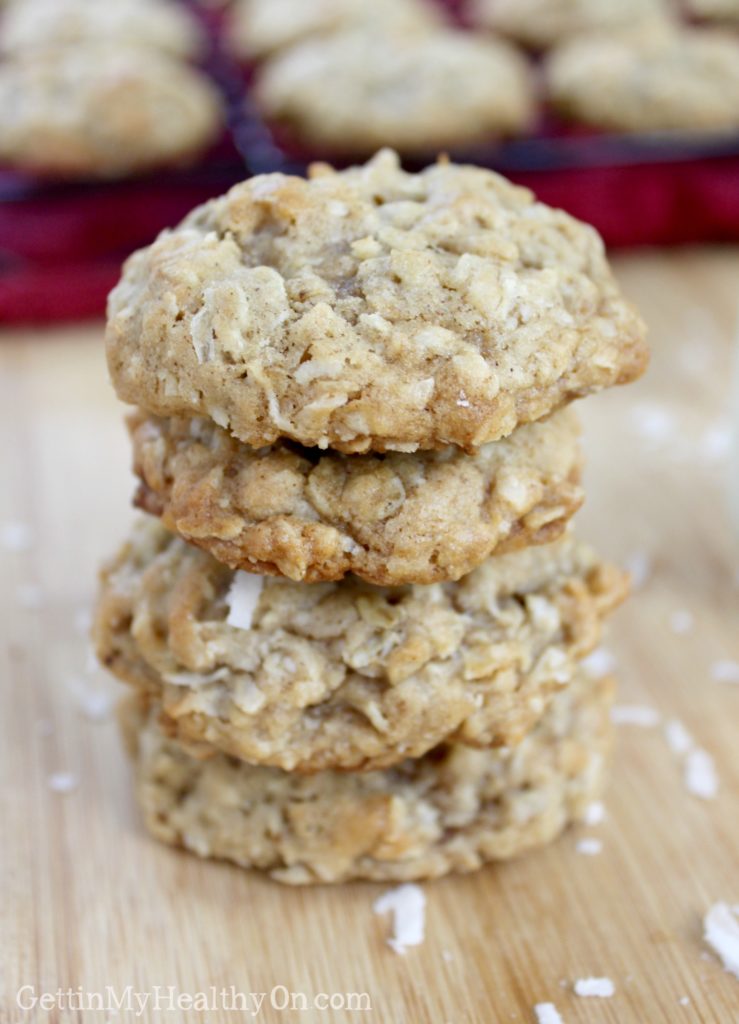 I combined a bunch of the usual cookies ingredients, but instead of the butter, I used about half melted coconut oil, half softened butter. I've used coconut oil in baked goods before, and while it usually works, I don't like how hard the food gets in the fridge and how crumbly it is at room temperature. Curse you, coconut oil, for adjusting to temperature so fast! I figured keeping half the amount of butter would keep things together, and that it did.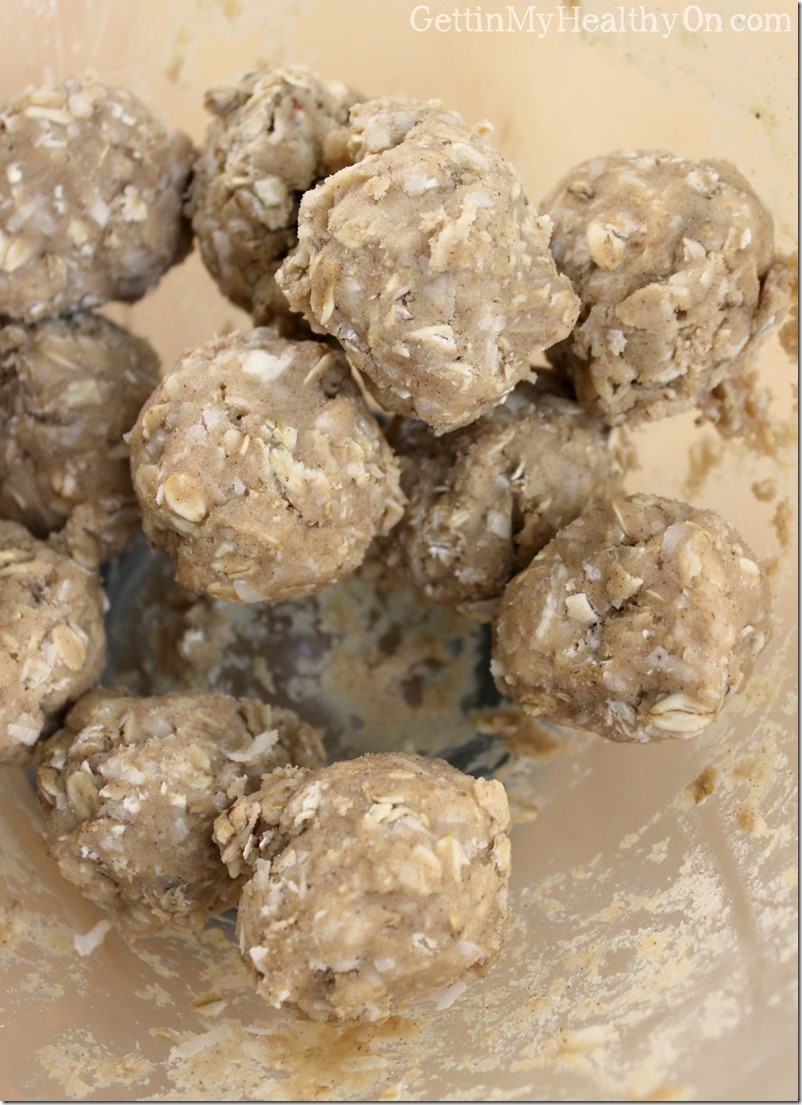 The trick with the raw cookie dough, though, is you must refrigerate it for at least an hour or two. Otherwise, the coconut oil just causes them to flatten immediately in the oven, and they don't turn into the appealing cookie shape we all know and love. What I did was refrigerate the dough for about an hour; then I took a cookie scoop to form the hardening dough into balls, which I finished by rolling between my palms. Once I had rolled all the dough, I put it back in the fridge for another hour. This amount of time worked beautifully.
Adapted from Averie Cooks.
Chewy Coconut Oatmeal Cookies
Ingredients:
1/2 cup brown sugar, packed
1/4 cup white sugar
1/4 cup coconut oil, melted
1/4 cup butter (half stick), softened
1 egg
1 Tbs vanilla extract
1 cup sweetened, shredded coconut
1 cup old fashioned rolled oats
1 cup all-purpose flour
1 tsp baking soda
1/2 tsp cinnamon
Dash of sea salt
Instructions:
In a large bowl, cream together sugars, coconut oil, and butter. Mix in egg and vanilla.
Slowly add in coconut, oats, flour, baking soda, cinnamon, and salt. Stir until just combined.
Store in the fridge for one hour.
With a cookie scoop, form dough balls, rolling between palms to help pack the ingredients together. Put back in fridge for another hour.
Bake at 350 degrees for 10-12 minutes, or until tops have started to turn golden brown.
After a couple minutes, transfer to wire racks for cooling.
Enjoy immediately or store at room temperature or in the fridge.
Recipe from GettinMyHealthyOn.com
Grab a glass of milk, and dig into these bad boys.
I kept mine in the fridge to help them keep longer, which, in retrospect, was absolutely ridiculous because these vanished within days.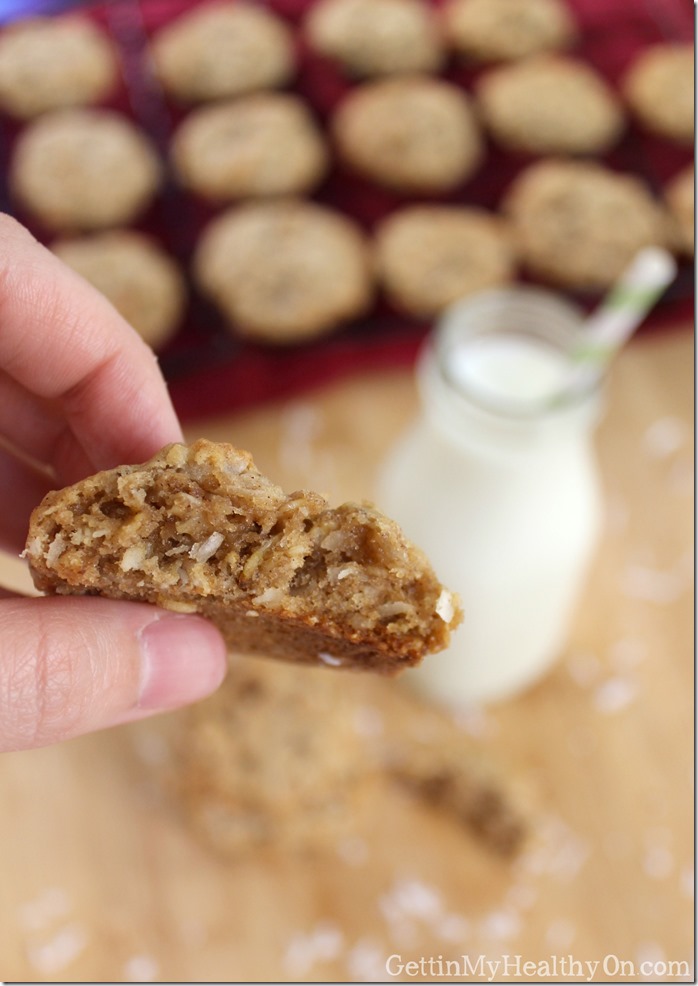 Now that I've talked up these cookies to such a ridiculous degree, I sincerely apologize if your high hopes lead to disappointment. I just don't think that's possible though. 😉