For a healthy, antioxidant-rich snack, try this creamy Mango Matcha Smoothie that combines fresh fruit with matcha green tea powder.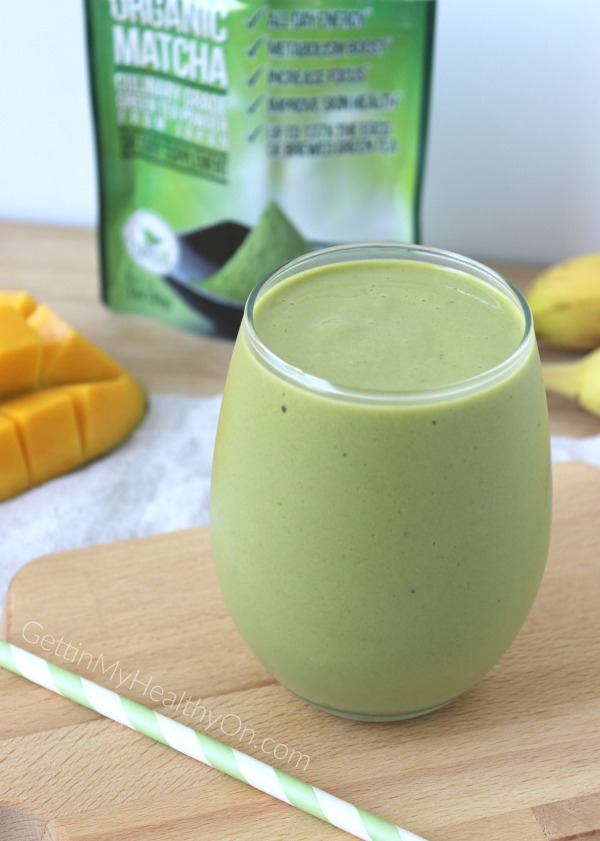 The best smoothies are the ones that are slightly sweet, super creamy, and vibrantly colored—at least in my opinion. This Mango Matcha Smoothie has all of these qualities, plus the magical ingredient of matcha green tea powder.
I've only had matcha green tea powder once before, and it was in a packet with a bag of green tea (pretty sure it was Kirkland brand?). It wasn't until I received a sample from Kiss Me Organics recently that I actually tried matcha green tea powder on its own.
In case you're not familiar with matcha green tea powder, here are a few highlights:
Matcha is made from finely ground green tea leaves, typically grown in Japan. These leaves are shaded towards the end of their growth cycle to increase chlorophyll content and create a deep green color.
Matcha is higher in antioxidants and caffeine than steeped green tea, since you're consuming the entire leaf.
Studies have shown matcha can help protect the liver, promote a healthy heart, and be a helpful aid for weight loss.
Matcha green tea is traditionally prepared by mixing 1-2 teaspoons of matcha powder with 2 ounces hot water using a bamboo whisk.
I'm really enjoying it as an addition to smoothies, in particular. It tastes like green tea (shocking) and has a beautiful green color. Pairing it with mango and banana created a pretty smoothie that wasn't overly sweet, which I really liked. It actually reminded me a bit of my protein spinach smoothie because of those qualities.
Ingredients:
1/2 cup mango cubes
1/2 frozen ripe banana
1/3 cup milk (dairy or other)
1 tsp matcha green tea powder
Instructions:
Add all ingredients to a blender, and blend until smooth.
Enjoy immediately.
Recipe from GettinMyHealthyOn.com
As I was trying to come up with the perfect mango-matcha recipe, I ended up making a couple different versions, with the winning combo being today's recipe. In order to not OD on matcha or waste any of it, I decided to dump the extra smoothie I had in my popsicle molds, which PRO TIP: is a great way to mix up your typical smoothie and create a healthy treat.
Matcha Green Tea Giveaway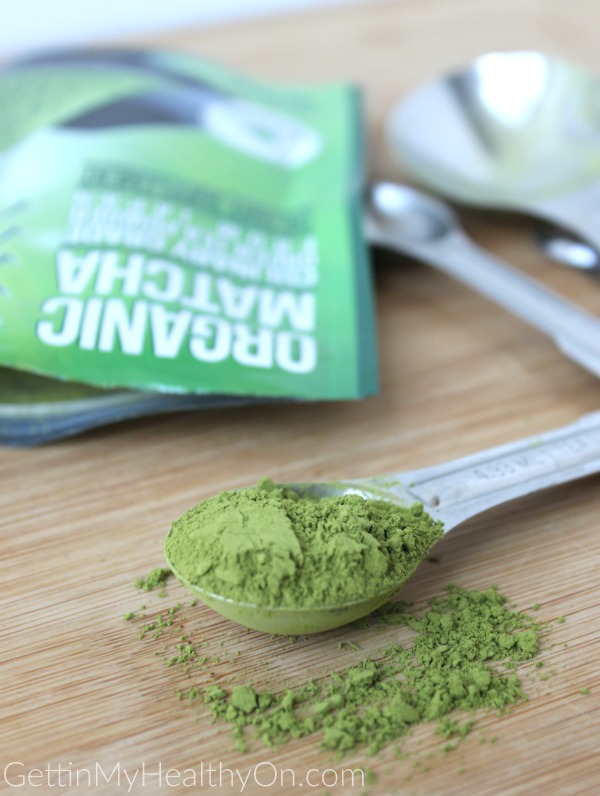 If you want to see what this matcha green tea powder business is all about, or replenish your supply, I'm excited to be hosting a giveaway with Kiss Me Organics! Your entry options are in the widget below.
Giveaway starts TODAY and ends Monday, November 13th, at midnight. Best of luck to you!
If you'd like to go ahead and buy the matcha green tea powder on your own, just use the coupon code IRS9QDKB for 20% off off the Ceremonial Matcha!
Have you ever tried matcha green tea powder? 
What are some go-to ingredients you add to smoothies?