As I've locked down healthier habits over the last couple years, I've noticed traveling can be a particularly tricky time for keeping up with workouts and making good food choices. After spending several months in California working a few different internships while crashing at my boyfriend's place, I finally headed back to Illinois on Sunday.
Anytime I fly, I try to prepare a plethora of healthy snacks for the flight to help me avoid airport food. Before I left my second home of San Diego, I ended up doing some baking—some foods to leave for Matt, and some to bring with me on my flight! Here's a look at some of my go-to foods for flying, or any type of travel, really:
Raw veggies (green pepper, carrots, celery, etc.)
Fruit (apples, bananas, grapes, etc.)
Granola bars
Pretzel and almond mixture (they're really good together; just trust me on this one)
Banana bread with peanut butter
Roasted chickpeas (see below for the recipe!)
I took a combo of some of the above items, which kept me satisfied. (Though I couldn't turn down the complimentary butter cookies from Southwest. So bad. But so good.)
As mentioned above, I tried something new and whipped up a batch of roasted chickpeas! Check out the recipe below:
Roasted Cinnamon Sugar Chickpeas
Ingredients:
1 (15 oz.) can chickpeas (garbanzo beans), drained and rinsed
2 tsp extra virgin olive oil, divided
1/2 tsp cinnamon
1/4 tsp nutmeg
1 Tbs brown sugar
Instructions:
Pour chickpeas into a medium bowl and thoroughly dry them with paper towels.
Add 1 teaspoon olive oil and stir until the chickpeas are lightly coated. Sprinkle cinnamon and nutmeg on top; continue to stir.
Spread chickpeas in a single layer onto a baking sheet lined with parchment paper.
Bake at 450 degrees for 30-35 minutes, or until testing a chickpea proves they are sufficiently crispy.
Transfer chickpeas back into the bowl and pour the remaining 1 teaspoon olive oil and the brown sugar; stir.
Pour chickpeas back onto baking sheet, and bake for another 5 minutes.
Remove from oven and let cool.
Enjoy immediately (for the crispiest chickpeas) or store in an airtight container (for softer chickpeas later).
Recipe from GettinMyHealthyOn.com
My advice: Roast the chickpeas on the same day that you're going to eat them. You can definitely keep them for later, but the satisfying crunchy texture gradually lessens. 
A 15-ounce can of chickpeas has about 24.5 grams of protein, making them a healthy and filling snack option. I plan to try a savory version of roasted chickpeas soon, but for now I'm loving this subtly sweet version.
Now that you're up to speed on how I make healthier food choices while traveling, it's time to talk fitness! I'm kind of all over the country lately, because I'm in Wisconsin right now, deep in the north woods spending time with family. During the long drive up here, I jotted down a circuit workout to try during my downtime. I always find working out to be a huge challenge when on vacation because of multiple reasons:
I'm usually the only one concerned about getting in a daily sweat session, so it can cut into hang-out time.
There isn't as much space or equipment available like I have at home, so I have to make the most with what I've got.
Here's a look at the full-body circuit routine I went through: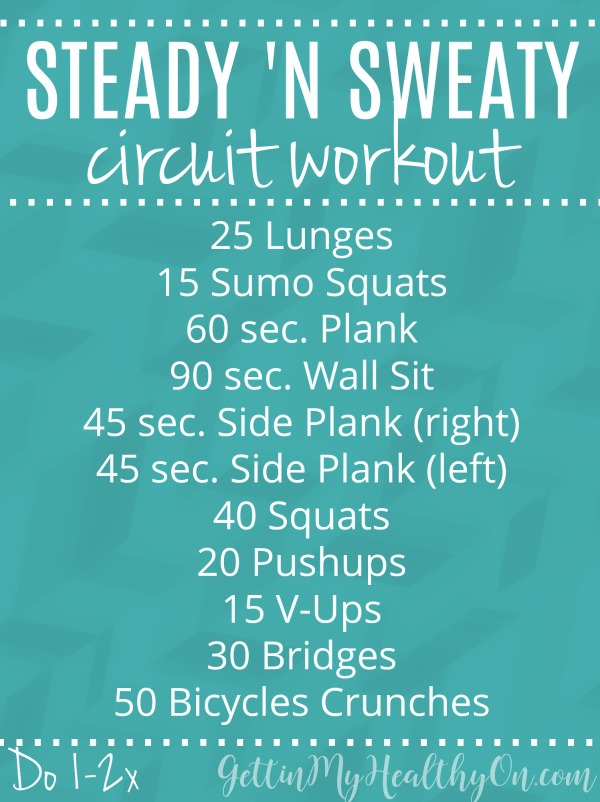 Since I knew I wouldn't be doing much exercising this week, I wanted to make a workout that would work a little bit of everything. I actually ran out of time when I was going through this, so I only got through it once. But I ended up going kayaking later, so that was an amazing supplement to my morning circuit!
To sum up this whole "staying healthy while traveling" situation: my advice for making it work is to plan ahead. I've only recently started creating my own workout routines, but I'm really enjoying the customization based on how much time I have and what I'm in the mood for. Even if you can't get a long and intense workout in because of your busy travel schedule, I've found doing even a little bit can feel great and help keep me on track.
A modified workout schedule plus having healthy snacks—ya know, like roasted chickpeas ;)—can turn a vacation from being pleasantly lazy to relaxed with a side of activity.
Do you workout when on vacation? What type of fitness do you do?
Do you buy airport food or prefer bringing your own snacks?