At this point in the week, our fridge is usually just a hollow shell containing what seems like 500 condiments and a jar of pickles—especially this week because our apartment building was fumigated so we haven't been there for a few days.
We go on a big grocery shopping trip every weekend, and on those first couple days after, opening the fridge doors is like looking into an abundant land of nourishment. For now, though, we'll be throwing together the remaining randomness to create weird meal-like concoctions.
In order to actually fill the fridge with nutritious foods, there are certain "rules" that help me navigate through the supermarket. These keep my cravings (or lack of creativity) in check, making it easier to just fill the cart without thinking too much. Although there are several factors to consider when grocery shopping, I consider ten tactics, in particular, to be the golden rules for making sure you get healthy items.
Pro Tip: don't go hungry, unless you're like I was in college and never end up buying enough food. Hunger can be a good or a bad motivator for picking out foods. 😉 
Without further ado, here are my top ten tips for choosing healthy options at the grocery store.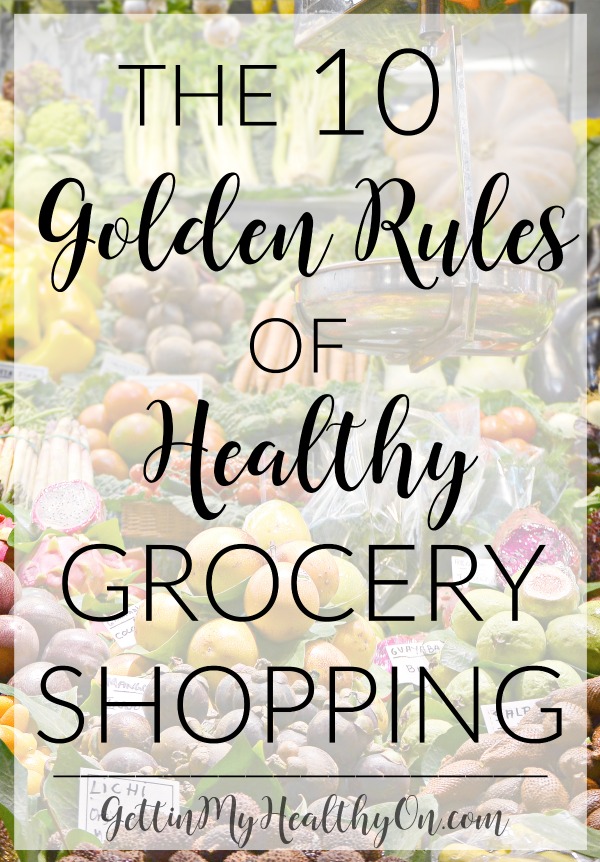 1. Bring a List
Before you even get to the store, I highly recommend taking a quick inventory of your current stock and creating a list of what you need (kudos to you if you meal plan, as well, so you know exactly what you'll need). I'm a very efficient grocery shopper because I rarely browse, which also prevents me from buying junk or spontaneous items I don't need. I have my list (often organized according to where they're located in the store because that's the type of person I am), and I hunt down each item until the list is complete. It's so simple yet quite underrated.
2. Focus on the perimeter of the store.
The next time you go to the store, pay attention to how it's set up. The center aisles tend to house most of the processed food, while the outer walls are usually where produce, meat, and dairy can be found. Obviously, this varies from store to store, but if you spend most of your time on the periphery, you'll probably be stocking up on healthier items.
3. Buy produce in season.
There are multiple reasons why buying fruits and vegetables in season is a good life decision. My main motivation? They're typically much cheaper—more produce for less, FTW. Also? When you buy produce in season, there's a good chance it's fresher and grew in a more natural way. As a result, this often means it'll be more nutritious and taste better.
4. Limit packaged foods to those with identifiable ingredients.
There are so many great pre-packaged products at the store that are perfectly healthy and awesome (like LARABARs). A great rule of thumb when looking for processed foods is to find ones with ingredients you can pronounce since that probably means they weren't whipped up in a lab somewhere (bonus points if you can find products with fewer than five ingredients).
5. Make your cart contents colorful. 
I'm not saying buy cereal in every color of the rainbow (though I'm really liking the sound of this challenge…). I'm talking produce, specifically. Different-colored veggies, for instance, tend to be packed with different types of nutrients (nature is pretty awesome). When you look down at your cart at what you've picked out so far, make it pretty. Try choosing multiple colors, since this often means there's a variety of vitamins, minerals, and phytonutrients.
6. Avoid added sugar as much as possible. 
Natural sugars are in a lot of items (e.g., fruit, dairy, etc.); I personally don't stress about those. However, if you're buying yogurt with 19 grams of sugar per serving, that should raise a red flag. If you see any form of sugar in the top three ingredients, there's a good chance the product is quite heavy on it. "Sugar-free" labels usually mean artificial sweeteners are compensating for the lack of sugar. Instead of trying to cut it all out, try focusing on packaged items with "no added sugars" (and checking the ingredient label for sneaky add-ins). Fun fact to put things into perspective: 4 grams of sugar is equal to about one teaspoon of granulated sugar.
7. Buy 100% whole wheat or whole grain.
"Whole wheat" and "whole grain" are terms indicating the bread (or other product) is made from the entire wheat/grain kernel, which is full of fiber and other nutritional content. Products labeled as just "wheat" or "multi-grain" can be tricky because although the terms sound healthy, the wheat/grain content could be very processed, stripped of their vitamins, minerals, and other healthy goodness. A good rule of thumb is to check for the word "whole" before "wheat" or "grain" since that means the full nutritional content of the wheat/grain remains.
8. Get the plain versions of items.
Sometimes simpler is better. If you buy the more basic versions of some foods—like plain yogurt, a canister of oats, brown rice, etc.—they can be used in so many different ways. Not only are they more versatile, being dressed up any way you want them, they're often cheaper and not full of as much sugar, sodium, or other sneaky ingredients. As you get the more exciting options, you might notice there's a lot more going on in the ingredient list. I'm all about getting the plain stuff and jazzing it up at home—it allows me to have control over any add-ins.
9. Don't neglect the canned goods or frozen food aisles.
There's a lot of good stuff in these aisles; you just have to know what you're looking for. While it's ideal to avoid items like frozen meals and canned Spaghettios (nom), you can find a bunch of surprisingly nutritious and affordable items within these magical aisles. From canned beans packed with protein, to fruits and veggies that were frozen at the peak of their season—never underestimate the possibilities of foods with a longer shelf life!
10. Strive for a cart with 50% produce, 25% lean meat or plant-based protein, and 25% whole grains.
Before you head to the checkout, take a look at your cart and the amount of each food group filling it up. In theory, a good goal is for it to be divided like a balanced meal. According to the United States Department of Agriculture (USDA), half of a person's plate should be fruits and veggies, a quarter should be protein, and the last quarter should be grains. (More info on this can be found at ChooseMyPlate.gov.) This will obviously vary based on multiple factors, but I love the idea of it for a general rule.
There's a lot that could be added to this list, but I think at a certain point, the rules would become slightly less golden. 😉 I keep a bunch of these guidelines in the back of my mind to make grocery shopping a bit less effort while yielding more nutritious goods.
Take them or leave them. Try a few and ignore the rest. Whatever you do, just make sure it works for you. Happy grocery shopping!
Do you follow any of the rules in this list? 
What would you say is the most important strategy for healthy grocery shopping?