This classic banana bread recipe is fluffy, slightly moist, and full of delicious banana flavor.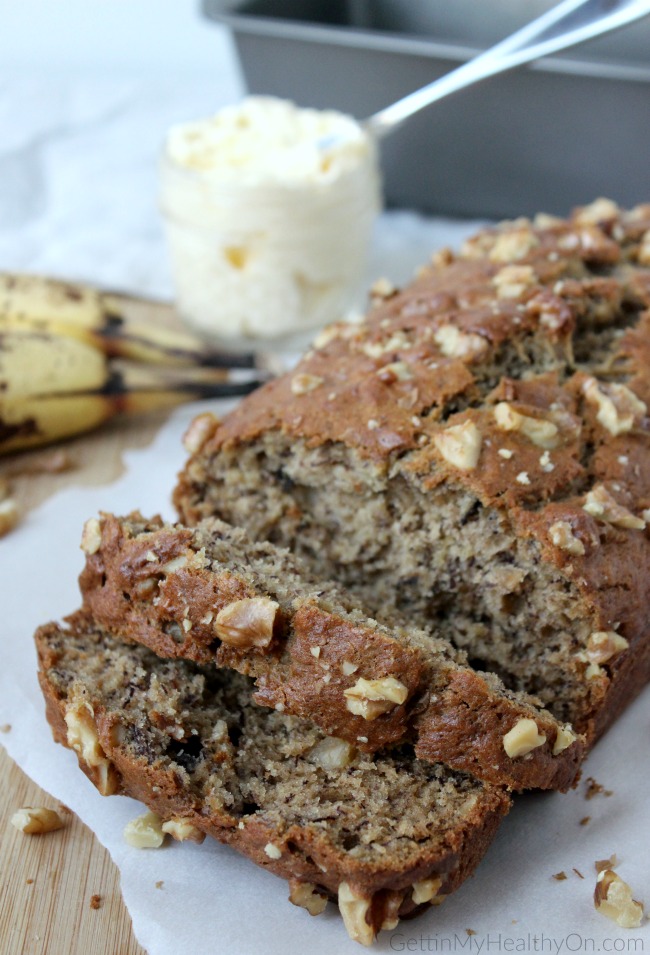 I'm continuing my love affair with banana bread today. Monday, I discussed how to ripen bananas in the oven—amazing food hack, by the way. Today, I'm discussing my go-to recipe for making straight-up banana bread. No Greek yogurt…no protein powder…no chocolate…just the basic recipe that I make when I want classic banana bread.
I posted this recipe about five years ago, but since it's gotten lost within a bigger post (because the early years of blogging were a bit chaotic for me), I'm dedicating today's post to it.
Sometimes I make banana bread just because I have overly ripe bananas that need to be used or thrown away (GASP)—and my freezer is overflowing with frozen bananas already. Other times, I just want an easy snack for the week that doesn't require any prep. Despite my reason for making this recipe, I'm always surprised at how satisfying the textures and rich flavor are.
This recipe isn't anything groundbreaking. It's just banana bread. But of all the banana bread recipes I've made over the years, this has become my favorite. Maybe it has something to do with using oil instead of butter? Not sure. But if you've got a bunch of bananas to use up, I highly recommend it!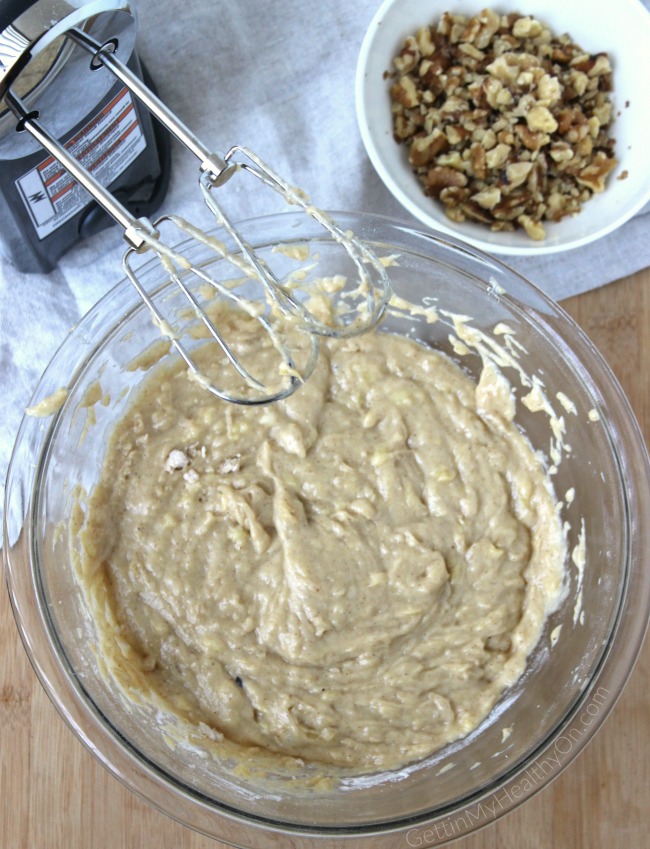 You know a recipe's going to be good when the batter is delicious. That's something I've learned throughout my years of eating copious amounts of raw cookie dough testing recipes. 😉
I think my favorite part of this post is the detail my camera picked up in the bread. You really get an idea of the almost crusty outside and the fluffy inner meat. Perrrrfection.
Ingredients:
1 2/3 cups all-purpose flour
1 tsp baking soda
1/2 tsp cinnamon
1/8 tsp nutmeg
3/4 cup granulated sugar
2 large eggs
1/2 cup canola oil
3-4 ripe bananas, mashed
1 tsp vanilla extract
3/4 cup walnuts, chopped (optional)
Instructions:
Preheat oven to 350 degrees and grease loaf pan.
Whisk together flour, baking soda, cinnamon, and nutmeg in a medium bowl.
In a larger bowl, beat sugar and egg together until light and fluffy. Add oil, bananas, and vanilla.
Mix dry ingredients into the wet mixture until just combined. Fold in walnuts.
Pour into loaf pan and bake for 45-60 minutes, or until a toothpick inserted into the middle comes out clean.
Recipe from GettinMyHealthyOn.com
I'm not sure if I'd describe this banana bread as super "moist"—it has more of a light, bouncy structure. But thanks to the mashed bananas and canola oil, it definitely has a nice touch of moisture content.
I highly recommend the addition of walnuts (or another nut) to this, because they add such a nice flavor and crunch to the bread. Or I suppose if you want this to be more dessert-like, use chocolate chips instead of/in addition to the walnuts. The possibilities are endless.