Transform your typical baked salmon with this flavorful butter sauce packed with fresh lemon juice and garlic.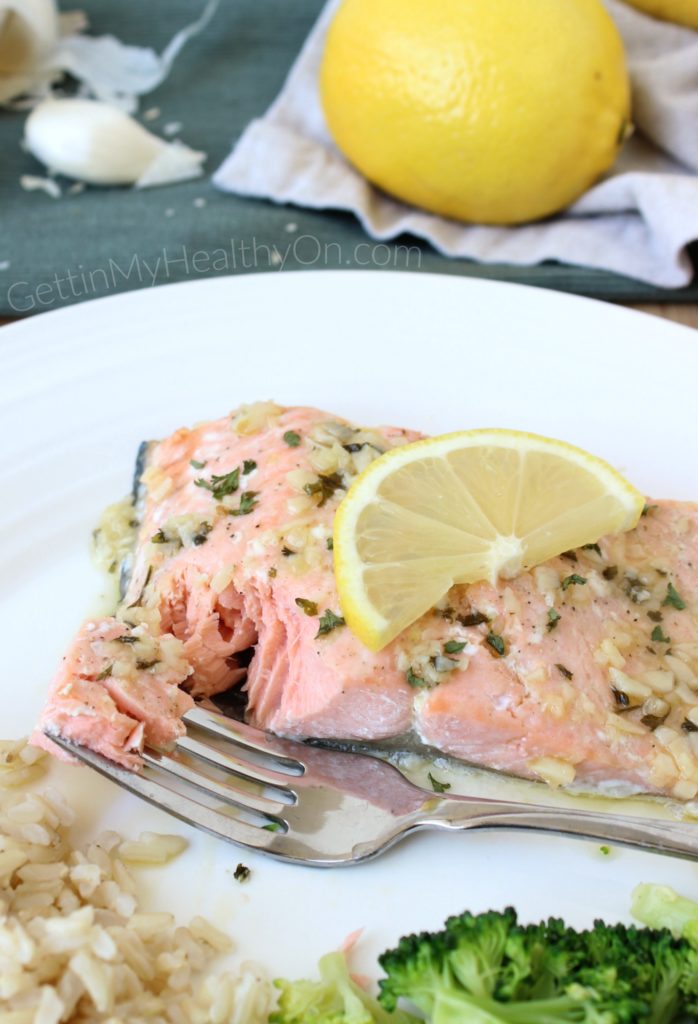 So I've been trying to do this thing lately where I eat fish more than once a month. Apparently it's good for you or something. My go-to type? Salmon.
My usual way of cooking salmon is in the oven, either by baking it or broiling it. Also? I love to make it not taste like fish. So you can bet pretty much any fish recipe I share on here is packed with flavors that cover up any hints of fishiness. Today's recipe is no different!
I've shared a Parmesan Herb Baked Salmon recipe and a Sugar and Spice Salmon recipe in the past, but for this one, I'm focusing on three of my favorite ingredients: lemon, garlic, and butter. I swear, they can make almost anything taste good. I usually avoid using much butter in my cooking, but I figured…I'm eating salmon so all the healthy fats kind of cancel out any saturated fat, right? 😉
The sauce is where the money's at for this baked salmon recipe. You just throw a little of this and that in a saucepan—AKA, minced garlic, fresh lemon juice, butter, chicken (or veggie) broth, parsley, and honey—cook it on medium-low while the salmon finishes baking, and then pour the heavenly sauce on top of the salmon fillets. To. Die. For.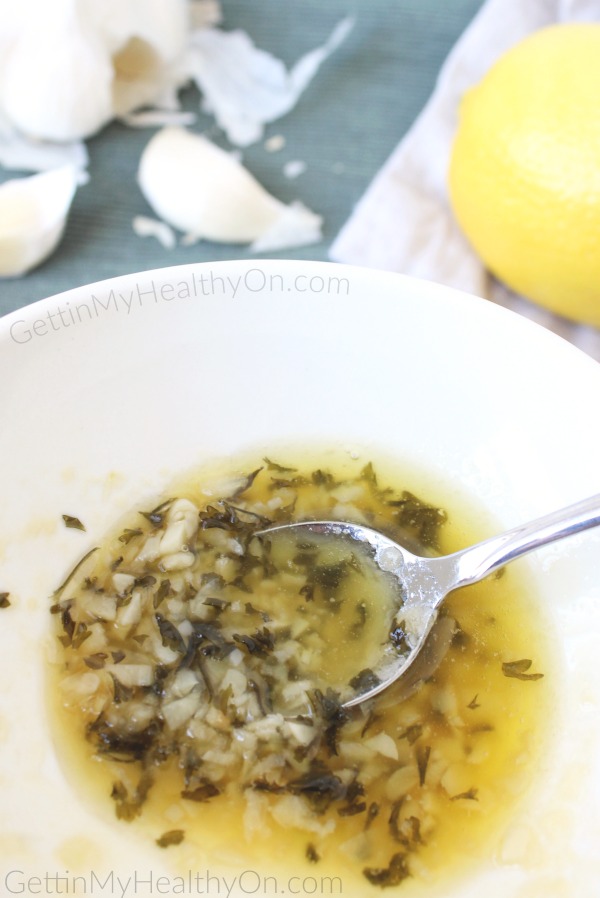 The first time I made this for Matt and myself, I wasn't expecting it to blow me away, though I knew it wouldn't be bad because HELLO butter and garlic are involved. After Matt took a few bites, he lit up and said something like, "You are an amazing cook." Okay fine, that was what I told him, but he agreed the salmon was on point.
Due to this sauce being some sort of magic, I've pretty much only been making this recipe lately when I want fish (except when I realize we don't have fresh lemons…worst realization EVER). If you have fresh parsley, you can definitely sub it in for the dried in this (use 1 tablespoon instead of 1 teaspoon), but I somehow never have the fresh herbs I actually want on hand, so dried is how I live my life. Definitely gets the job done in this sauce though!
Baked Salmon with Lemon Garlic Butter Sauce
Ingredients:
4 (4- or 6-oz) salmon fillets
Salt and pepper to taste
4 garlic cloves, minced
1/4 cup chicken broth
2 Tbs fresh lemon juice
3 Tbs salted butter
1/2 tsp honey
1 tsp dried parsley*
Optional: lemon slices for garnish
Instructions:
Place salmon (skin side down) onto baking sheet coated with non-stick cooking spray. Season with salt and pepper to taste. Bake at 425 degrees for about 7-10 minutes**, or until the fish can easily be flaked with a fork.
While the fish is cooking, add garlic, broth, lemon, butter, honey, and parsley to a small saucepan. Cook over medium-low heat for about 3-5 minutes, or until the mixture reduces by half and garlic is fully cooked.
When ready to serve, pour butter sauce over the tops of each salmon fillet. Enjoy!
Notes:
*Instead of dried parsley, you can use 1 Tbs. fresh parsley. (Ratio of 1:3) **Baking time may vary based on the size and thickness of the salmon fillets.
Recipe from GettinMyHealthyOn.com
Adapted from Cooking Classy.
Do you eat fish very often? What's your favorite kind to make?