Transform salmon filets with this simple yet flavor-packing topping—it makes for a quick and nutritious dish perfect for any weeknight.
In my opinion, salmon is the king of all fish varieties. I grew up with a fisherman father, and salmon is one of the fish he has loved fishing for. So I just kind of grew up being spoiled with fresh, delicious salmon filets. I think that's why it's always my go-to fish to cook at home. Granted, I'm not reeling in any fresh salmon these days, but the freezer section at the local grocery story supplies an adequate substitute. 😉
Although I love salmon, I don't eat it—or any fish—nearly enough. It's such a healthy food and makes for some great variety throughout the week as I'm searching for easy-to-make proteins. That's why I've been really trying to incorporate it more into my meal planning.
In addition to my Sugar and Spice Salmon, I've been hooked on the recipe I'm sharing today. It's ridiculously simple and takes very little time to prepare. The magic is in the topping: Parmesan, garlic, and parsley. That's it.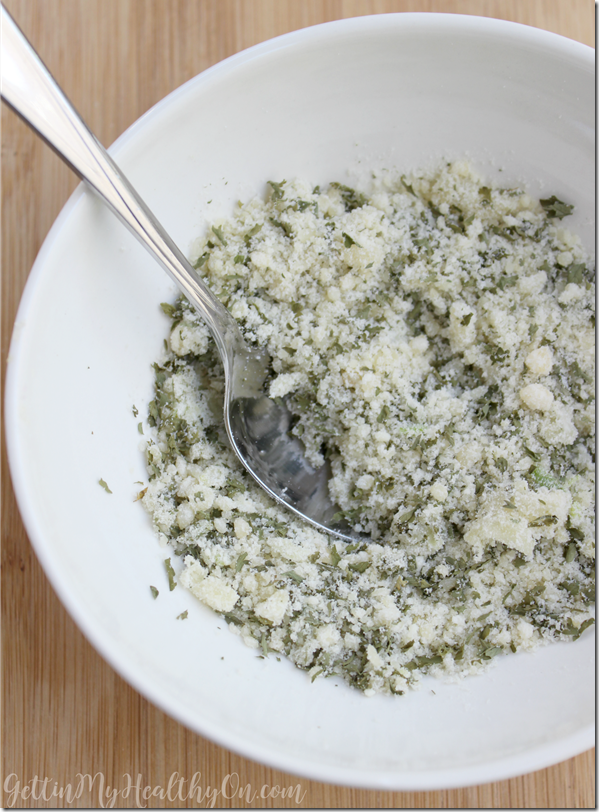 I've made this with both fresh and dried parsley, and I've loved both versions. Since I don't usually have fresh parsley on hand, I wanted to share the dried herb version because it's much easier to make on a whim. After you've stirred the ingredients together for the topping, you just pat them onto a couple salmon filets, and bake it until the fish can easily be flaked with a fork. (I'm shockingly decent at cooking fish, even though I've become infamous for drying out chicken.)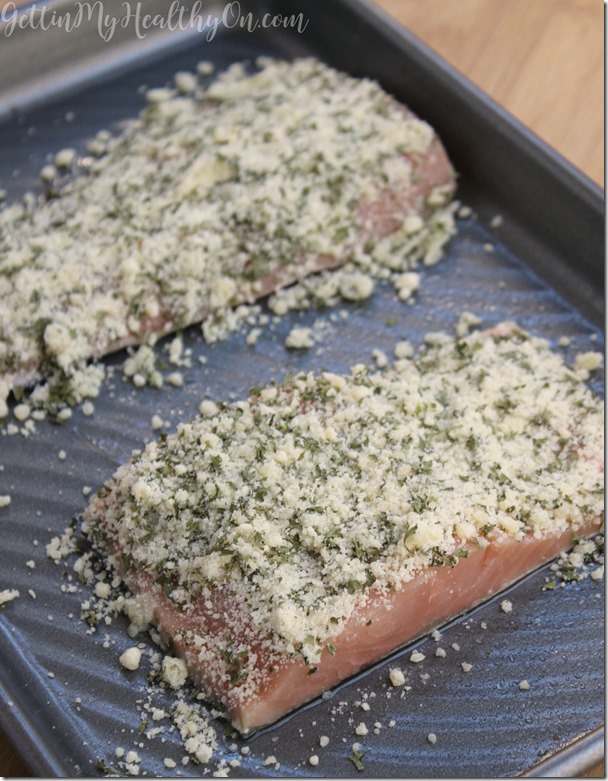 As this bakes, the house fills with the most delicious aroma from the herb and cheese blend. Seriously, it's shocking how wonderful this smells and, more importantly, tastes. I'm not one to be wolfing down a filet of fish. And I'm not usually one to want seconds. But there's just something about this that appeals to my senses. SO delish.
Adapted from Add a Pinch.
Parmesan Herb Baked Salmon
Ingredients:
2 (4-oz.) salmon filets
3 garlic cloves, minced
1 Tbs dried parsley*
1/2 cup grated Parmesan
Instructions:
Place salmon filets onto baking sheet sprayed with non-stick cooking spray.
In a small bowl, combine garlic, parsley, and Parmesan.
Cover each salmon filet with half of the mixture.
Place baking sheet onto wire rack about 6" from the heat. Cook for about 7-10 minutes, or until fish is no longer opaque and can easily be flaked with a fork. (Cover with foil when Parmesan begins to brown.)
Serve immediately.
Notes:
*Instead of 1 tablespoon dried parsley, you can substitute 3 tablespoons fresh parsley.
Recipe from GettinMyHealthyOn.com
What's your favorite type of fish to eat?
Is there a special way you prepare it that's your go-to?