I've got a circuit workout and a month-long workout for you today!
Below is a circuit I did on Wednesday that will probably be one of my new go-to's. It's another low impact circuit, which I'm all about. You see, some days I'm just not into the cardio thing. Not going to lie, a lot of the time it's because I'm not in a workout mood, so jumping around doesn't exactly sound that awesome. I find weight-focused workouts are my favorite by far. They're always a challenge and make me sore—aka what I'm always looking for in a workout.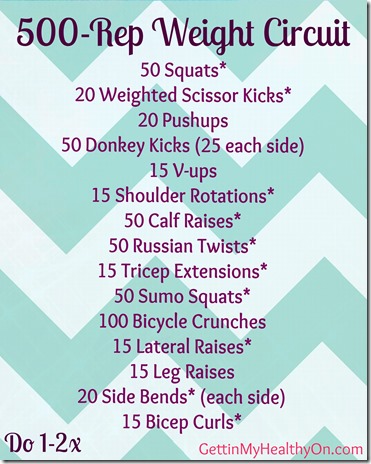 The exercises with a * next to them indicate which ones I added dumbbells to (either a pair of 5lbs or 10lbs). All of the moves are in my exercise guide, if you're not sure how to do them properly. The circuit took about 10 to 15 minutes to do 1x through.
NOW, I have a little challenge for you. I've done a Pushup Challenge, and I've done a Plank Challenge. I think it's time to focus on the lower body.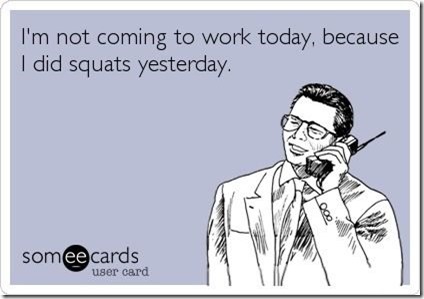 At least that's what I'll be saying in a month…
Earlier this week, I was thinking of how I want to do another workout challenge of some sort, and squats were the first exercise that came to mind. I'm weirdly excited about this because squats are one of my favorite exercises. They're effective and don't make me hate life. Mountain climbers, anyone?
So here's the deal:
Each day, do the number of designated squats. You can do them all at once, or you space them throughout the day. It's up to you and what time you have time for. I think I'll make it my goal to do them all at once, but some days, I just don't know if I'll be able to fit in a 200+ squat session if I'm also planning to stick to my normal workout schedule.
This challenge seems like a great thing to do while watching TV or maybe even at work if you're feeling crazy. The only problem I see with that is…losing count. I'm a professional failure at rep counting if anything else is going on in the background. You could say I get distracted easily, especially if I have as many reps as are displayed below…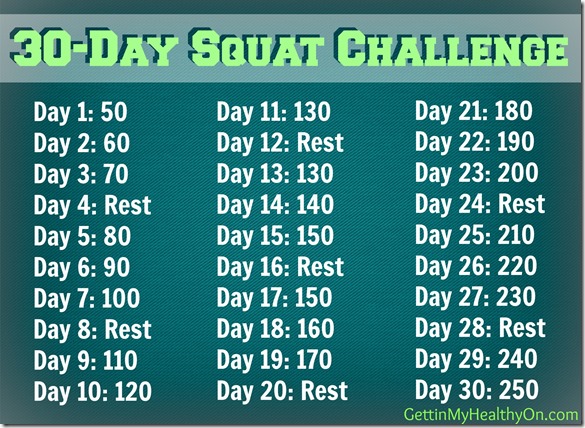 I'm feeling good about this one though. It seems so doable for people of any fitness level. I say that only because you have all day to work up to the designated number.
Should be a piece of cake, right?

I found this visual below for proper form and thought it was a great example, if you're curious.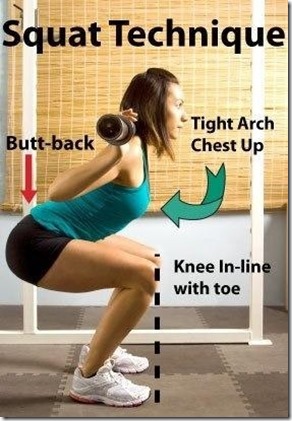 [Source]
I'll be starting the challenge TODAY with 50 squats, and I encourage you to join me!!
Questions for you:
Favorite or least favorite exercise: GO!
My favorite is bicycle crunches. Least favorite is either pushups or mountain climbers.
How will you be spending your weekend?
We have a few random adventures planned—beach volleyball being one of them! I'm all about this "winter" San Diego weather.