In honor of tomorrow being Valentine's Day, I've created a partner workout for you to do with a woman or man friend in your life.
Although Matt and I don't usually do the same workouts, it can be fun sometimes to join forces and push each other to work harder (exhibit a: P90X). We did this workout last night one time through, but in the future, I think doubling it would be perfect. I used mostly exercises that could be done individually at any fitness level. Since Matt is more in shape than I am, I wanted to make sure it was a good workout for both him AND me. So with this workout, the exercises are what you make them, not necessarily how many your partner can do.
As you can see below, there is a combo of exercise types. Some that you perform with the help of your buddy (like sit ups), some done simultaneously (like planking), and some alternating (one person does burpees while the other does jumping jacks).
I tried to make the directions as clear as possible without writing a book, so hopefully it makes sense! Let me know if you have any questions.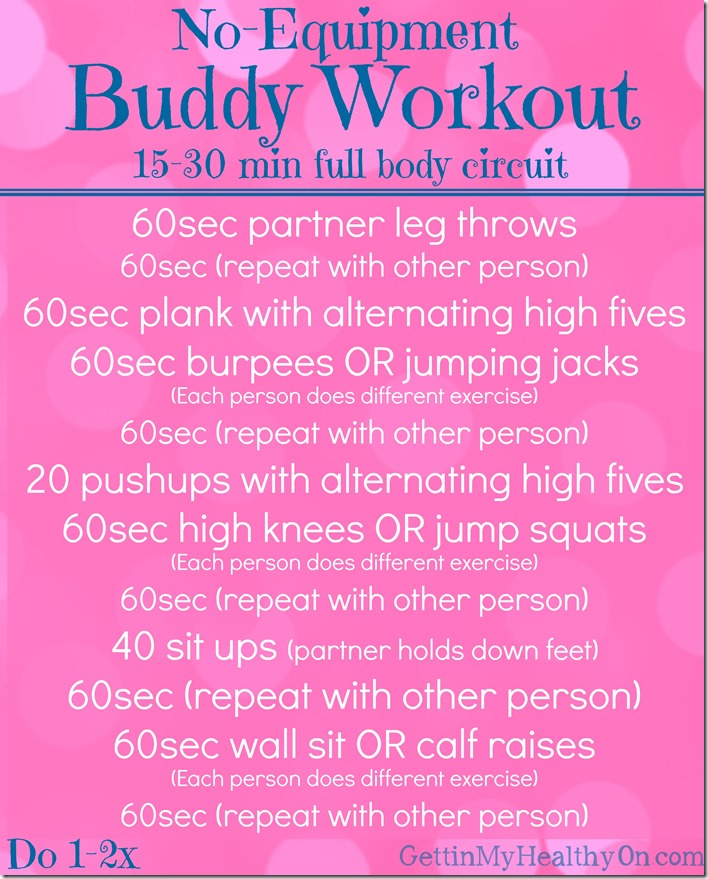 Check out my exercise guide for video examples of a bunch of the exercises if you aren't sure how to perform them. Exercises I haven't used in past workouts include the following (click for a demonstration video): partner leg throws, plank with alternating high fives, pushups with alternating high fives, and sit ups.
Also, just to clarify, for exercises that have an OR, that means one person does wall sits, for example, while the other does calf raises. Once the minute is up, you swap and do the other exercise for another minute.
Get it? Maybe? Okay, go exercise with your friend, lover person, or buddy of sorts! And have a lovely Valentine's Day tomorrow.

 Oh! And happy Friday the 13th! Mwahaha.