This Maple Vanilla Granola recipe utilizes natural ingredients like coconut oil, pure maple syrup, and vanilla extract to make for a sweet and crunchy granola snack to put on yogurt, a smoothie bowl, or straight up!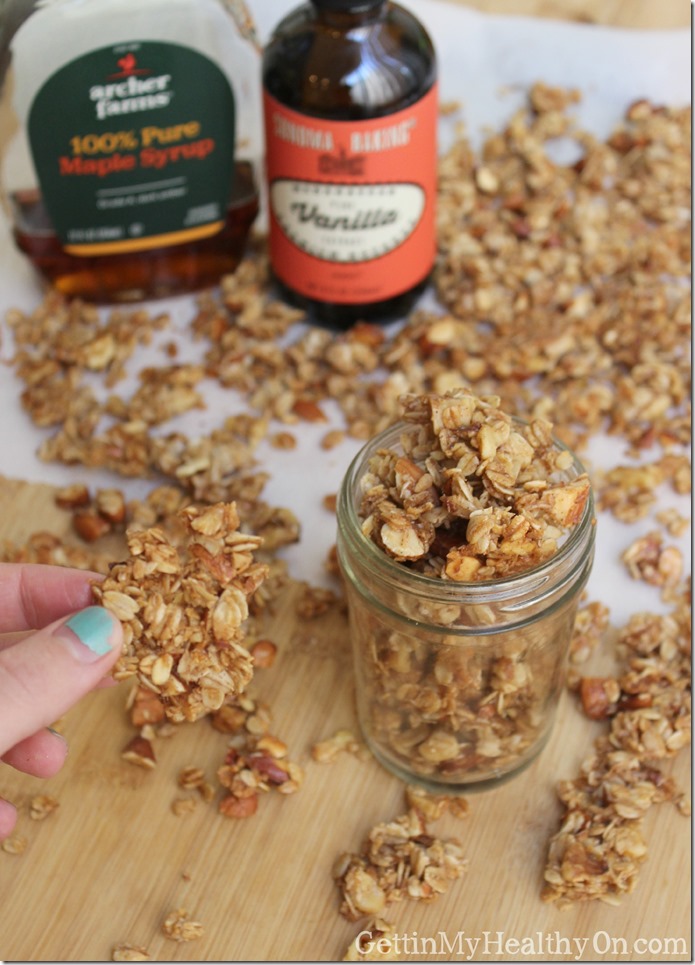 Have you ever made food that was so good that you were upset about it? Because that's the bizarre reaction I had when this granola came out of the oven. It was so good that I was sad about how addictive I knew it would be. (Self control is hard with granola in the first place.)
But seriously, I've made granola before, and while it was all fine and dandy, it wasn't as outrageously tasty as this stuff. I think the degree of deliciousness was a  result of the flavor combo—vanilla, maple, and cinnamon—along with the perfectly crunchy texture brought on by the nuts and oats covered in maple syrup and coconut oil. I'm pretty sure I've made the mother of all granolas. Like, I just need to get this point across. It was like candy.
Alright, I think you get the point.
The ingredient list is filled with items I usually have on hand, so this may become a recipe I make regularly to go on yogurt throughout the week. To make the heavenly granola, you'll need to combine 1 1/2 cups old fashioned rolled oats, 1/2 cup chopped almonds, 1/2 cup chopped walnuts, 1/4 cup unsweetened coconut flakes (shredded works too), 1/2 teaspoon cinnamon, and 1/8 teaspoon salt.
In a separate bowl, you'll want to mix together 1/2 cup pure maple syrup, 1/4 cup melted coconut oil (which I had to throw in the microwave because our house is cold, and the oil has solidified) and then 1 tablespoon vanilla extract. NOW, pour the wet ingredients into the bowl of dry ingredients and stir, making sure the oats and nuts are covered in the sugary vanilla goodness.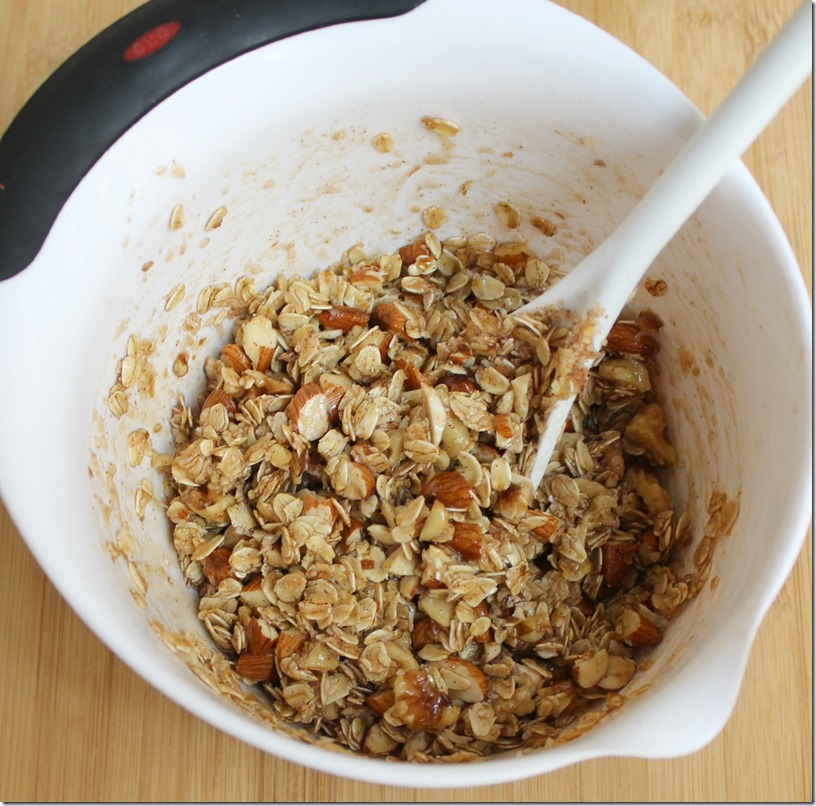 Pour the mixture onto a baking sheet covered in parchment paper. Make sure it's pretty evenly distributed and not piled up—ain't nobody got time for burnt granola (or the handy dandy smoke detector letting you know your food is done).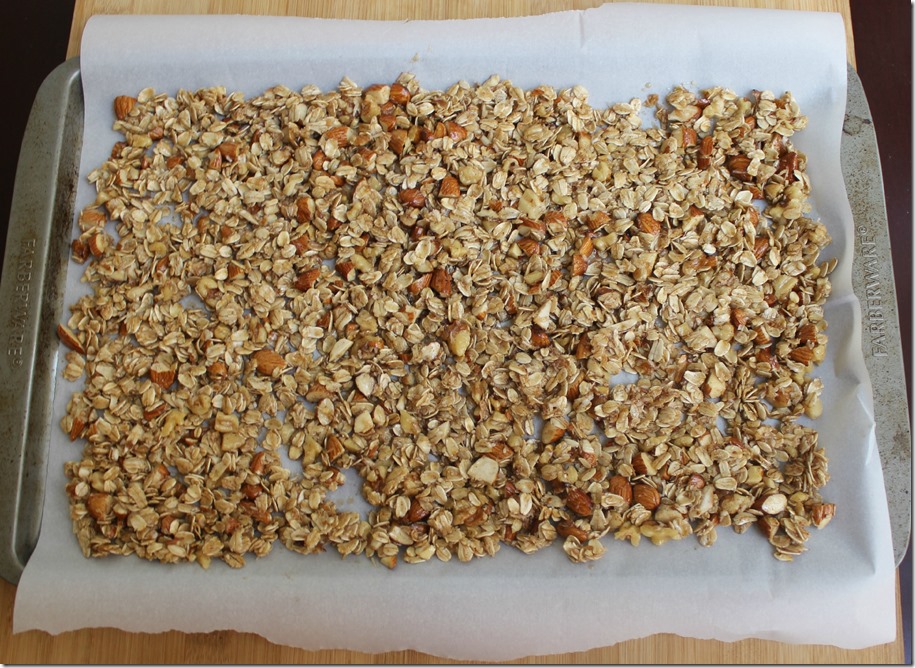 Bake at 300 degrees for about 30 to 35 minutes. Once you're at the 15-minute point, stir the granola a bit and then finish cooking. Once it has reached a nice golden brown color, let cool for about 10 minutes or so. DO NOT mix it around while it's cooling. You want to remove it from the oven and let it cool untouched. This will help the granola form crunchy chunks instead of a bunch of small pieces (though still crunchy; it's just not as satisfying).
As this was baking, our house filled with the most pleasant vanilla and maple aroma. SO good.
Ingredients:
1 1/2 cups rolled oats
1/2 cup chopped almonds
1/2 cup chopped walnuts
1/4 cup unsweetened coconut flakes
1/2 tsp cinnamon
1/8 tsp salt
1/2 cup pure maple syrup
1/4 cup melted coconut oil
1 Tbs vanilla extract
Instructions:
Combine all dry ingredients in a large bowl.
In a separate bowl, mix the syrup, coconut oil, and vanilla.
Pour over dry ingredients and stir until well incorporated.
Spread out evenly onto a baking sheet that has been covered with parchment paper.
Bake at 300 degrees for 30-35 minutes, or until golden, stirring at the half way point.
Let cool for 10 minutes WITHOUT touching the mixture. Then break up into smaller bits and store in an airtight container for a week or two.
Recipe from GettinMyHealthyOn.com
You can store the granola in an airtight container for a week or so. I recommend enjoying it on yogurt, as a smoothie bowl topping, as part of an overnight oats concoction, on top of a pile of fruit, in the form of cereal (just pour milk over a small bowl of granola), or just eat it by the handful (but don't eat too many handfuls; I may or may not be speaking from experience). Hope you like!