Before I get into this post, I'm going to share the winner of my Pretzel Crisp giveaway. Congratulations, CeeVeg! you will get an email shortly from me. 🙂 Thanks to everyone who participated!!
Staying on the snack topic…
One of my favorite snacks lately has been popcorn. I'm not talking "throw the bag in the microwave" kind of popcorn. We've been fancy over here and have been making it on the stove. Why? Because it's cheap. That's honestly the only reason.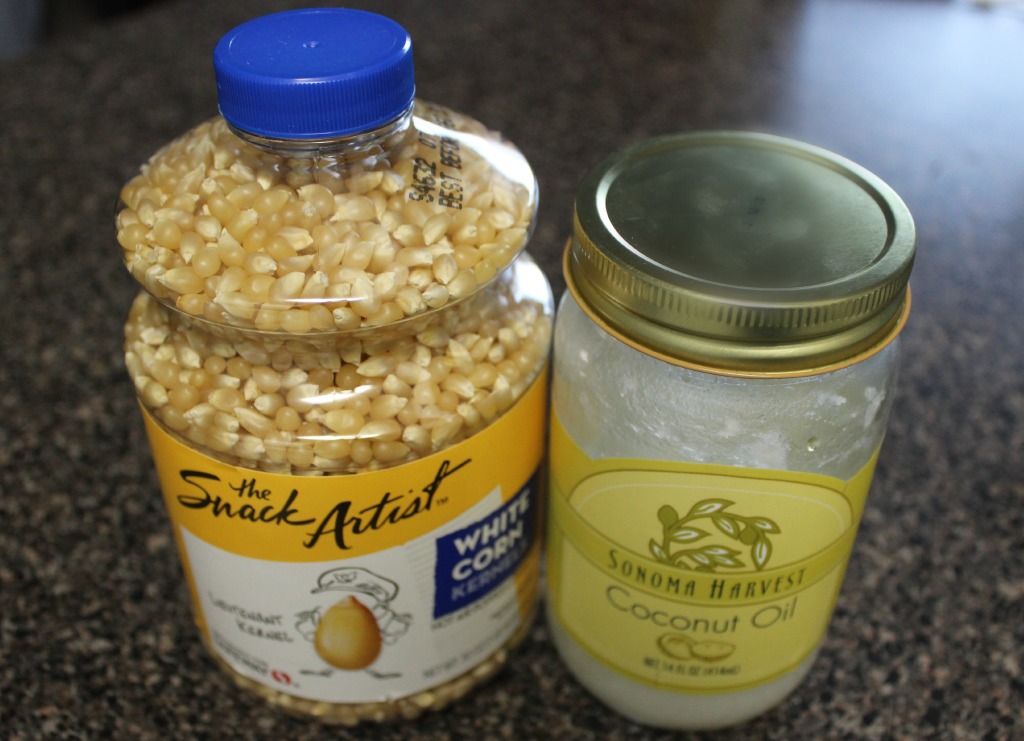 As horrible as it is, I sometimes prefer pre-made foods over homemade foods because I like to be in denial about what's actually in it. I try not to let this happen too often because it's kind of ridiculous — I realize. When we first started making this popcorn, it made me sad putting a bunch of oil in the pan, knowing it would just soak into the popcorn in the end. That's when I thought about coconut oil.
Since it's a healthier alternative to oil, I figured it would be a better way to make homemade popcorn. It gives it an interesting flavor, too. Nothing too strong, but a nice hint of tasty confusion.
Homemade popcorn with coconut oil is a healthier alternative to regular popcorn, and it goes great with some light seasoning for a tasty snack.
Ingredients:
1/4 c popcorn kernels
1 Tbs coconut oil
Instructions:
Heat coconut oil in a medium-sized sauce pan over medium/high heat.
Place 2 popcorn kernels in pan and cover with lid.
Once the 2 kernels have popped, you know the oil is at the right temp and can add the rest of the kernels. Cover with lid.
Once it stops popping, remove from heat and pour in a bowl.
Season however your heart desires and serve!
Recipe from GettinMyHealthyOn.com
I like to top my coconut oiled popcorn with a bit of sea salt. It's comforting to know I'm eating a somewhat healthy snack without feeling like I'm depriving myself. If you make this popcorn, make sure to not leave it for too long because it's done before you know it. And just so you know, burnt popcorn in a sauce pan does not come out very well, if at all. No bueno.