It's day one of the third and final phase of the LiveFit Trainer bodybuilding program. Boo ya!
A lot has changed since the first phase, which I'm talking about in my recap below. You can check out my LiveFit Phase 1 Recap if you want to read more about my journey in weight lifting. It's been interesting so far, and I'm learning a lot.
Just a reminder, I'm doing this gym-centric workout program without a gym, so my experience is very different from the intended system. So far pretty good though. I'll talk more about the specifics of this after I'm done. So for now, check out what I've learned during phase 2!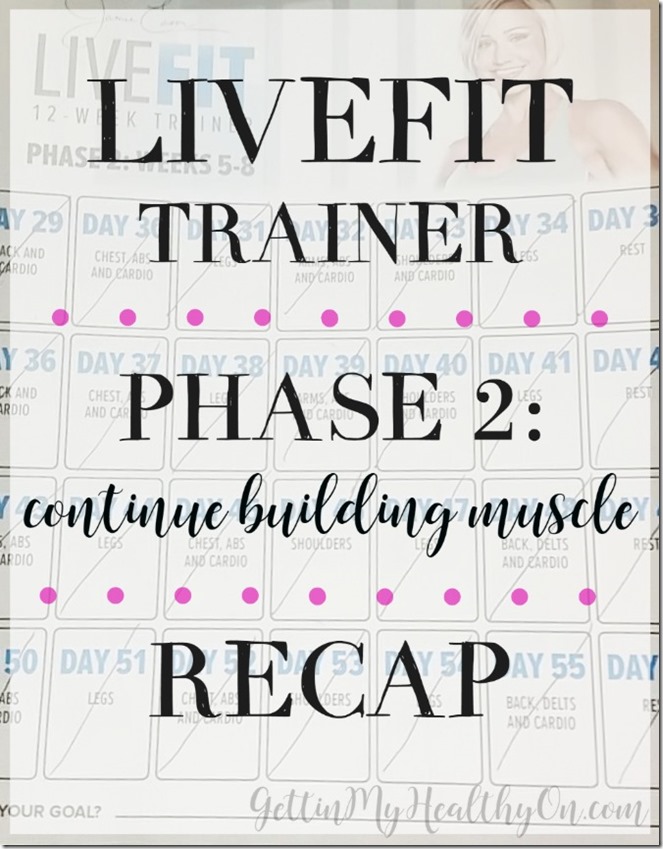 Phase 2 Workout Recap
I'm back to doing cardio, which feels great. Sometimes you just want to get moving, and although I enjoy pure weight lifting, I've appreciated getting back to running.
Workouts take longer. The downside to doing cardio again? It's tacked onto the end of about four weight lifting sessions a week, which drags out so many of my workouts to be over an hour. I'm getting used to the time commitment, but it definitely requires me to be mentally prepared for them!
I can lift significantly heavier, and it's awesome. At this point in the program, I'm really noticing the increase in the amount of weight I can use for various exercises. Although I think I need to challenge myself more than I am, it's encouraging to see that sort of progress.
The way the workouts are set up tax my muscles in different ways, which I really like. The mix of heavier weights for fewer reps and lighter weights for more reps challenges my muscles differently. Something as simple as this helps keep the program more exciting.
I'm remembering how well my workout motivation thrives off a legit schedule. I've actually been feeling quite unmotivated lately, but I'm staying accountable because I have my daily workouts to stay on top of. So far I haven't missed a single workout, which I'm pretty proud of.
Phase 2 Nutrition Recap
I've become more lenient to keep myself sane. I didn't want to come to this, but I decided a few weeks ago it was necessary. My eating started getting really unhealthy because of the restrictions I placed on my diet, so I've been eating more like normal lately (but with the LiveFit nutrition plan as the base for all my decisions).
I'm breaking the rules and not counting calories. Starting in phase 2, you're supposed to start counting calories, but I'm just not about that life. It's more effort than I'm interested in putting forth, so I'm just trying to keep eating smart. I hate that I'm going against so much of the nutrition plan at this point, but it's making my dedication to the rest of the program stronger.
To avoid boredom, I'm trying to get creative with my protein sources. I've had a lot of protein powder and chicken within the past couple months, and I think it's time to branch out. I'm starting to eat Greek yogurt instead of protein shakes in the afternoon and then adding more plant-based sources.
Certain foods I've come to love, so I eat them every single day. If you find something delicious and healthy that you don't get sick of, then why stop eating it? My breakfast and morning snack are the exact same every single day, which makes my life so much easier. I eat cream of wheat with egg whites, peanut butter, and banana before work, and for a mid-morning snack, I eat an apple with a few LiveFit recipe protein bar squares. Deee-lish.
Even though I'm working out longer and more intensely, my diet is keeping up with my appetite. I'm surprised I'm not starving all the time, but the fact I'm eating so much protein has helped me stay on top of my demanding appetite. Yay to no hanger!
And that just about covers it. I've made a lot of changes throughout phase 2, veering away from the strictness of the program. This wasn't my intention, but I'm just going with the flow at this point and playing my needs by ear. I'm still hoping for some noticeable results and am happy with my progress so far! Every program like this that I've done has taught me a little bit more about what I like and don't like, as well as what works best for my healthy lifestyle.
Here's hoping I can finish strong in phase 3!