Make a batch of these lemon protein bars for a fluffy yet moist snack to get you through the day.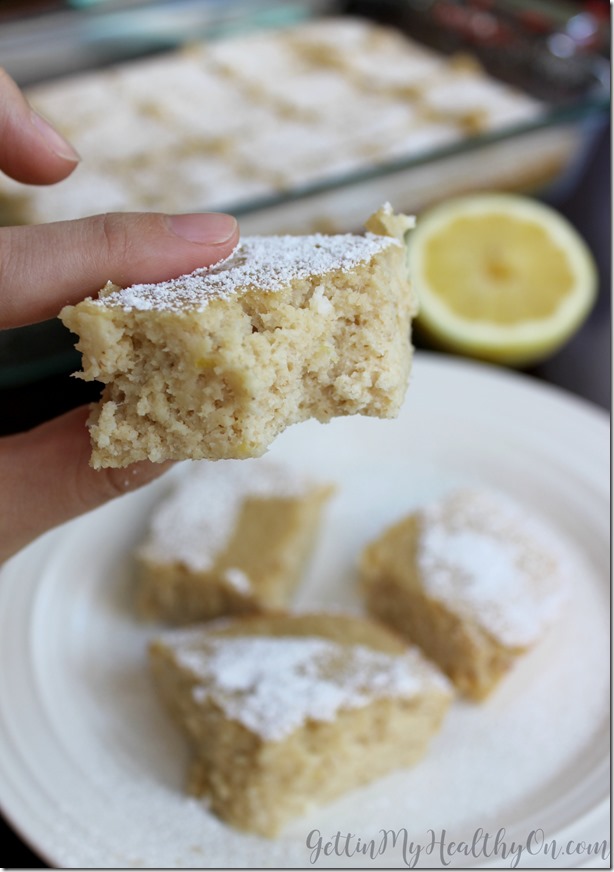 Not sure if you've noticed lately, but I keep talking about these magical protein bars I've been making that are on the LiveFit recipe page on bodybuilding.com. I've been following the recipes for most of them, but one of my favorites—the lemon protein bars—I've been changing to use real lemon instead of lemon-flavored Crystal Light.
For the past three weekends in a row, I've made a double batch of these tasty cake-like bars, and they never make it through the whole week. They're such an easy protein-packed snack to grab on my way out or to pack for work.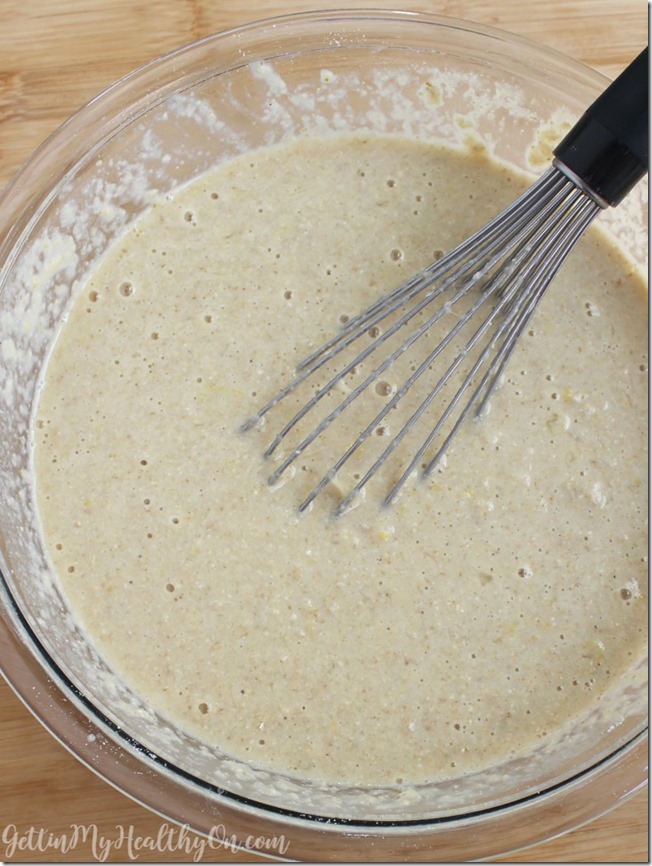 I'm calling them "Protein Cake Bars" because they're not quite cake but aren't the dense protein bars a lot of us are used to. At first it seemed weird to basically be eating cake for a snack every day, but it's also kind of awesome. Cake is appropriate for all times of the day if you ask me. 😉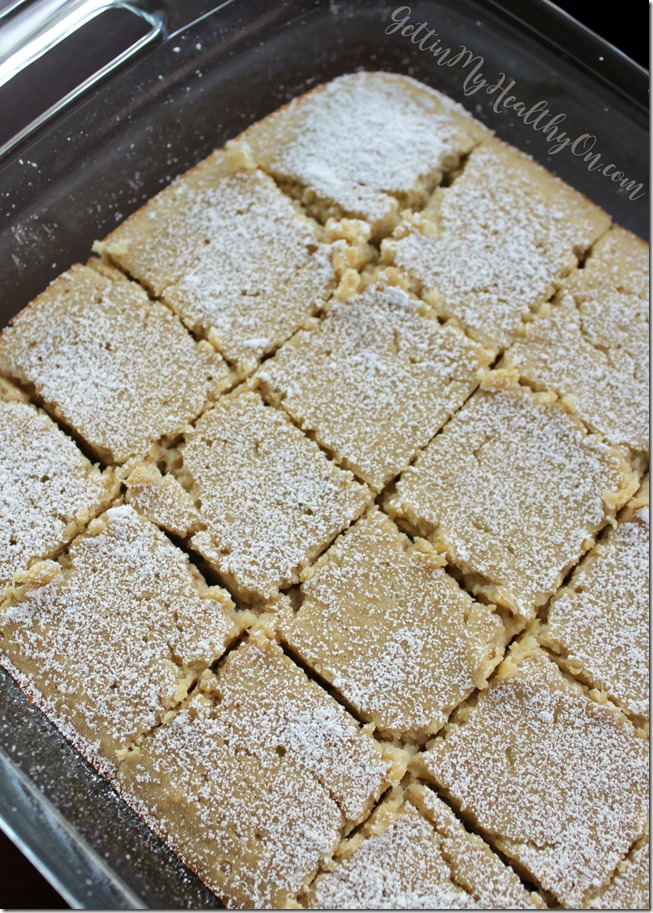 I eat anywhere from 2 to 4 of these at a time. It depends if I need a legit snack or just a little something before my morning workout. If you're making a single batch of these in an 8×8 baking dish, you'll want to cut 3 equally spaced lines on each side, so you end up with 16 bars. If you're making a double batch like I've been doing lately, you'll want to cut 5 lines down the length and 3 down the width, leaving you with 24 bars.
Since I cut a lot of the sugar out from the original recipe, I decided to sprinkle the top with a bit of powdered sugar, but that's totally optional.
Adapted from the bodybuilding.com LiveFit recipe.
Ingredients:
1 cup oat flour*
2 scoops vanilla protein powder
1/4 tsp. salt
1/2 tsp baking soda
1/3 cup granulated sugar
Juice from 1 large lemon (about 1/4 cup)
Zest from 1 lemon
4 egg whites
8 oz. unsweetened applesauce
Optional: powdered sugar
Instructions:
In a large bowl, whisk together flour, protein powder, salt, baking soda, and sugar.
In a smaller bowl, whisk together lemon juice, zest, egg whites, and applesauce.
Add wet ingredients to dry in large bowl; stir until just combined.
Bake at 350 degrees in an 8x8 baking dish sprayed with non-stick cooking spray. Cook for 25-28 minutes, or until center no longer jiggles and toothpick comes out clean.
Let cool, and sprinkle powdered sugar on top (optional). Cut 3 lines into each side of the pan, so you're left with 12 bars.**
Notes:
*To make your own oat flour, simply grind oats in a blender. **If you want to make a double batch of the lemon bars, bake in a 9x13 baking dish. When cooked and cooled, make 5 slices down the length and 3 across the width, so you're left with a total of 24 bars.
Recipe from GettinMyHealthyOn.com
All in all, I'd say these lemon protein cake bar things are a delicious way to satisfy hunger in the time between meals. Hope you enjoy!