Happy Leap Day! Thanks to the extra day in February this year, we all get 24 more hours to do great things and be amazing.
…Yes, let's go with that.
In  honor of this special event, I created a leap-inspired workout circuit to liven up your day. It has a BUNCH of new exercises that I've never shared before. The routine is killer on your lower body and involves a lot of jumping and hopping because plyometric exercises are THE bomb for getting in shape.
I've included a lot of single leg versions of exercises in this workout because they're really good for runners, especially, to strengthen their legs. Seeing as how my IT Band Syndrome doesn't seem to want to GET THE HECK OUT OF HERE, I'm doing these types of exercises all the time. The following workout took me about 20ish minutes to get through twice.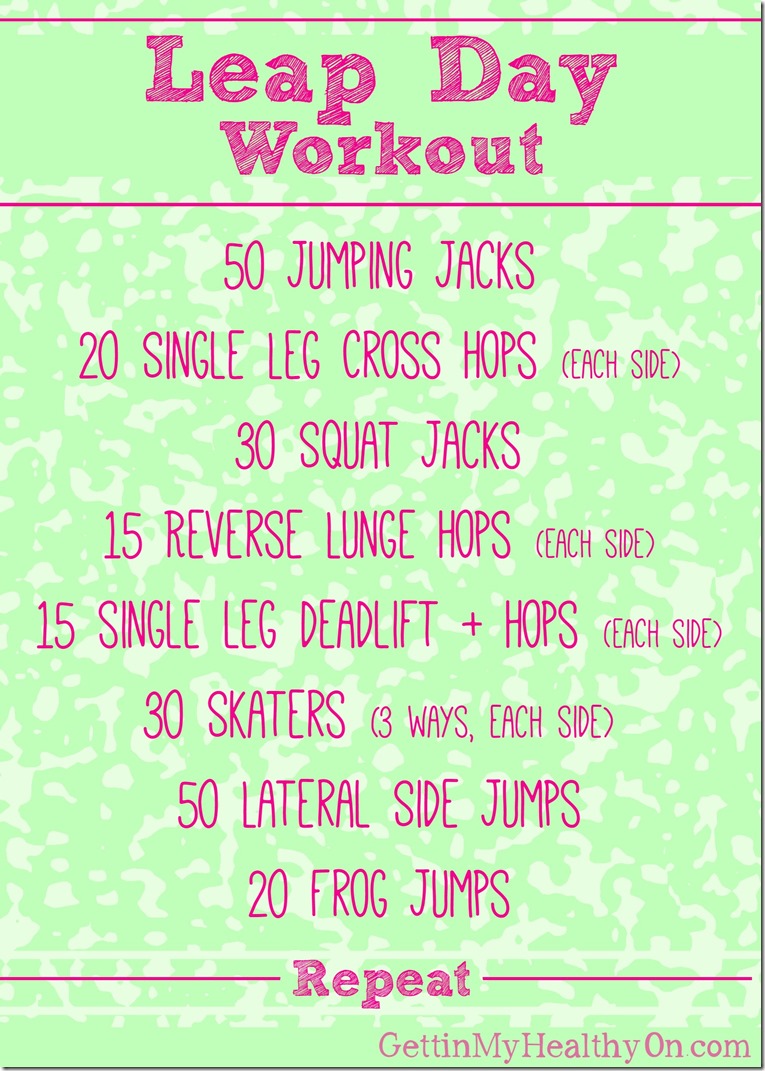 Regarding the new exercises, click on the names below for video demonstrations (and see notes next to each):
Single leg cross hops (basically, jump on each foot, making a cross shape until you reach 20), squat jacks (stay low!), single leg deadlift hops, reverse lunge hops, skaters 3 ways (do the skater motion jumping forward and return to center, then to the side and back to center, then back at a diagonal and to the center; switch sides), lateral side jumps, frog jumps, and check my exercise guide for other demonstrations.
Once you get the exercises down, it's just a matter of focusing on form to get your best possible workout in. (A few of these exercises are variations of ones they had me do in physical therapy, so I think they're pretty legit.)
Do you know anyone born on a leap day? I've always found this concept so interesting!
Are single leg exercises part of your workout routines? I rarely did them before starting physical therapy, but now they're a major focus of mine.