Is that a weird enough title to make you wonder what I've been up to today? If yes, then that was my goal!
I got "jacked up" this morning when I did a crazy circuit workout. I was jumping all over the place and doing lots of "jack" exercises. Look at the cardio circuit, and you'll understand.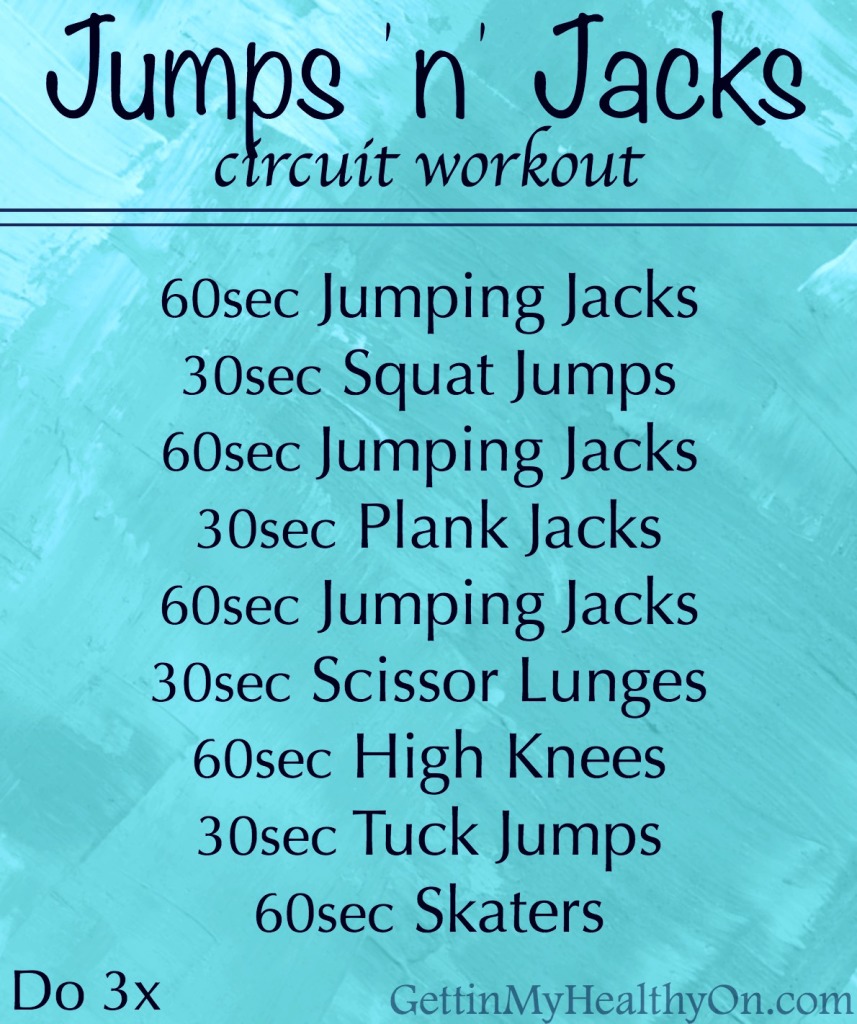 I took lots of little breaks between the exercises, especially around the plank jacks. Sometimes you just need to take a breather. If you're looking for a good cardio workout that keeps your heart rate up, try it out! It would be great in addition to a weight workout to work different muscles. I ended up just doing the circuit though.
If some of the exercises are foreign to you, check out my new exercise guide page. The purpose of this is to be a resource of exercises I often use in my circuits – I linked to YouTube videos I find most useful
Okay, next order of business: soup.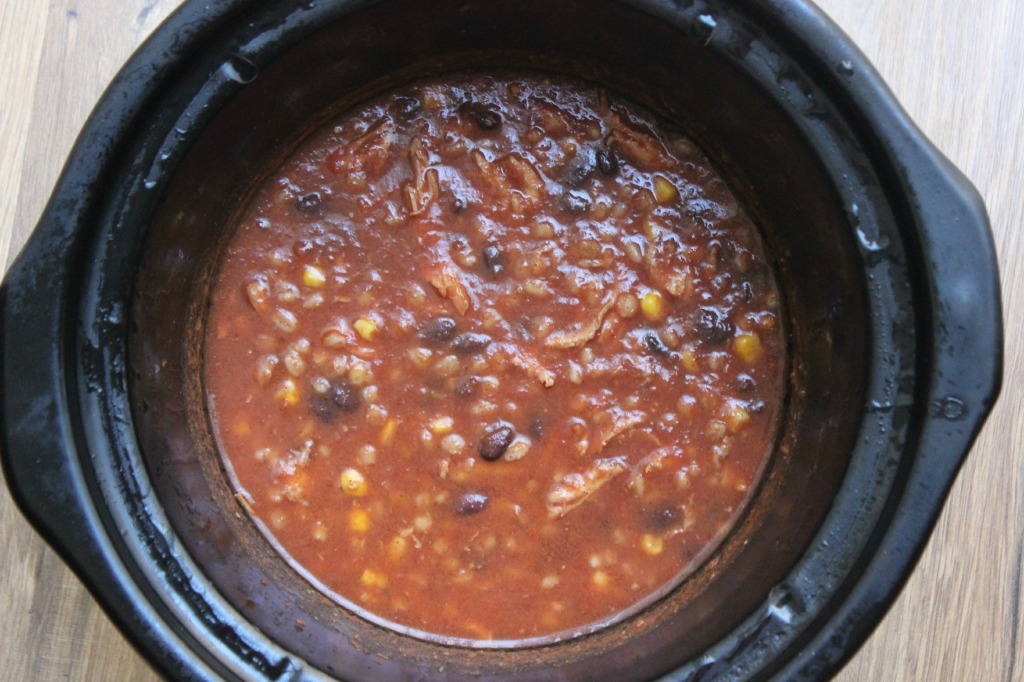 I took a few recipes and combined them to make a surprisingly tasty and healthy dish. I chose to make it a slow cooker concoction since the hot summer weather calls for lack of stove heat.
Southwest Chicken Barley Soup in the Crockpot
Ingredients:
1/2 yellow or white onion, roughly chopped (about 1/2 cup)
2 garlic cloves
10 oz. can of Rotel diced tomatoes & green chiles
1 1/2 cups water
1 cup corn
1 cup black beans, rinsed and drained
8 oz. tomato sauce
8 oz. chicken broth
1 1/2 tsp chili powder
1/4 tsp ground cumin
1 medium to large chicken breast (raw)
1/3 cup medium pearl barley, uncooked
Salt to taste
Instructions:
Blend onion, garlic, and Rotel in a food processor until smooth.
Combine all ingredients except barley into crockpot, and cook on low for 7-8 hrs.
Approximately 30-60 minutes before serving, shred the chicken and put it back in the crockpot. Add barley.
Serve with crumbled tortilla chips and shredded cheese.
Recipe from GettinMyHealthyOn.com
If you don't care about mushy barley, you can throw it in in the beginning. I did this last time because I was at work all day, and it wasn't too bad. To make the recipe even less effort, you don't have to blend the tomatoes, onions, and garlic. I just don't like chunks of tomatoes and onions in food because I'm picky, and it just made sense to throw the garlic with them in the food processor rather than mince it. Do what your heart desires.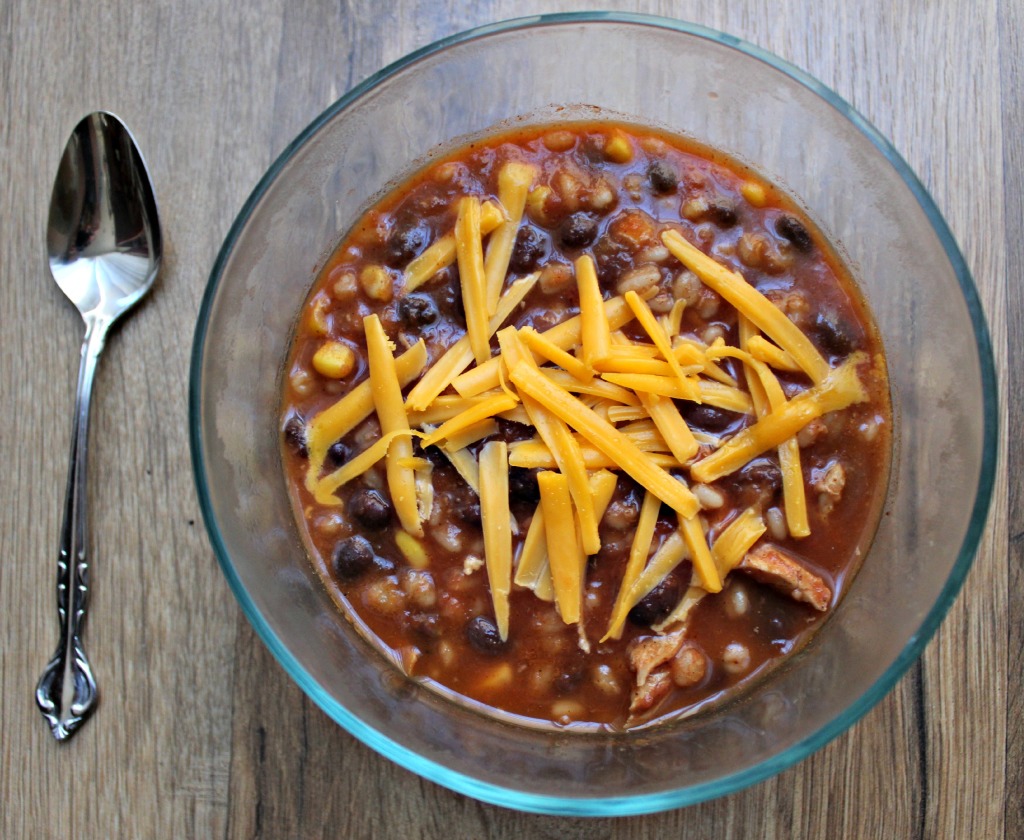 When it comes time to eating the soup, I suggest you add crumbled tortilla chips and shredded cheese on top. The salt from the chips add a nice touch.
Okay, that's all you get today.
I've got an awesome project going on right now. Get pumped to see it within the next week!