If you're getting bored with your workouts, try a new workout! Whether it's a new type of fit activity or just mixing up your usual one, breaking away from your routine just a tiny bit can make getting active so much more enjoyable.
When I scroll through my Pinterest board of workouts, and nothing jumps out at me, I'm all about pulling from what I know and creating something fresh and new. I've done today's workout twice so far, and each time I was extremely sore for the rest of the week. Needless to say, it was effective AF.
This full-body circuit combines cardio with weight-based exercises, so it's a nice mix of all the things to challenge your body. I'm particularly excited about this one because it uses some of my favorite exercises lately: v-ups, dumbbell bench press, and in/out jump squats. Call me crazy, but yes, I have favorite exercises.
To do this workout, you'll want to go through each set at a time, completing the four exercises, repeating once, and resting for 30 seconds before you move onto the next set. Total, this whole workout took me about 30-35 minutes to finish.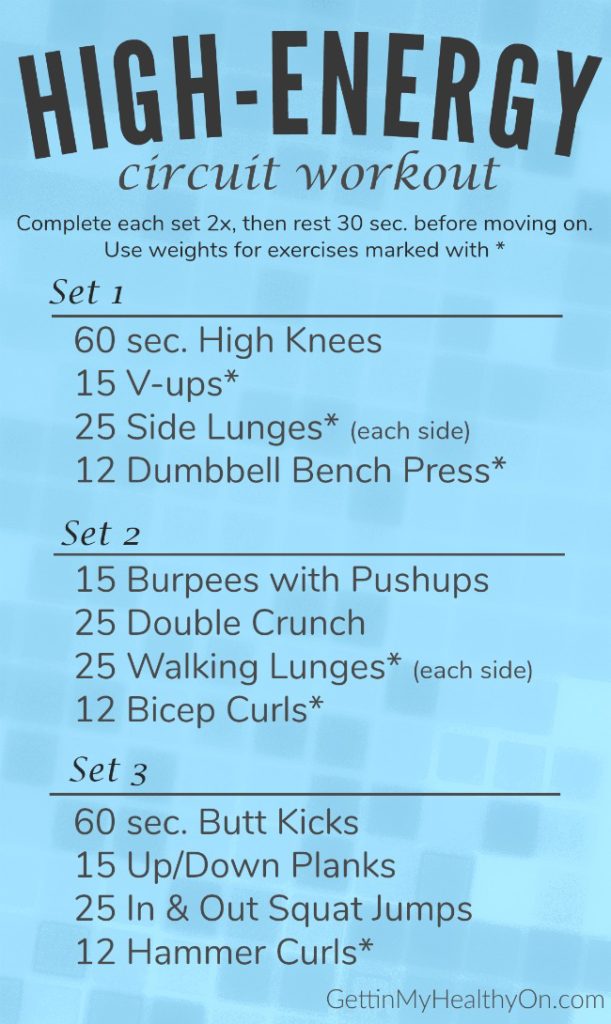 The only exercise I haven't incorporated before in my other workouts is In & Out Jump Squats (which I can't believe I've never shared before because they're awesome and burn so good). Everything else you can find on my Exercise Guide page for video demonstrations.
Happy working out!