Skip the fryer and bake Parmesan- and garlic-seasoned potato wedges in the oven while still getting that satisfying crispy texture.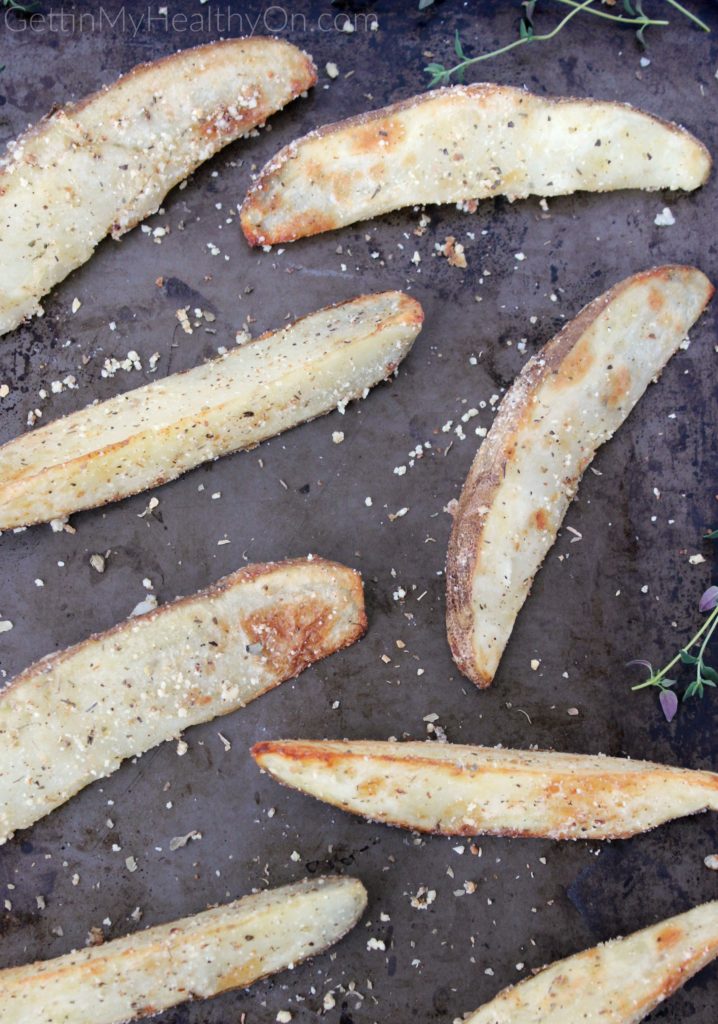 Potatoes are by far my favorite side for practically any meal. I actually rarely plan side dishes because meal planning the main dish, alone, tends to be all the effort I'm willing to put forth a lot of the time. Since I'm constantly winging this part of dinner, I try to keep certain items on hand that can easily be thrown together last minute—usually starches like rice or potatoes.
My go-to method of cooking potatoes to go with dinner is baked wedges. They're so simple but add so much fluffy goodness to a meal! It took me a long time to discover how to actually get that crispy texture on the outside, which you usually only get when frying potatoes. Here's the secret:
Soak the wedges in ice water for at least 30 minutes to an hour to help leach out some of the starch.
Dry the wedges as much as possible before seasoning and oiling them.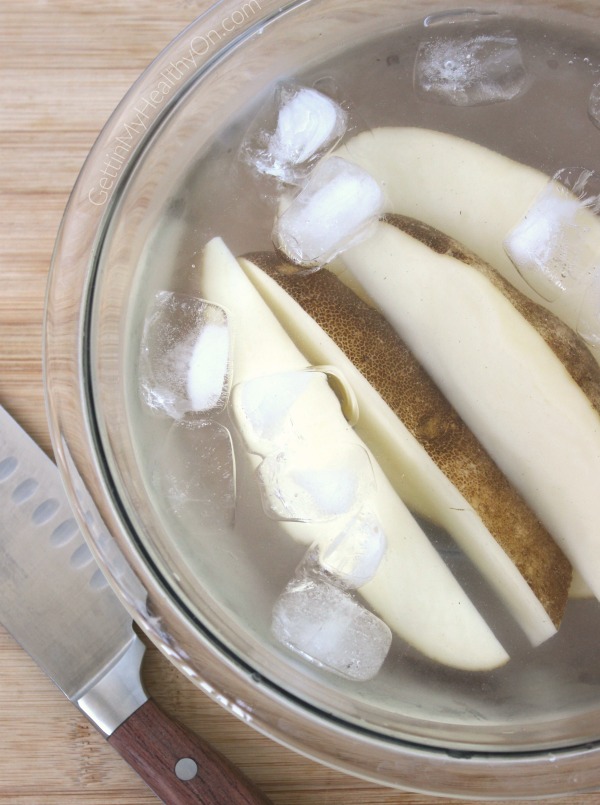 Soaking the wedges isn't going to make or break the outcome, but it definitely helps. The last tip, however, will prevent you from steaming your potatoes and, instead, get the crispy edges we all crave. I usually use paper towels (sorry, earth) to dry my potato wedges, and it gets the job done just fine.
Then I toss the dried wedges with my usual seasoning blend (which slightly varies each time I make these), and add some olive oil to further help the crisping process. You can add the seasonings and the oil in any order you want, but I find tossing them in the seasoning first helps it get more evenly distributed.
Baked Garlic Parmesan Potato Wedges
Ingredients:
1 large Idaho potato
1/2 tsp garlic powder
1/4 tsp onion powder
1/4 tsp Italian seasoning
1/4 tsp salt
1 Tbs extra virgin olive oil
1/4 cup grated Parmesan
1/4 tsp garlic powder
Instructions:
Cut potato in half lengthwise. Cut each half into four wedges. Soak in a bowl of ice water for about 30 minutes (to help remove starch).
Dry the potato wedges as much as possible using a towel or paper towels. Set aside.
In a large bowl, mix together the garlic, onion, Italian seasoning, and salt. Add the dried potato wedges and toss until they're thoroughly coated. Pour olive oil over potatoes and continue to toss until coated.
Place wedges (one of the cut sides down) onto a baking sheet lined with parchment paper. Bake at 400 degrees for 30-35 minutes, flipping after 20 minutes.
After removing the wedges from the oven, toss with the Parmesan and serve!
Recipe from GettinMyHealthyOn.com
Depending on the thickness of your wedges (the potato I used for these pics was massive), your cooking time will vary. I usually test my baked potato wedges by sticking a fork in the thickest one (as it nears the end of its baking time), and if it can easily be punctured, then the potato is cooked!
Also, I like to toss my freshly baked wedges in grated Parmesan, rather than adding it prior to baking—this is just to avoid browning/burning of the cheese. I prefer the fresher flavor of the addition, but if you decide to add it before baking, just keep watch and make sure it doesn't burn!
What's your favorite way to cook potatoes? 
Have you ever made homemade potato wedges in the oven?