Bacon-wrapped dates stuffed with almonds are a party-pleasing appetizer that blends both sweet and salty flavors.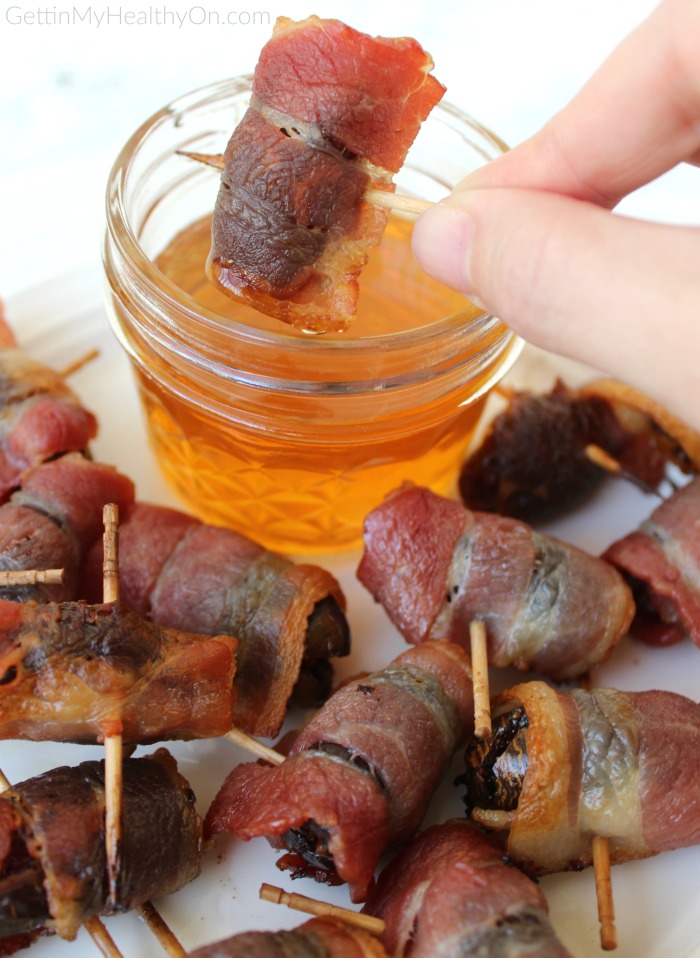 Fact: sometimes delicious food does't look very pretty. I've never thought dates looked very appetizing, but I've been all about them lately.
Aside from using them in various no-bake protein ball recipes—like my Coconut, Almond & Date Energy Bites—one of my favorite foods made with the dried fruit is bacon-wrapped dates.
My sister is the one who introduced me to these little sweet and salty bites, several years ago. I actually tried making them once before, but within minutes I set off our super-sensitive smoke detector where we lived at the time, which is why I haven't even tried to make them again…until yesterday.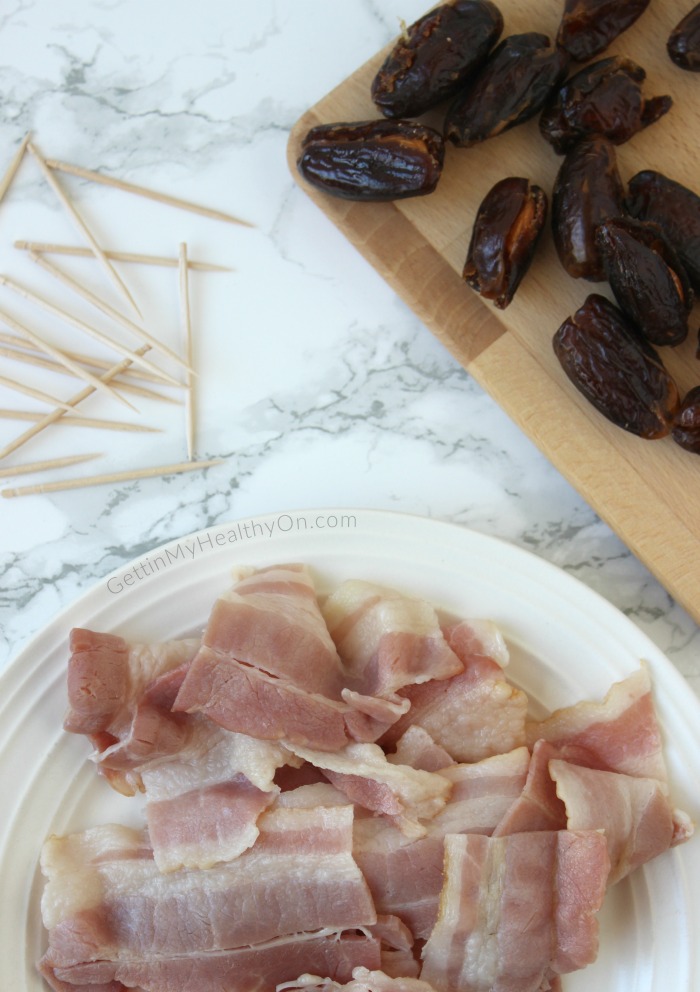 It's embarrassing how excited I got about how well these worked out. Like ya, I knew they'd be delicious because sugary dried fruit + bacon = happiness. But! I tried a new trick for how to cook these that completely prevented any smoking of the bacon in the oven. Groundbreaking hack, guys (at least in my world where I'm easily scarred by setting off smoke detectors).
If you've never made bacon-wrapped dates before, all you do is…wrap dates in bacon and then bake them.  I wanted to take them a step further, though, and stuffed each date with a raw almond.
The hack for avoiding any smoke? Microwave the bacon for just one minute before assembling the wrapped dates. That's the magical time because it's enough to start rendering out fat (which you can soak up with paper towels prior to baking) but cool enough to handle as you wrap the dates.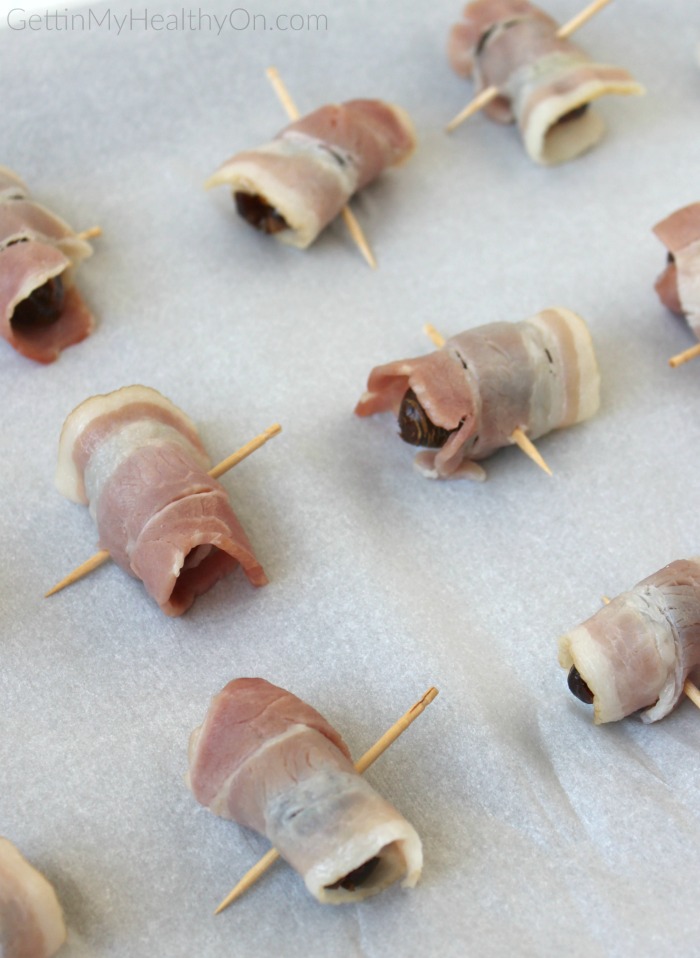 I especially love these because they keep well and travel well—though we definitely ate them all while just hanging out and watching the Super Bowl yesterday. Still, it's nice to have options. 😉
I've seen so many different ways to dress up bacon-wrapped dates…with goat cheese, blue cheese, a balsamic drizzle, etc. But these are how I prefer them: stuffed with an almond and, when the mood strikes, dipped in (or drizzled with) honey.
Bacon-Wrapped Dates with Almonds
Ingredients:
15 dates
15 raw almonds
5 bacon strips
15 toothipcks
Optional: honey for dipping
Instructions:
Preheat oven to 425 degrees and line baking sheet with parchment paper.
Stuff each date with an almond.
Microwave bacon strips on a plate (between two sheets of paper towels) for 1 minute. Cut each bacon strip into 3 sections.
Wrap each stuffed date with bacon. Secure with a toothpick.
Bake for 10-15 minutes, or until bacon is cooked.
Recipe from GettinMyHealthyOn.com
Although they're not the prettiest appetizer ever, they seem to be a popular crowd pleaser. Plus, finger foods are some of the best foods, let's be real.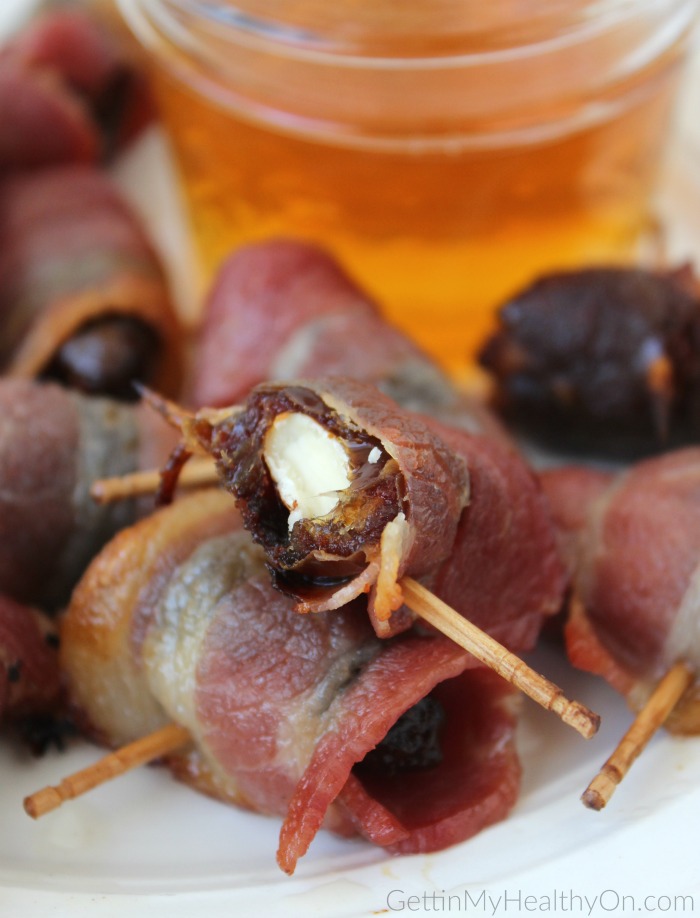 Have you ever tried bacon-wrapped dates?
What's your favorite ways to eat dates?