Whether you're a crazy body builder or just an average joe, protein powder can be a great way to supplement your diet to build muscle or just keep yourself from getting hungry super fast. I recently had the opportunity to try out Isopure-brand whey protein isolate in the form of powder and energy shakes. Today, I'll be sharing a review of the products, as well as an antioxidant-rich protein smoothie I came up with using the unflavored protein powder.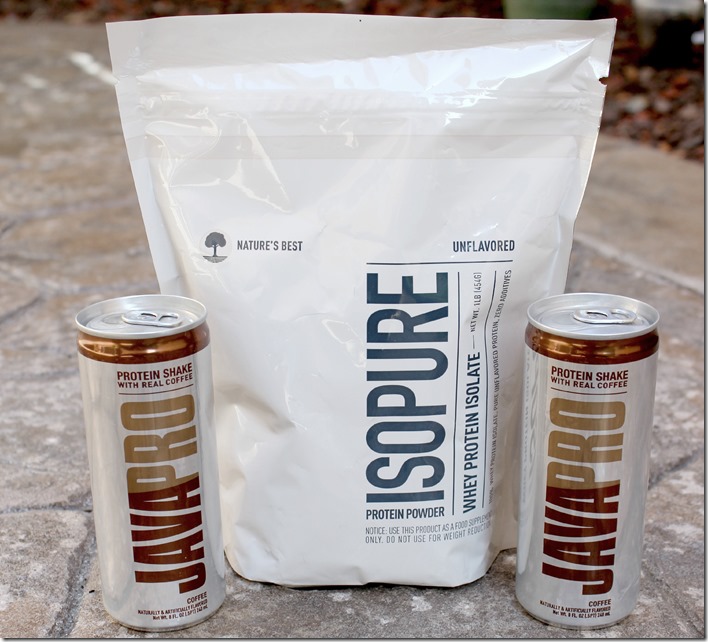 Let's start off with the Javapro protein shake. I'm not a big energy drink person, so I didn't think I'd be as into these shakes as I actually was. They were much more of a whey protein shake situation than an energy drink, which I really appreciated – they just had the bonus of a bit of caffeine. I could see how these would be a great pick-me-up after a workout, but I had them as a mid-morning snack and caffeine boost, which worked wonderfully. I can honestly say that they tasted delicious, and I wish I had a few more on those days that just drag by (Tuesday, I'm looking at you).
Isopure Whey Protein Isolate
Although my energizing protein-shakes-in-a-can are gone, I'm still using my unflavored protein powder I was given. Here are some nutrition-related details, for those interested:
0 g carbs (and 0 g sugar in the unflavored)
50 g of 100% pure whey protein isolate in every 2 scoops
no additives
contains glutamine, vitamins, minerals and other nutrients
What I've really appreciated with the unflavored version is the fact you can put it in pretty much anything – savory or sweet. My go-to ways to use protein powder is oatmeal, shakes, smoothies, or snacks like my Chocolate Peanut Butter Protein Balls. Isopure has a bunch of different flavors to choose from, though; many of which really intrigue me. They have gourmet-sounding version of the classics (Creamy Vanilla, Dutch Chocolate, Strawberries & Cream), and they also have creative, decadent versions like Cookies & Cream, Mint Chocolate Chip, Toasted Coconut, and more.
Antioxidant-Rich Protein Smoothie
This past weekend, I created a mega nutritious smoothie recipe to utilize the Isopure protein powder – I call it "Antioxidant-Rich Protein Smoothie". I combined a bunch of ingredients I knew were high in antioxidants for one crazy protein smoothie situation. This included blueberries, chia seeds, cranberries, and green tea – plus Greek yogurt, banana, and the unflavored protein powder.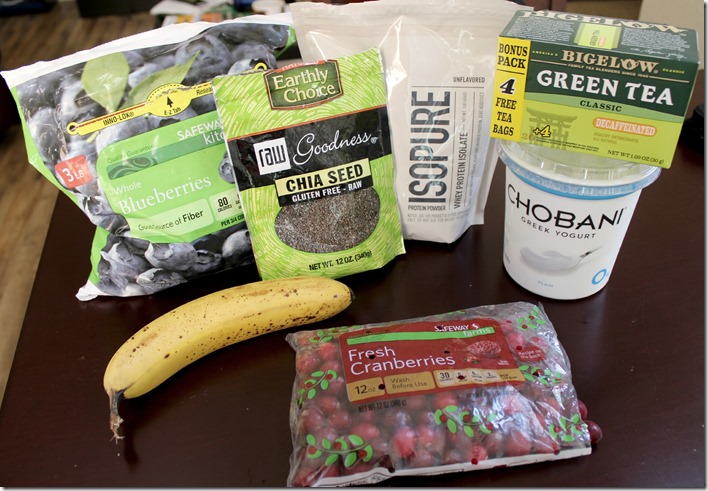 The smoothie is a concentrated form of antioxidant goodness to aid in your overall health. That combined with the protein power of Isopure and Greek yogurt and you've got a burst of nutritious deliciousness.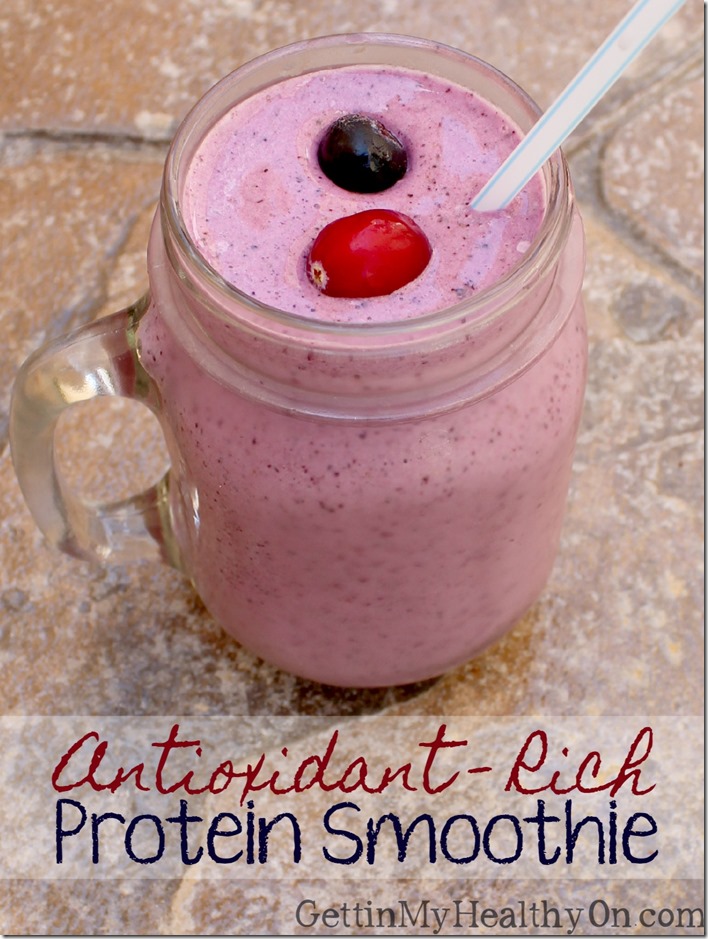 Ingredients:
1/2 c Greek yogurt
1/2 c blueberries
1/2 c cranberries
1 Tbs chia seeds
1/2 c (or 6oz) brewed green tea (or as much as you need to get things moving)
1 scoop Isopure unflavored protein powder (or another unflavored protein powder)
Directions:
Blend all ingredients until a smooth consistency. Drink immediately!
The recipe makes one serving (which is progress for me because I usually make enough for 3 people on accident). Hope you enjoy! And if you want to learn more about Isopure, check them out on Facebook, Twitter, or Instagram.
This post is sponsored by FitFluential on behalf of Isopure.