Does anyone else uncontrollably yawn whenever they work out? It's one thing to be tired, but I always catch myself yawning even though I'm breathing super hard. It's a bit difficult…and probably a strange site. This happened to me last night while I was doing a tabata workout, so it was really hard to yawn while I was breathing heavy–first world problems.
Anywho, I did the following workout last night, and my heart was racing. You can do it once for 15 minutes or repeat it for a good 30-minute full body workout.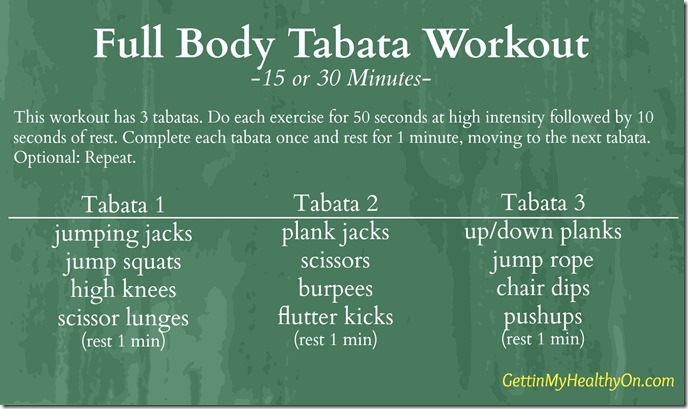 Like usual, if you don't know how to do a specific exercise, you can check out my Exercise Guide for video examples of how to do them. Exercises that are on the tabata workout that I've never featured in a workout before are scissors and up/down planks (make sure to switch sides halfway through).
After work today I'll be doing a treadmill workout of some sort. Gotta "prepare" for that mud run on Sunday!
And now for some coolness I enjoy…
These Are a Few of My Favorite Things
Cookies: Funfetti cookies. Okay, if you have never made funfetti cookies out of funfetti cake mix, then you have not lived yet. It is the BEST THING EVER. I'm pretty sure you just make the mix like normal but omit the water. My roommates always made them in college, so I'd of course steal some. I believe there's a recipe on the side of the cake mix box. Do yourself a favor and make some funfetti cookies. It's super simple and oh-so-worth-it.
Song: Landed by Ben Folds. His music just soothes my soul. If you've never heard Ben Folds, I highly recommend you look up some of his music. He's one of my all-time favorite musicians. Some other songs by Ben Folds that I absolutely love are Annie Waits, Rockin' the Suburbs, Jesusland, and You Don't Know Me.
Quote: A good day. Kids know what's up.
Past Time: Dressing like my sister. This makes me so happy because it's how I feel about my sister and my past. We weren't always dressed alike, but when we were, I absolutely loved it—don't think she was as thrilled.
Style: Chunky necklaces. I never buy jewelry, but I'm thinking I'll need to go hunting soon for a chunky necklace. I really love them as statement pieces in a simple outfit. Anyone know where I can find some cute ones?
Sad Truth: Doing absolutely nothing. Yaaaaa, it's getting pretty sad how much I love doing nothing on the weekends. If I don't have at least one day of nothingness in a weekend, then I feel jipped. It just goes by wayyy too fast.