Everyone has a slightly different view of what's healthy. From only buying fat-free and sugar-free foods to going on intense diet detoxes, people often follow the current hype about what's good for them, assuming it to be scientific fact (whether it happens to be or not). Sometimes this involves drastic changes with hopes of quick fixes; sometimes this a long-term strategy they truly believe is good for them.
…or maybe a variation of a trend that fits how you want to eat. 😉
With all the product marketing and self-proclaimed experts out there, it can feel impossible to know what's actually good for you and not causing lasting damage underneath all those promises of weight loss and obtaining your "perfect body." I know this can be overwhelming when you genuinely want to be healthy.
I started this blog 4.5 years ago to rant about discuss two main things: fitness (mostly running at the time) and healthy eating (emphasis on recipes now). Since I'm not a doctor or registered dietitian (though this is one of my pipe dreams), I try not to tell people what they should or shouldn't do—but rather, share what I'm doing on my healthy living journey and offer tips based on research that has been conducted or what I've seen work in my own life.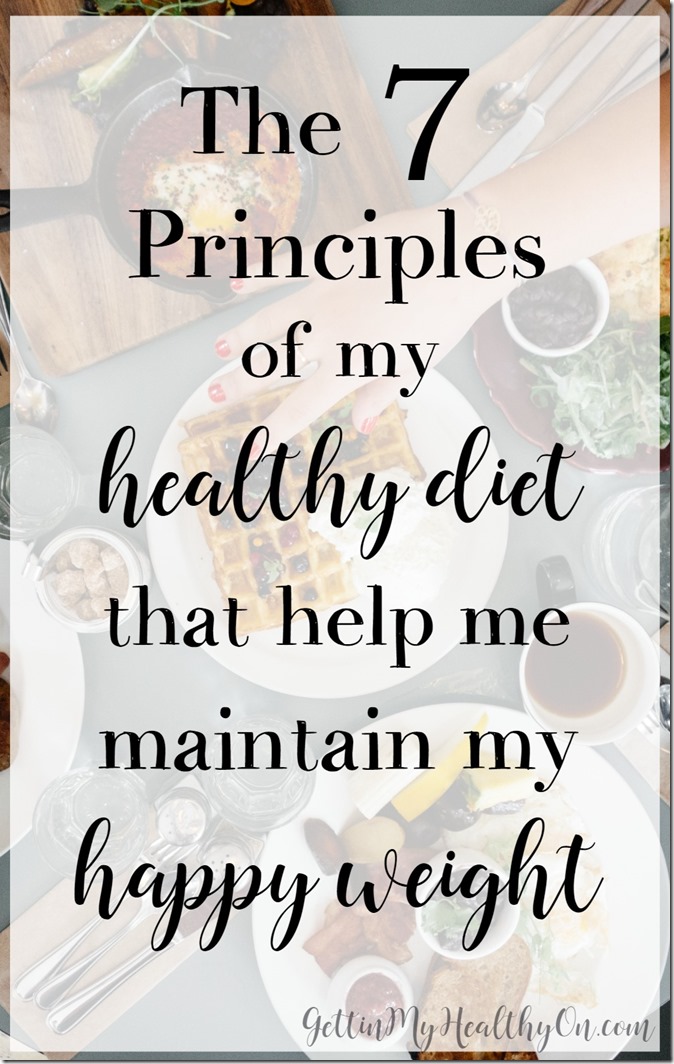 When it comes to eating healthy, I've discovered two strategies, in particular, are what allow me to maintain a healthy and happy weight: simplicity and moderation. They're basically the foundation of my entire food philosophy.
My beliefs on healthy eating are somewhat "chill" and relaxed. I don't want to obsess over what I eat, but I also want to be disciplined and work towards the goal of good health for life.
The 7 Principles of My Diet
When it comes to my diet (aka my regular eating habits), these are the 7 tactics I implement every day:
Eat foods as close to their source as possible (commonly referred to as "eat clean"; I limit pre-prepared and processed foods full of unrecognizable ingredients).
Consume a balance of macronutrients in every meal (aka lean protein, complex carbs, and healthy fats; it's not about eating less, but rather…eating better).
Limit sugar-filled, fried, and other junk foods (which often contain harmful ingredients and don't offer much nutritious value).
Don't restrict myself by swearing off foods (I eat mostly healthy but leave room for items like burgers, cookies, and fatty coffee drinks; moderation is happier than never indulging; plus, I can't not bake desserts…I love it too much).
Eat 3 main meals and 2-3 snacks every day to ward off hanger (as well as keep my metabolism activated and fuel my active lifestyle).
Stop eating when I'm full (especially if the food isn't super healthy; I often have to push myself to eat more lean protein, but carbs I usually have NO problem devouring, and they're easy to overdo).
Listen to my body and adjust my meal or snack "schedule" as needed (if I'm hungry, I'm going to drink some water and either eat a snack or move up my next meal; having a food schedule isn't always black and white).
This is just a glimpse into how I eat and view healthy eating. These habits may or may not be best for your dietary and health needs.
Worth noting: I rarely buy organic produce, grass-fed beef, or other "special" items, which some people would strongly disagree with. While I do think those products are ideal, I'd rather keep my diet as simple as possible, buying what my budget permits and not stressing about the fine print.
Whether you have a similar thought process or not, just make sure to take your nutrition advice from a qualified professional who is educated on the subject.
What types of "rules" do you follow in your mission to eat healthy?