As of later today, we are officially moved out of our apartment and into the house we're renting!!
In honor of this, I've put together a list of tips and tricks I've found helpful throughout the past couple weeks of packing and moving. Since we're only moving about 20 minutes away from where we're at now, we've had the ability to take trips every couple days. If you're moving cross-country, like I did last year from IL to CA (check out part 1 and part 2 of my posts about it), then there will probably way more you need to consider. However, for us it's been pretty simple. Keep reading for some suggestions that can make the moving process a little easier.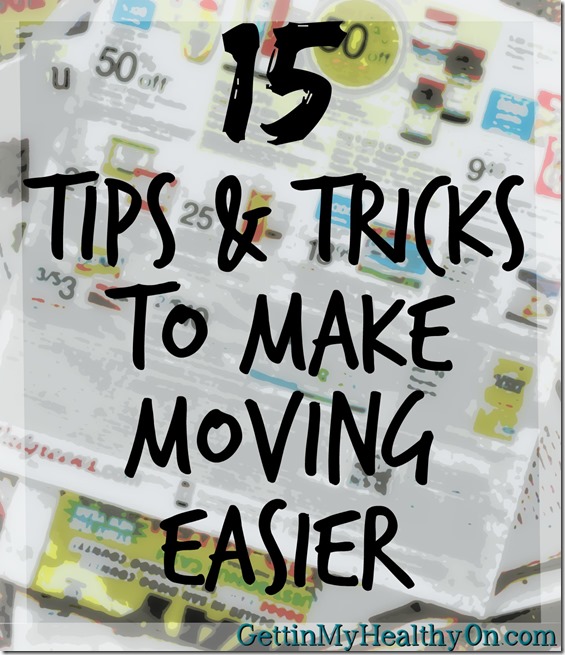 1. Start saving boxes early. Matt and I have been dealing with a small box supply, and it hasn't been ideal. We've had to unpack some of them just to bring them back to fill again. You can get boxes from grocery, liquor, and other stores, but when we asked our grocery store, we were told we needed to come before 6 am to pick them up so…we just figured we'd make due with what we had.
2. Save newspapers for awhile to wrap fragile items. I was quite happy we had a pile of newspapers and junk mail that I could easily wrap fragile stuff in. Just know, though, that if you do use newspaper, the ink will most likely transfer to what is being wrapped, so you may want to wash glasses and such before using.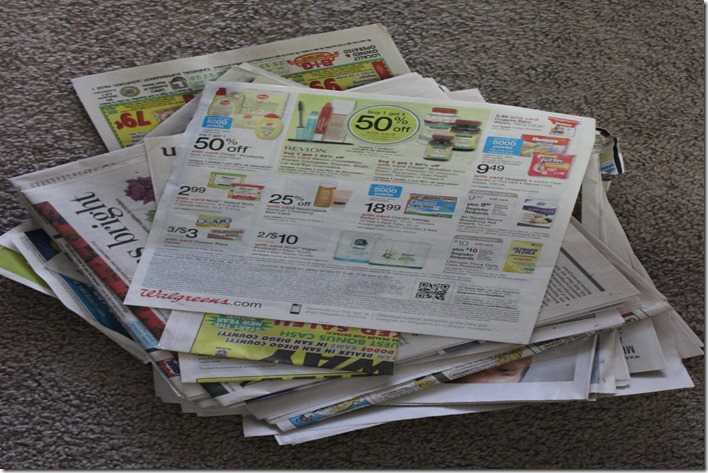 3. Buy plastic boxes so there's less guessing as to what's in them. We used a mixture of cardboard boxes and plastic containers. I found the plastic containers to be awesome as I've started unpacking some stuff because I know exactly what is in them.
4. Clean appliances before moving. While stuff will most likely acquire dirt and dust while being transferred, I made sure to clean our appliances because I don't want to start off in our new house with gunk all up in the buttons and such. It's something I usually avoid because it's a pain, but I know it'll be nice to have things all clean and ready to go.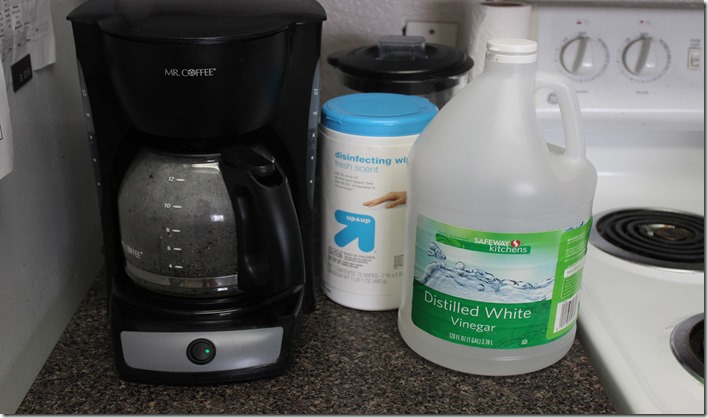 5. Pack up stuff on shelves before removing it and packing shelves. Oy. I got ahead of myself and took apart shelves before actually packing up everything on them. As a result, there were piles of little stuff all over. Not ideal, people. Not ideal.
6. Label boxes for what's in them and what room they go in. And put a label on at least one side and also on the top, so it's somewhat easy to find the label.
7. Put boxes in appropriate rooms right away so it's easier to unpack. Our new house is quaint, so this was a must to actually be able to walk through the house. It's a huge plus, though, because once we're ready to start unpacking, the stuff will already be near it's new home.
8. Pack heavier items in smaller boxes for more manageable lifting. Throw the pillows, towels, and other light objects in the big boxes and put books, heavy dishware, and such in the smaller boxes to make your life sooo much easier.
9. Keep clothes on hangers and wrap a rubber band around the bundle of hangers. Our first load to the new house caused some of our clothes to rustle around and come off their hangers. I found that simply putting a rubber band around all the hangers kept the pile of clothes in place, and it was super easy to hang them back up.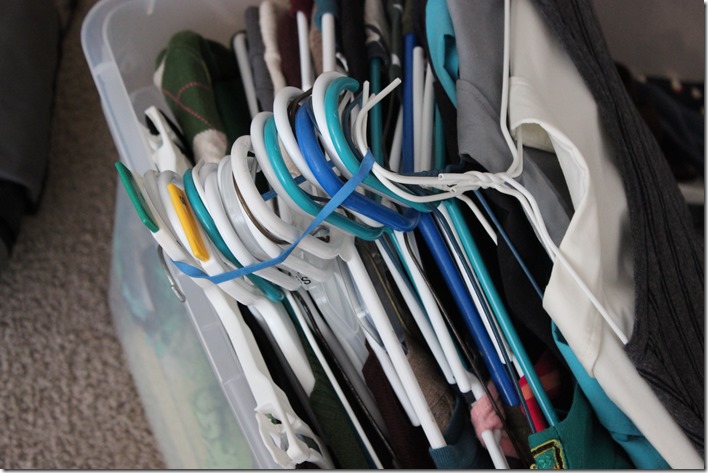 10. Use an egg carton to transfer small jewelry. I have a decent amount of earrings because I like to get crafty once in awhile, so I didn't exactly want to throw them all in a bag. We had an empty egg carton in the recycling, so I grabbed that and compiled all my earrings and some other jewelry, and it made it way more organized and less of a pain to detach from each other.
11. Pack an overnight bag for the remainder of your time. We didn't do this, but we kept the bare minimum. I feel like if I would have packed an actual bag of things, I wouldn't have had random stuff left in our closet.
12. Make sure your moving vehicle is FULL. We took a lot of trips that seemed silly to me because there was technically more room. Then again, when I moved here from Illinois, my car was packed to the brim because it's all I could bring. A fuller car = less trips.
13. Plan super easy meals with the food you have left. I'm talking meals that don't require much preparation or many ingredients at all. I was a little over ambitious when planning what we would eat this week, and when it came time to make these dishes, I just laughed to myself. Breading chicken? No thanks. I reverted to meals out of boxes. Thanks, Kraft Mac 'n Cheese and instant rice. Also, pancakes and tacos were simple to throw together.
14. Make a list of all the places you'll need to change your address. They say you should change your address two weeks prior to moving. I was paranoid about a few things not getting here in time before moving, but it seemed to work out okay. Anywho, it really helped to make a list of websites where I needed to change my address to use as a checklist and not forget anywhere.
15. Purge stuff you don't want or need anymore. Moving is a great opportunity to get rid of stuff, and I started doing this before we started packing and while we were packing. When you see how much crap you have lying around, I found that I was much more willing to get rid of stuff I didn't want to part with before. Enjoy, Good Will.
Hope these help anyone with a move in the near future!!
What do you wish you would have done the last time you moved? Any tips you'd like to add?