Whether you use fresh ingredients or leftovers from Thanksgiving, this turkey bacon panini is packed with delicious flavors and vibrant colors for a gourmet lunchtime treat!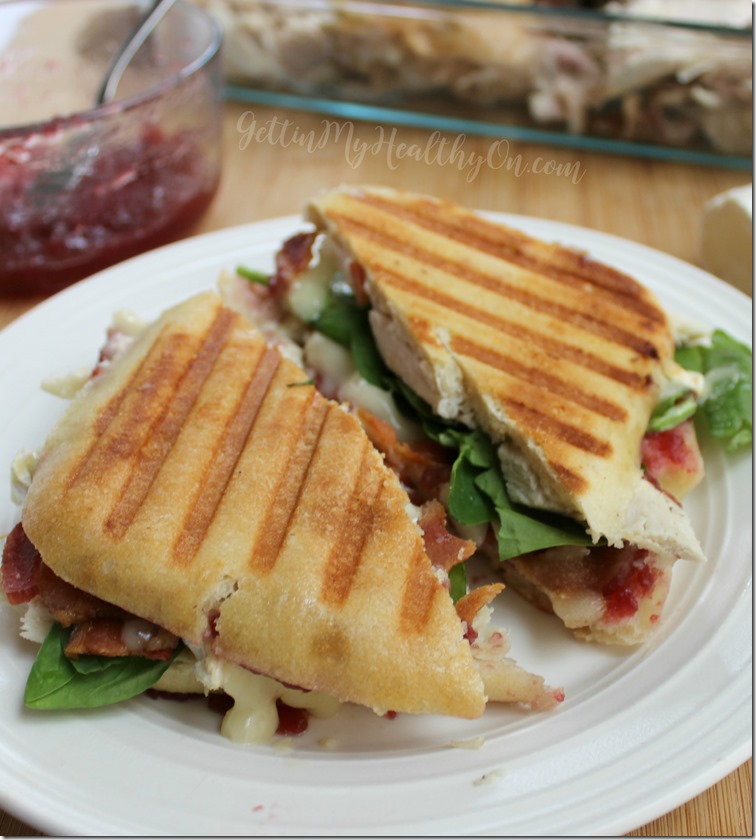 Thanksgiving food is all fine and dandy, but I'm here today to talk to you about the leftovers. Many people think the food is 10x better the day after, and I've officially crossed over into that demographic.
I'm always seeing intriguing dishes made from leftover turkey, mashed potatoes, stuffing, and so on. I decided this year I'd branch out and try something fun since I don't usually do too much reinventing with the leftover foods.
So I got to thinking….what to make with the limited dish options we made?
Sandwiches. I had to make a ridiculous sandwich recipe to make two specific leftovers shine: turkey and cranberry sauce.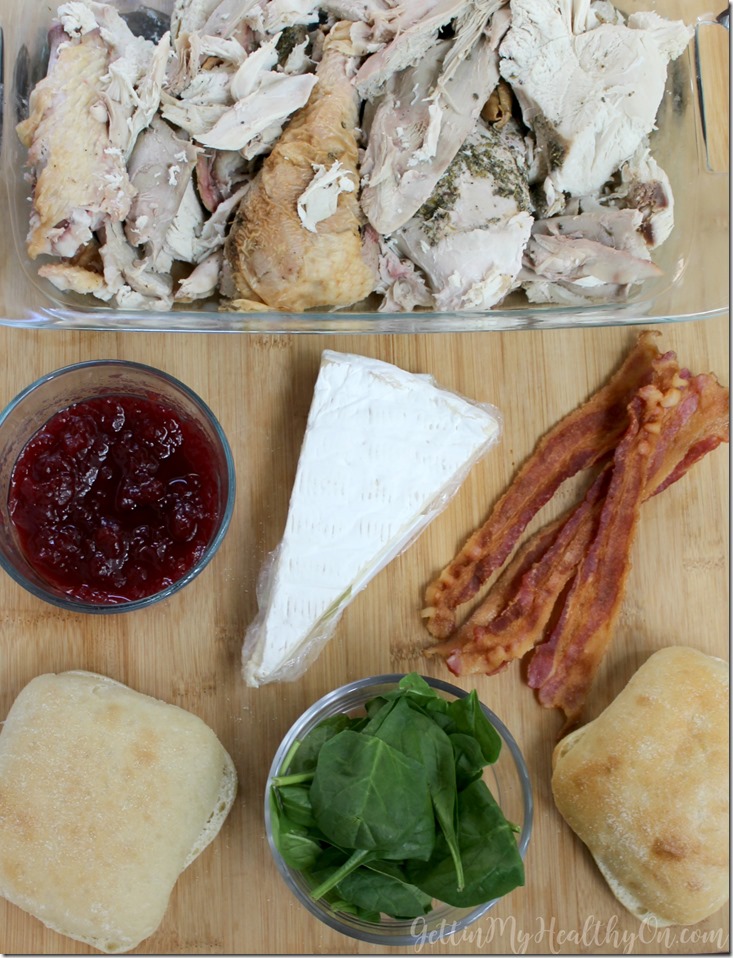 When it comes to sandwiches, I'm at what you might call…the Joey Tribiani level of appreciation. I just really love sandwiches. They can be extremely boring, but they can also be glorious stacks of happiness for your tastebuds. Today's sandwich concoction is definitely the latter.
I picked up some ciabatta rolls to get fancy up all up in our kitchen. I sliced them to make two sandwich halves, then layered the ingredients in this order: leftover turkey, 2 cooked bacon strips, a couple slices of brie, and a couple spoonfuls of cranberry sauce on the top bun. I got out the spinach but set that aside to add to the rolls after they were done toasting on our panini grill toaster press situation (this one that we got for our wedding).
After assembling the sandwich and placing the top bun to complete the stack, I lightly buttered the top and the bottom to create beautiful grill lines. After turning our sandwich press on high, I placed the panini on the bottom plate, closed the press, and let it cook for 3-5 minutes (basically just until the bread started toasting and the ingredients were nice and hot).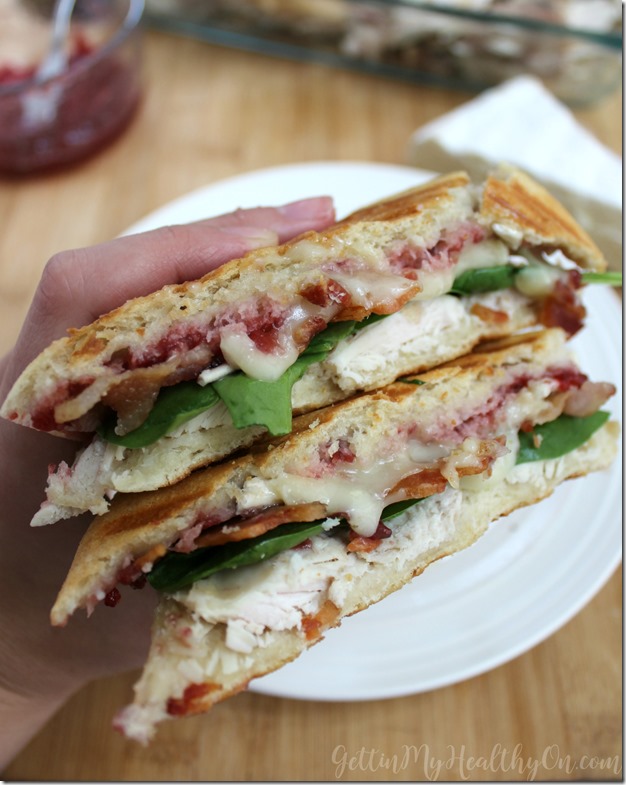 I decided to add in fresh spinach leaves after it was done cooking because I'm not a big fan of cooked spinach, but I wanted it on the sandwich. You can definitely add it before cooking to make life easier.
Either way, you should get an ooey gooey sandwich that smells divine and tastes even more gourmet and heavenly.
Turkey Cranberry Panini with Bacon and Brie
Ingredients:
2 ciabatta rolls, halved into thin slices
1 cup shredded turkey, cooked
4 bacon strips, cooked
3 oz. brie cheese
1/4 cup cranberry sauce
1 Tbs butter
1 handful fresh spinach
Instructions:
Place each roll with the cut side up. On the bottom half, layer the turkey, bacon, and brie. On the top half, divide the cranberry sauce between both rolls and spread.
Close the sandwich, and lightly butter the top and bottom of the bread.
Place in a panini press that is at medium heat. Close and cook until the bread has started to toast and the ingredients become hot (about 3-5 minutes).
Remove paninis from press and open up to add spinach leaves. Slice each panini diagonally with a sharp knife.
Serve immediately.
Recipe from GettinMyHealthyOn.com
Do you prefer Thanksgiving food the day of or as leftovers?
What are some of your favorite dishes to make using leftovers?