Liven up snack time with this sweet and salty granola bar recipe that uses common ingredients you can often find in trail mix.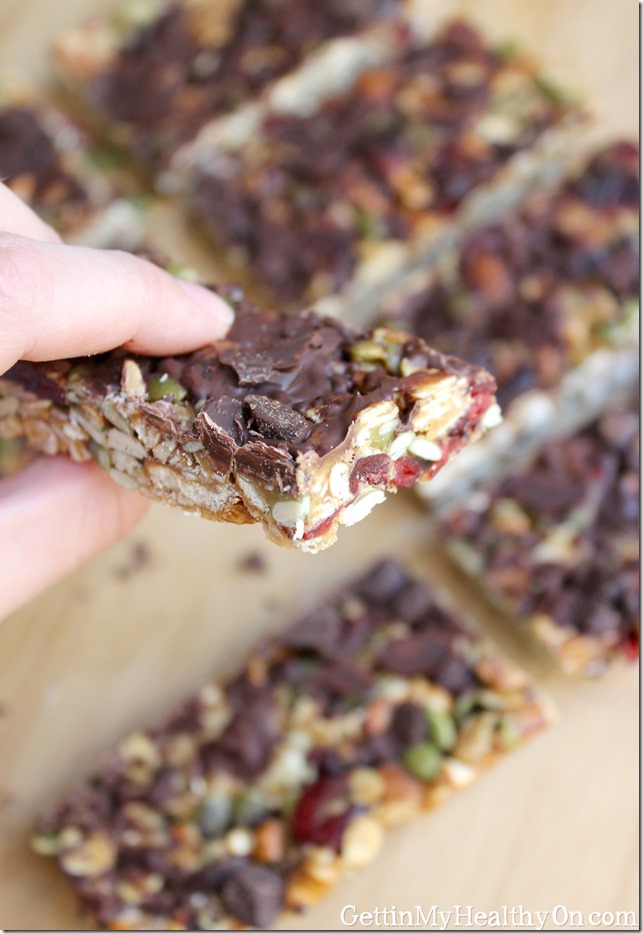 There are certain foods I don't mind eating over and over, such as my peanut butter banana oatmeal for breakfast and let's say…cereal for dinner (I mean what?), but when it comes to snacks, I get really bored with repetition. That's why I'm always on the hunt for new, exciting recipes for protein and granola bars. I love my Fruit & Nut Bars, Chocolate Coconut Protein Bars, and Nut & Seed Granola Bars, but I like to mix things up every once in awhile by trying new recipes.
I found a recipe recently for sweet and salty granola bars that I tweaked quite a bit to be more of what I wanted. You guys…I've made at least four batches of granola bars…within the past week. There was just something slightly off about each new recipe, so I kept messing with it until I got it juuuuust right. I am proud to say that last night I found the winning combination, ratio of ingredients, and process for making them. (Yes, granola bars can be that complicated when you're me.)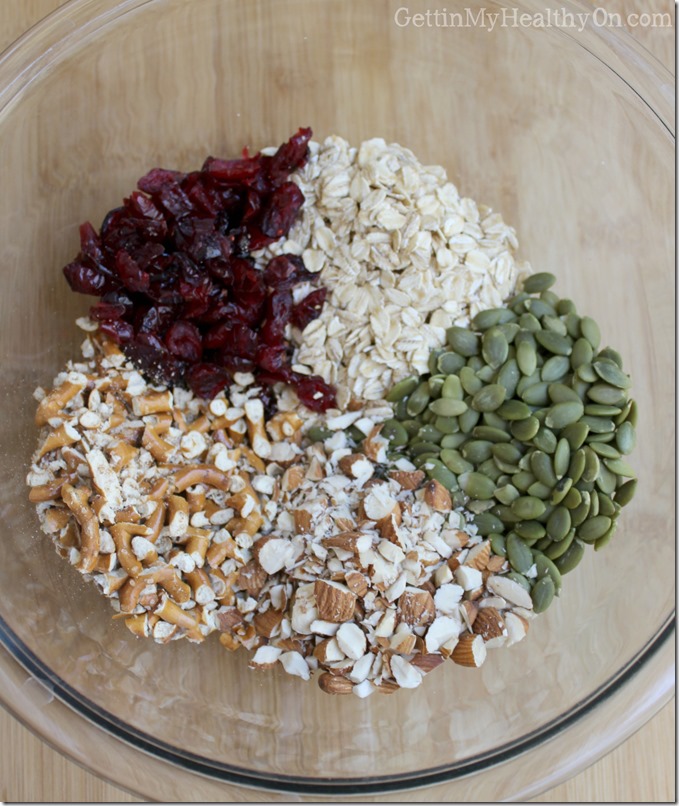 Like usual, I used ingredients I pretty much always have on hand. I combined slightly crushed pretzels, chopped almonds, pepitas, dried cranberries, and old fashioned/rolled oats. Aren't those colors beautiful!?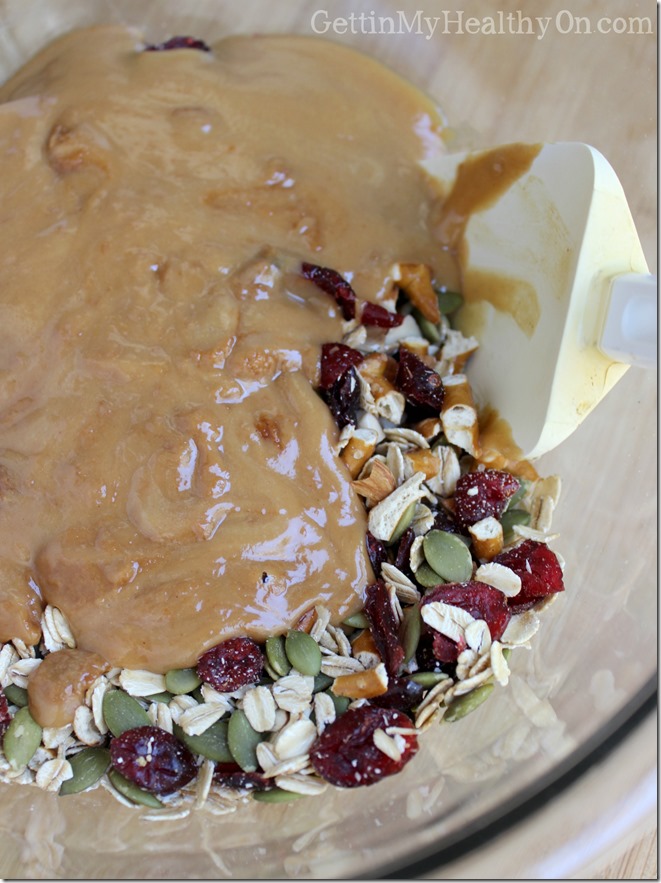 Here's the hard part: the sticky mix that keeps it all together without it crumbling in your hands. This is what was so difficult and changed dramatically from my first batch to my fourth. I poured 1/3 cup honey, 1/4 cup smooth peanut butter, and 1 tablespoon coconut oil into a saucepan. Turned it on medium-low and cooked it until it was all melted and incorporated. Then I left it on the stove to cook for about 2 to 3 more minutes. Stir it one last time and then pour it into the dry mixture. The trick is heating it up on the stove. I tried it in the microwave, but this left my granola bars falling apart like woa.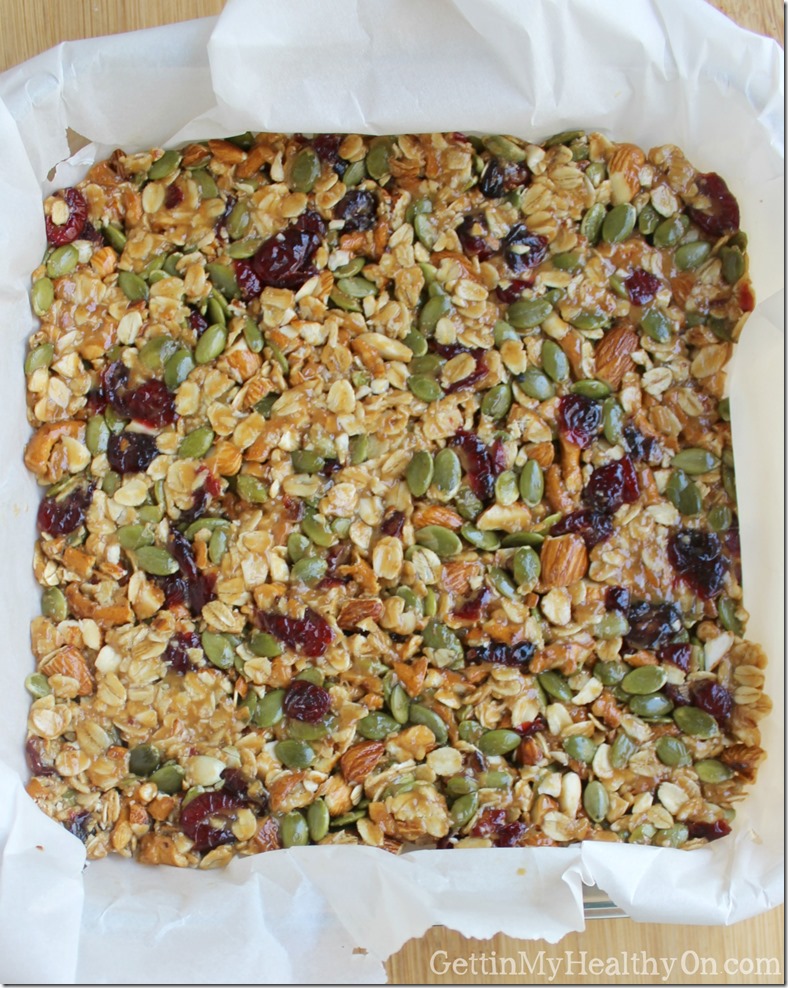 Once all the dry ingredients are well-coated in the honey mixture, pour it all into an 8×8 baking dish that has been lined with parchment paper. (Easy removal and even easier cleanup). Smash the mixture down as well and evenly as you can (I covered it with more parchment paper and used a bacon press which worked BEAUTIFULLY; you could also just use a spatula). NOW, you are ready for the best part: the chocolate.

You don't want to stir the chocolate into the mixture because it'll melt immediately. Obviously, that isn't a huge problem – chocolate is chocolate – but I like the vibrant cranberries and pepitas to pop. By dumping the chocolate on top, and then smashing it into the bars, you're creating a chunky top layer of chocolate that, yes, will melt a bit, but it looks pretty.
I couldn't believe how perfectly these stuck together. I had a moment a few days ago when I picked one up and was all, "HALLELUJAH! IT'S NOT CRUMBLING IN MY HANDS," because of heating the honey and peanut butter on the stove. Success!! And the sweet honey and chocolate with the salty pretzels? Oh my goodness yes. So much win.
Ingredients:
3/4 cup old fashioned oats
1/2 cup chopped almonds
1/2 cup pretzels, crushed
1/2 cup dried cranberries
1/2 cup pumpkin seeds
1/3 cup chocolate chips
1/3 cup honey
1/4 cup peanut butter (smooth)
1 Tbs coconut oil
Instructions:
In a large bowl, mix together oats, almonds, pretzels, cranberries, and pumpkin seeds.
In a sauce pan, heat honey, peanut butter, and coconut oil until melted; stir together. Cook for another 2-3 minutes on medium-low heat.
Pour sauce into dry ingredients, stirring until dry mixture is well-coated.
Pour mixture into 8x8 baking dish that has been lined with parchment paper. Smash down with a spatula.
Sprinkle chocolate over top and smash down.
Refrigerate for at least 2 hours. Then cut into 8 bars and store in the fridge for snacking!
Recipe from GettinMyHealthyOn.com
After these had set in the fridge for at least a couple hours (I left them in there overnight), I cut them into 8 bars and wrapped them in saran wrap for an easy grab-on-the-go snack. Ohhhh lawd. So delicious. However, since I've made at least four batches over the past week, I think it's time to take a break for a bit.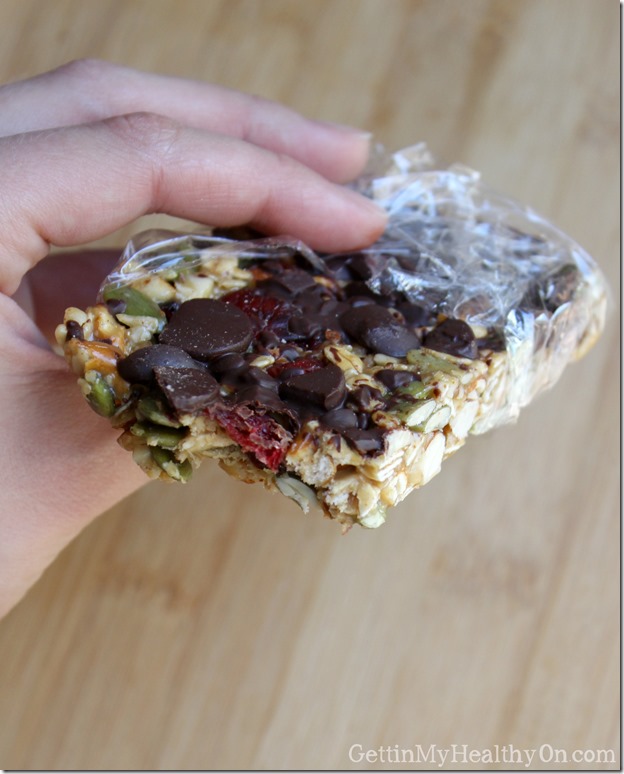 What are you favorite granola bar ingredients?