For a protein-packed breakfast that's full of flavor, try this recipe for breakfast quinoa that combines fresh strawberries, warming vanilla, and crunchy almonds.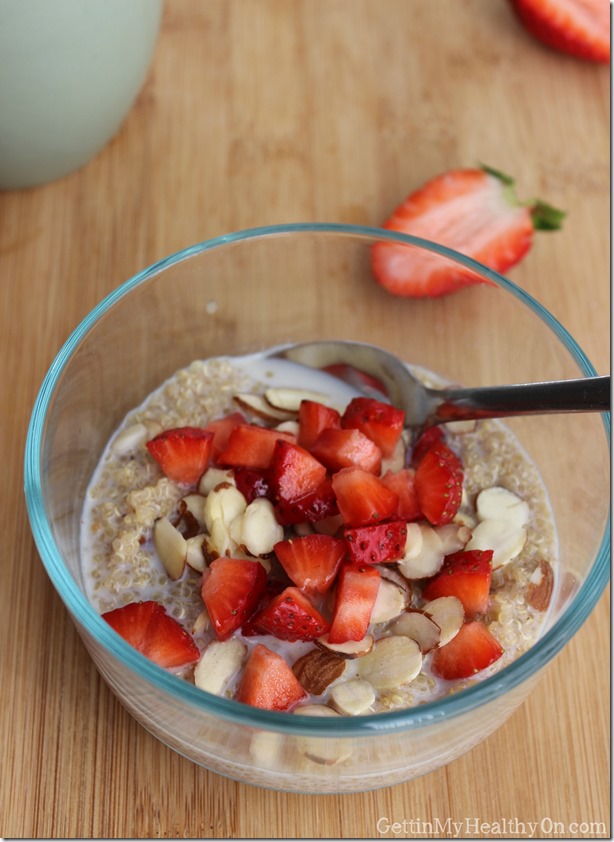 One of the terms I use to describe myself is "food enthusiast," and that's because I love how food appeals to all the senses. Whether I'm cooking, eating, or just drooling over someone else's food, I love the endless possibilities when you play around with ingredients. Since I'm always trying to cook with nutrition in mind, I like to challenge my creativity sometimes and do things a bit differently. Take today's recipe, for example. Quinoa is mostly used as an addition to savory dishes, which is a shame because it's so good when made into a sweet breakfast!
I've seen recipes for breakfast quinoa before, and they've always intrigued me. So, I figured I should finally try my hand at it! For the Strawberry Vanilla Almond Quinoa recipe I created, you'll need to combine 1/2 cup already cooked quinoa with 1/4 cup milk (I used 2%) and 1/2 teaspoon vanilla extract. Heat this up in the microwave for about 30 seconds. Then drizzle 1 teaspoon of honey, sprinkle a dash of cinnamon and nutmeg, and top with about 2 fresh (or frozen) strawberries (that have been diced) and 1 tablespoon sliced almonds.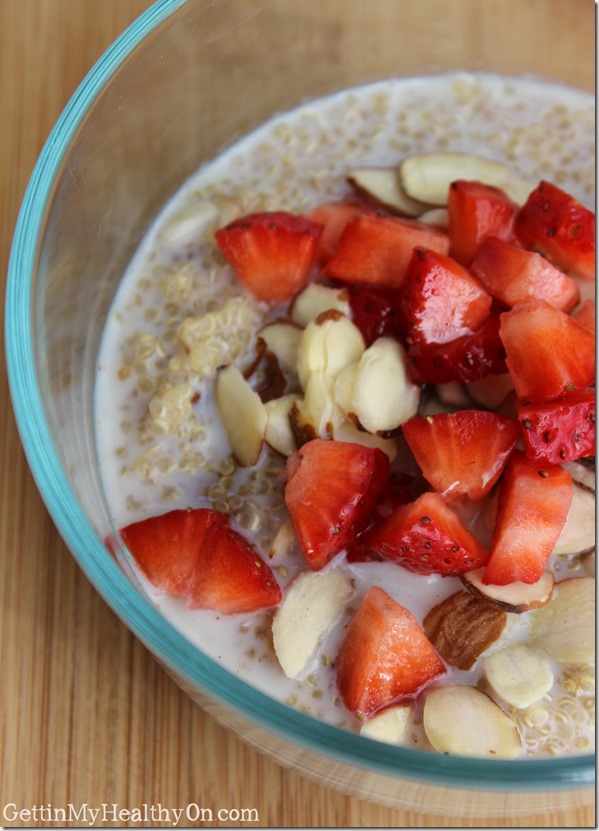 This is more of a recipe that I wouldn't measure, but to help you experience the same heaven my taste buds were in, I made sure to jot down all the details. 🙂
If you aren't already aware, quinoa is a protein-packed seed of sorts; it reminds me a lot of rice. In this recipe, I'm using it more like the base oatmeal is for fun toppings. The texture of the crisp strawberries, crunchy almonds, and little quinoa seeds all combined in this bowl is quite nice. That plus the marriage of flavors? So much yes.
Strawberry Vanilla Almond Breakfast Quinoa
Ingredients:
1/2 cup cooked quinoa
1/4 cup milk
1/4 tsp vanilla
1 tsp honey
2 strawberries, diced
1 Tbs sliced almonds
dash cinnamon
dash nutmeg
Instructions:
Combine cooked quinoa, milk, and vanilla in a bowl, and microwave for 30 seconds.
Drizzle honey and add spices on top. Then top with strawberries and almonds.
Serve!
Recipe from GettinMyHealthyOn.com
If you don't have fresh strawberries, frozen would work just fine. Or another fruit would be great as well. This works as a simple base that can be altered as your heart desires.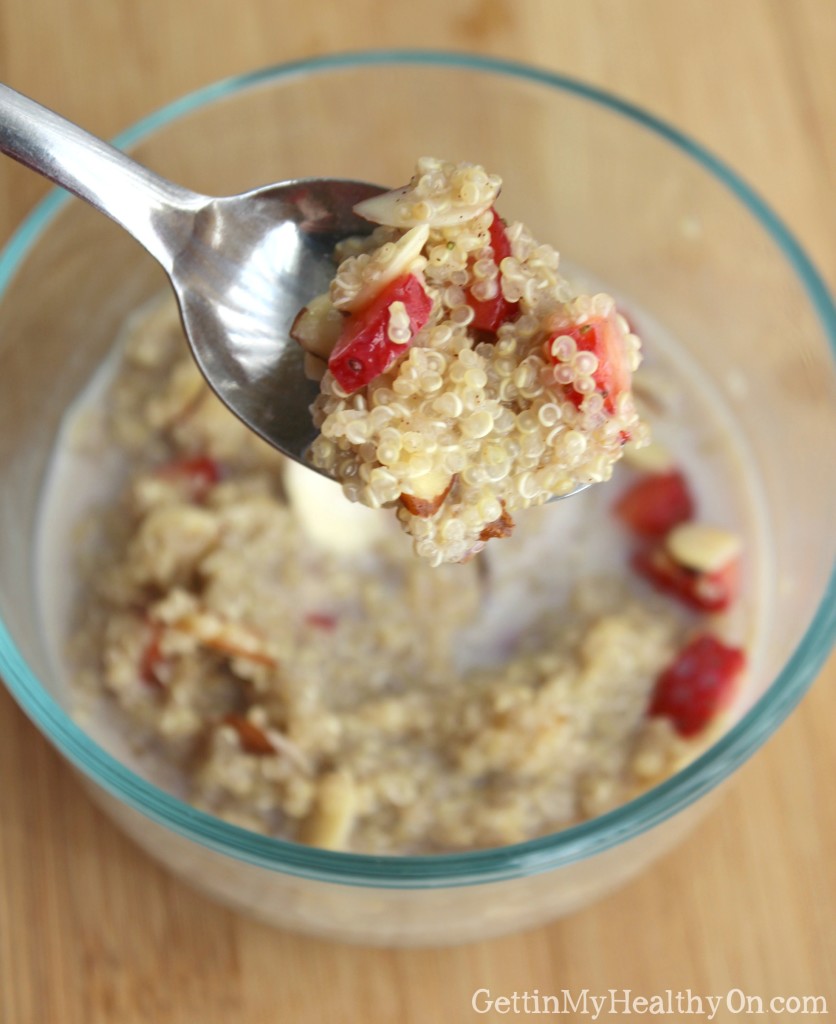 Enjoy!!