Something magical happened a couple weeks ago: I discovered the magic of chocolate chip pumpkin bread. I've only had pumpkin bread one other time, so this was quite eye opening for me…especially with the chocolate chips involved.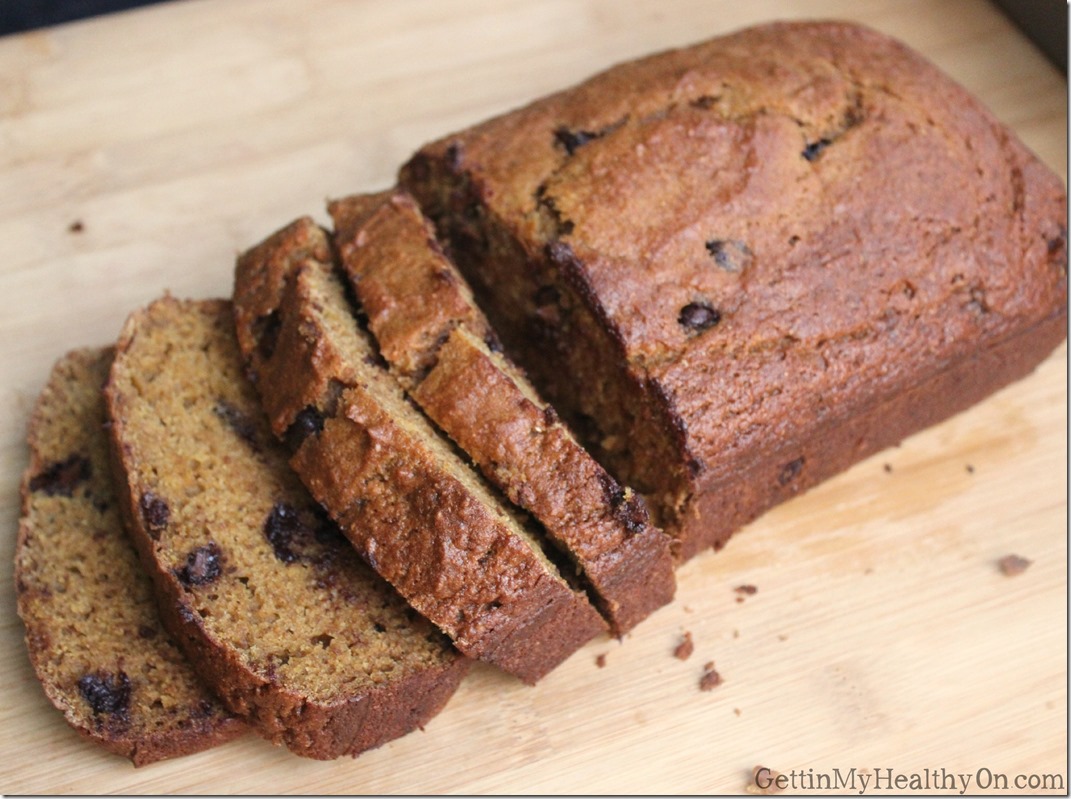 It's a moist yet fluffy bread that has just the right amount of sweetness, thanks to the addition of dark chocolate. I've been taking a piece to work every day to enjoy as a mid-morning snack lately, and it's a little slice of heaven that holds me over until lunch. I following a recipe last week, and it turned out wonderfully. But per usual, I wanted to make it a wee bit healthier. After altering the original recipe I used by cutting some sugar and subbing unsweetened apple sauce for the oil, I'm quite happy with how it turned out. Finally, another recipe to make during the wonderful pumpkin season!
All you have to do is combine 1 3/4 cups flour (I used 1 cup white flour and 3/4 cup whole wheat flour), 1 teaspoon baking soda, and some seasonings and spices: 1/2 teaspoon salt, 1 1/2 teaspoon cinnamon, and 1/2 teaspoon nutmeg (if you're not a big nutmeg fan, feel free to lower this to 1/4 teaspoon). In another bowl, add 1 cup pumpkin puree (not the pie filling), 2 eggs, 1 1/4 cups sugar (white), 1/2 cup unsweetened applesauce (the size of most individually packaged applesauce cups), and 1/3 cup water. Mix all the wetness together, and then add the dry mixture. Fold in 1/2 cup chocolate chips (I recommend dark chocolate because it's superior in every way…that's just a fact).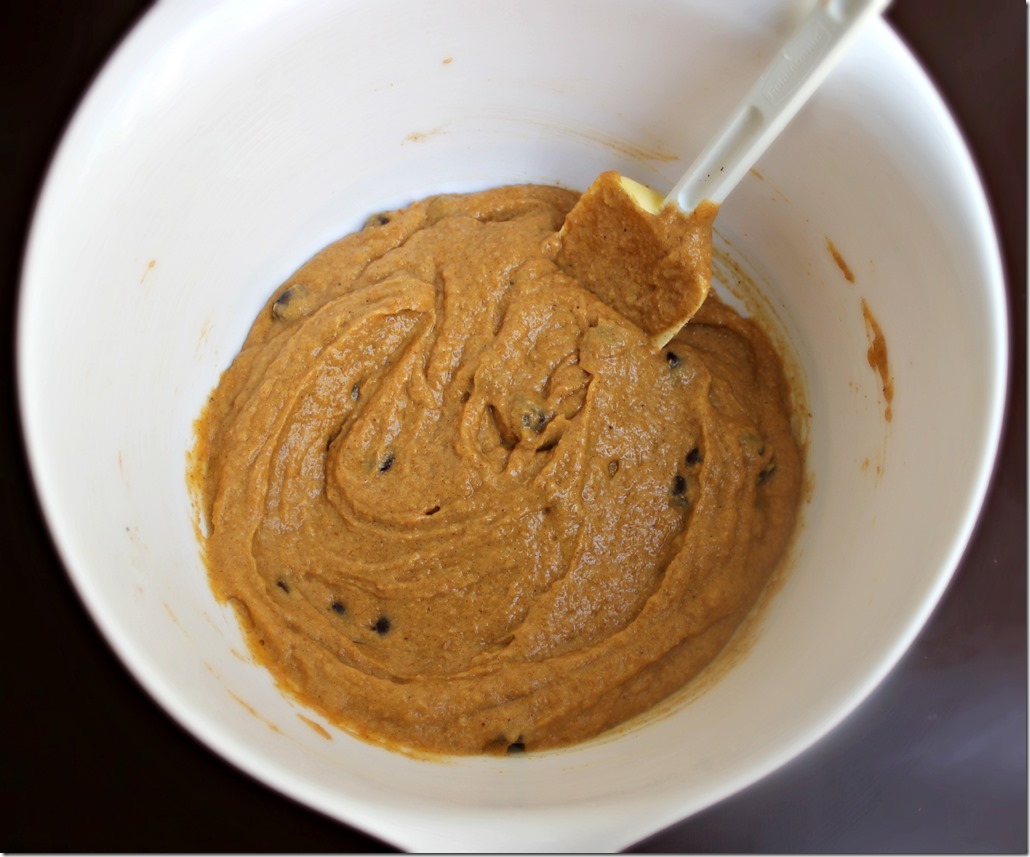 Pour the batter into a bread pan that's been sprayed with non-stick cooking oil, and throw that biddy in the oven for about 55-60 minutes. Then go to your happy place as you enjoy the sweet, chocolatey pumpkin bread while it's still warm. This is seriously the best.
Adapted from Culinary Envy.
Spiced Pumpkin Bread with Chocolate Chips
Ingredients:
1 cup pumpkin puree
2 large eggs
1 1/4 cups granulated sugar
1/2 cup unsweetened applesauce
1/3 cup water
1 3/4 cups all-purpose flour
1 tsp baking soda
1/2 tsp salt
1 1/2 tsp cinnamon
1/2 tsp nutmeg
1/2 cup chocolate chips
Instructions:
In a large bowl, mix together the pumpkin puree, eggs, sugar, applesauce, and water. Set aside
In a small bowl, whisk together flour, baking soda, salt, cinnamon, and nutmeg.
Slowly the dry mixture into the wet until just combined. Fold in the chocolate chips.
Pour into a bread loaf pan that has been sprayed with non-stick cooking spray.
Bake at 350 degrees for 55-60 minutes, or until a knife can be inserted and comes out clean.
Let cool for 10 minutes.
Recipe from GettinMyHealthyOn.com
If you've never tried pumpkin bread—or pumpkin bread with chocolate chips—you must! If you want to make this even more healthier, you could cut the chocolate chips to 1/4 cup. As I've professed on here before, chocolate chips are my favorite. So…1/2 cup for me!
Enjoy. 🙂