Make this festive fall sangria recipe using cranberries, orange, apple, and spices for a flavorful beverage sure to get you in the holiday spirit!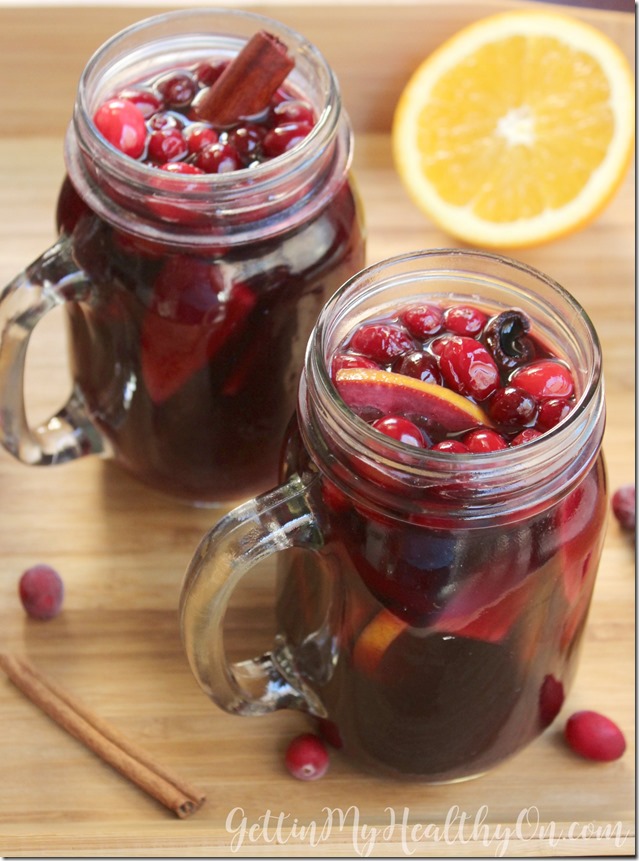 Ohhhhh, sangria. Why are you so delicious?! I've been wanting to make a fall-themed sangria for ages, and as of yesterday, I have the perfect combination of flavors. I used cranberries and orange slices as the base of the drink, and then I used apple and some fragrant spices to really take it to the next level.
I'm PUMPED at how well this turned out. In fact, I need more excuses to make this. With Thanksgiving coming up, I might just have to whip together another pitcher of this glorious sangria magic.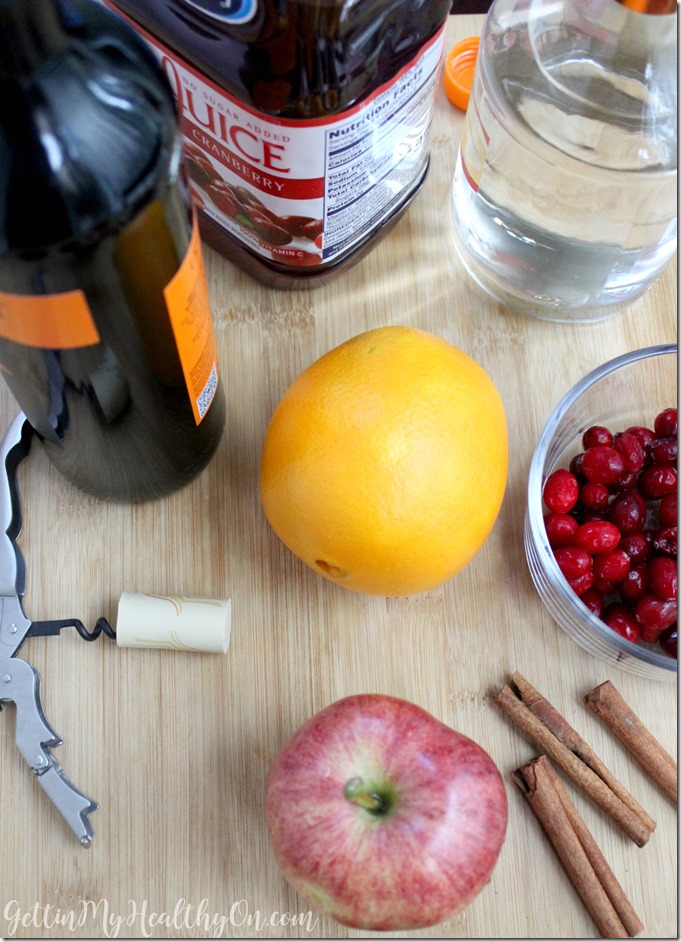 Since I'm a red wine-lover, that's the color of wine I ultimately chose. More specifically, I used a sweet red wine—merlot—in this, and it worked wonderfully.
To begin I sliced an apple and an orange, then halved those slices because I don't want massive fruit pieces in my sangria. I added those to my large pitcher as well as some frozen cranberries (which I actually have from last Christmas, but I found out yesterday our local grocery store is selling fresh cranberries now!). After lightly muddling that fruit combo, I added triple sec, 100% cranberry juice, a bottle of merlot, a few cinnamon sticks, and a teensy bit of ground cloves.
This pitcher was fray-guh-rent. Thankfully I had a little self-control and didn't start drinking it right off the bat. I wanted all the flavors to mingle overnight.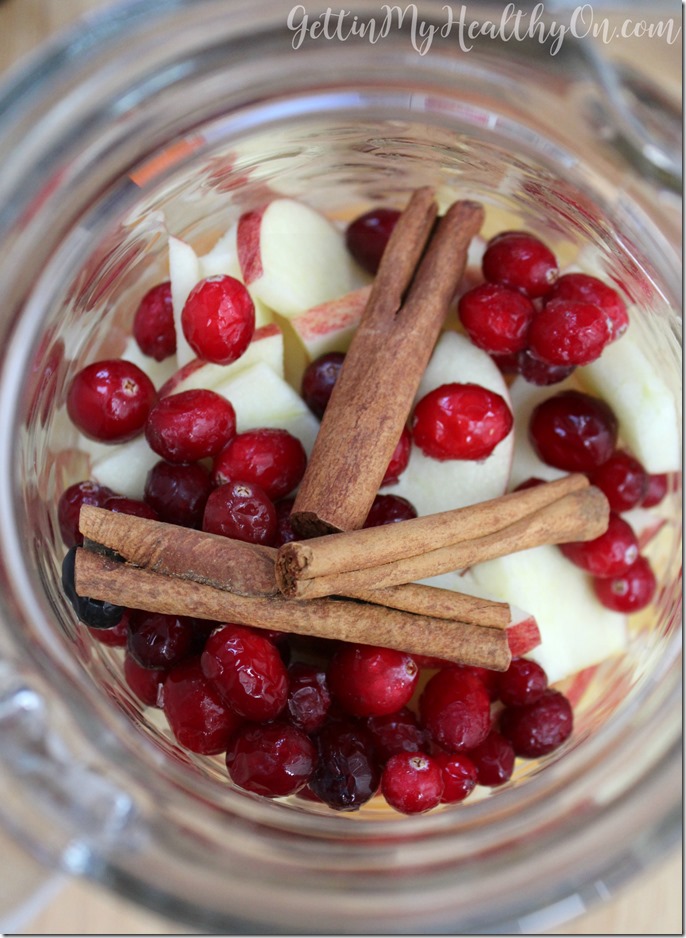 The next day, when the time felt right, I poured a bit of ginger ale into the pitcher as the final touch of bubbly sweetness. A lot of sangria recipes use sugar or a simple syrup, but I'm all about adding ginger ale. The flavor also complemented the spiced side of this, so I highly encourage you to use that instead of sugar. However, if you have a raging sweet tooth, you could definitely add a couple tablespoons of granulated sugar or perhaps simple syrup. Do what make your taste buds happy!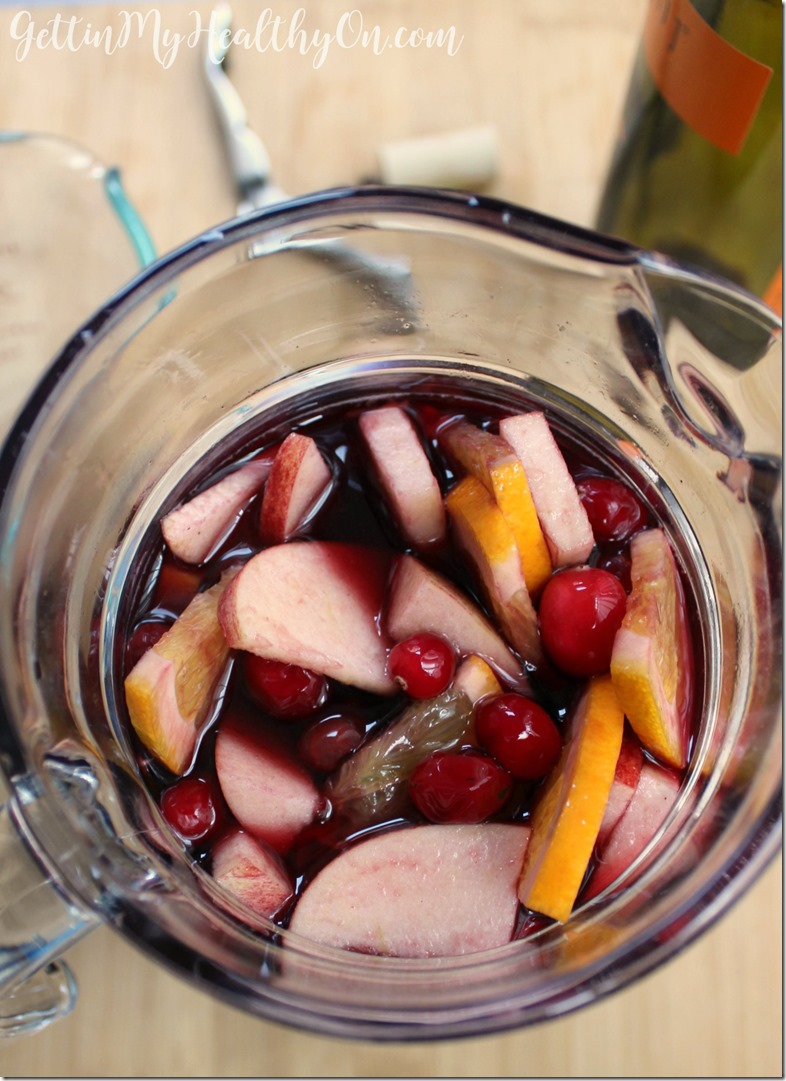 This recipe makes a ton of fruit because 1. it's beautiful and 2. it's packed with flavor. I figure, as long as it all fits in the pitcher, then why not go crazy?
This sangria will be made again in this household SOON. It tasted like the perfect mix of juice and wine with that added bit of spice for the most amazing outcome. I'm all about the fall flavors in this!
Aside from the slicing and dicing of the fruit—as well as letting this chill overnight—this didn't take me too long at all. It was a low maintenance bevvy that tasted oh-so-wonderful. Hope you enjoy!!
Spiced Cranberry Orange Red Sangria
Ingredients:
1 medium orange, sliced into small wedges
1 apple, sliced in small halves
1/2 cup cranberries, fresh or frozen
Bottle of fruity red wine (750ml)
4oz orange liqueur
8oz cranberry juice
3 cinnamon sticks
1/8 tsp ground cloves
8oz ginger ale
Instructions:
Add oranges, apples, and cranberries to a large pitcher. Lightly muddle.
Add wine, liqueur, and juice, as well as cinnamon sticks and ground cloves. Chill for at least 4 hours and up to a couple days.
Before serving, add ginger ale, and mix together.
Recipe from GettinMyHealthyOn.com
Are you a sangria person? Or do you prefer straight-up wine?
What's your favorite fall-themed beverage?