Workout
Yesterday: 45-Minute Speed Pyramid on the treadmill=awesome workout
Today: No Nonsense Circuit before partying like a rockstar all weekened
So Fresh & So Clean Clean
Yesterday, I ate a PB & J sandwich the size of Hagrid's face. (I must clarify the picture is not to scale with my sandwich.)
The sandwich wasn't even that good either–that's the sad part.
This is basically how I've been eating lately. Large portions of carb-based meals have been filling up my plate with veggies rarely making an appearance. During the week, I've been pretty good about not stuffing my face with crap since I stay really busy, but there still isn't an overall healthy balance like I want. The weekend, on the other hand, is another story.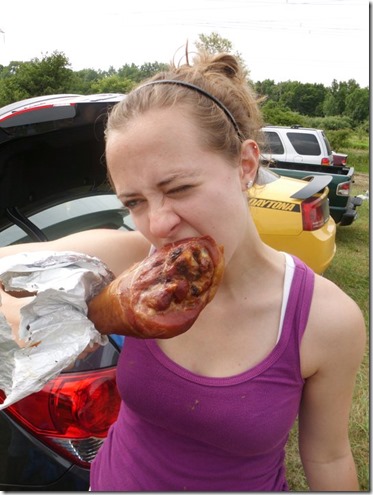 Yes, there's a balance. It's called 45% healthy foods and 55% crap (sure, let's go with that). Having a lot of time on my hands isn't the best help to my diet. (By the way, when I refer to my diet, I'm referring to my general food consumption, not a temporary exclusion of specific foods for the purpose of losing weight. I don't believe in that exclusion nonsense. I believe in a daily dose of cereal.) Seeing as how it's Friday, I feel the need to undergo a diet intervention before I get the urge to make some cookies and ignore the bag of spinach sitting in the fridge.
My goal in this "intervention" is to 1. eat less crap and 2. eat more goodness in the form of so fresh and so clean foods. Basically, it's time to Katie-proof the cabinets.
In the end, I hope to abide by the 80/20 rule:
I'll be doing this by adding the following:
More fresh, whole foods (closer to their original state)
At least a serving of veggies at two meals
Only planned snacks (to eliminate mindless and crappy eating)
5 billions glasses of water – aka like four 32-oz Nalgene bottles full per day
Here's what I'll be trying to cut out most of the time:
Junk food
Most processed foods
Chips, cookies, other crap that tastes really good
Added sugar – aka I'll be avoiding extra sugary things and just having the basics
Hopefully I'll start turning these into a habit and consistently eat healthy 80% of the time and enjoy sweets 20% of the time.
Questions for you:
What would you say is your percentage for healthy/crap eating?
How do you fit veggies into your diet?