As of last month, it has been over two years since I developed IT Band Syndrome. Although I still can't run like I used to (and have doubts that I ever will again), my attitude towards the sport has completely changed.
While I know runners recover from the chronic injury every day, I'm not one of those people. Today's post is about my coming to terms with this truth, and how my attitude has allowed me to move forward and enjoy running again…just, in a different way.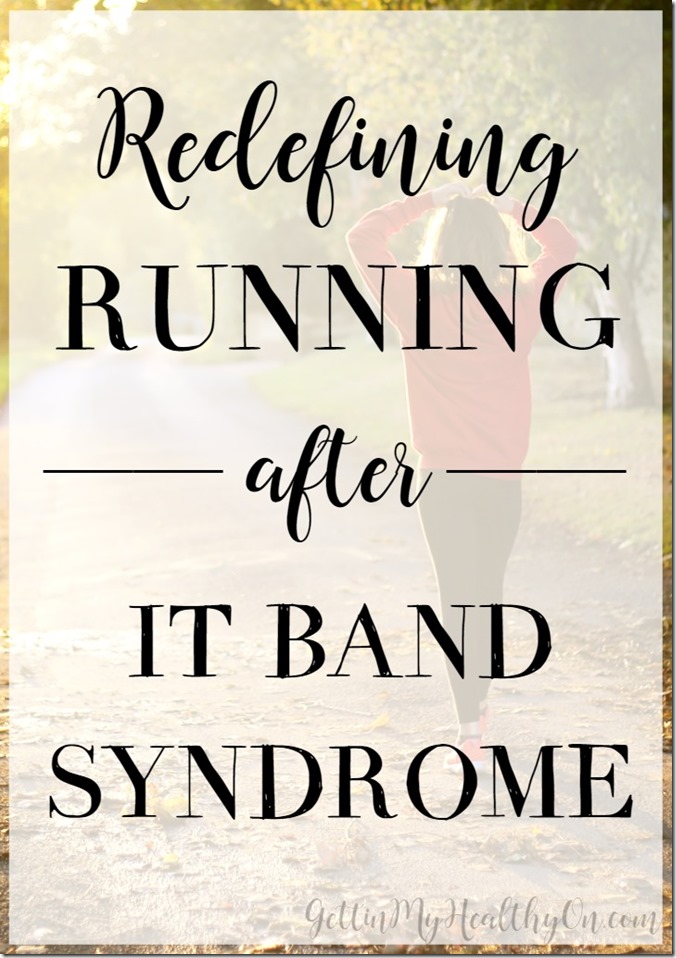 The Cause of My IT Band Syndrome
I provided a timeline for my injury in my post Recovering from IT Band Syndrome that I posted last year, so I won't go over all that again. But basically, I trained too hard, too fast for a marathon. I had to drop out due to intense knee pain. I didn't run for the next year because it made me sad. Yadda yadda yadda…I eventually tried physical therapy for three months and didn't see much progress.
Two Years into IT Band Syndrome
It's been almost a year since I quit physical therapy. The time leading up to my decision to start PT had me filled with so many "what-ifs" because although I was trying to cure myself, I knew I wasn't making the most of my resources—aka seeking professional help.
After three months of PT, I decided to stop, despite my lack of much progress. This was extremely discouraging, because that's when I realized my fate. But! Even though PT didn't fix me, I've had much more peace of mind knowing I did what I could to recover (and I'm not willing to consider surgery or anything, so this is where my "seeking professional help" ends).
A New Outlook on Running
Over the past year, I've allowed myself to let go of my love of running a little bit—or, at least how I once viewed running. Instead of dwelling on the one thing I physically could not do, I shifted my focus to some new areas of fitness (yoga, barre, pilates, hiking, kayaking, etc.), which is being carried over into my 2017 fitness goals. This has allowed me to get excited again about leading an active lifestyle.
Amidst my different fit adventures, I am definitely still running. Thanks to my Pro-Tec IT Band compression strap (designed to prevent irritation), I'm able to run around 3 miles every time I hit the pavement. Without it, I can run about 2 miles, usually. While reaching only a couple miles used to make me feel so low and defeated, it is simply the new normal for me—a mindset that brings me a lot of peace.
Every time I go out on a run, I am mentally prepared for that low mileage. Maybe I'll make it 2 miles; maybe I'll make it 3+. I'll admit I could definitely afford to push myself a little bit farther than I do, but just being mentally prepared has completely transformed my ability to appreciate running.
After taking a month off from cardio to focus on weight lifting for Phase 1 of LiveFit, I went on my first run this past Tuesday. It reminded me of all that I've said in this post so far. It showed me how far I've come throughout my journey with IT Band Syndrome—one that has had a lot of highs and lows…one that has taught me the power of reevaluating my love of running.
I miss the races. I miss the feeling of accomplishment after a long run. I miss going on extended scenic runs with my husband. But I'm able to get out there and run, even if only for a little while (which is more than a lot of people can do). THAT keeps me moving forward.
Even though I can't exactly run far these days, I still label myself a "runner" (though more of so an injured runner). I figure…whether I can run 26.2+ miles or just 1 or 2, "if you run, you are a runner."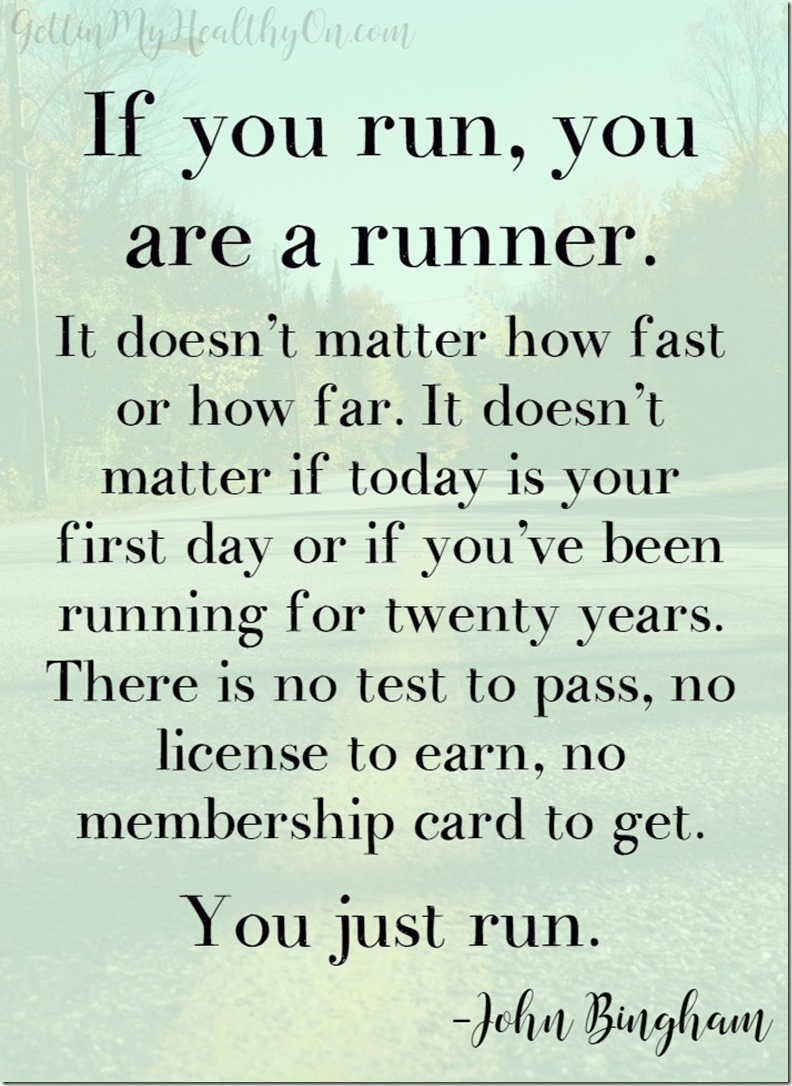 The rest is irrelevant. 🙂