Happy Pre-4th of July! Aka July 3rd! Aka Independence Day observed!
I'm in my happy place because I have the day off of work, which means I can do so many things I never have time for. My plans include working ahead on blog posts, reading my favorite blogs (it's been so long), preparing a bunch of Vegan dishes to finish out my diet experiment strong (hotdogs are vegan, right?), cleaning the house, and straight-up relaxing. To be honest, I'll probably mostly do the last one—oh, and enjoying these patriotic goodies: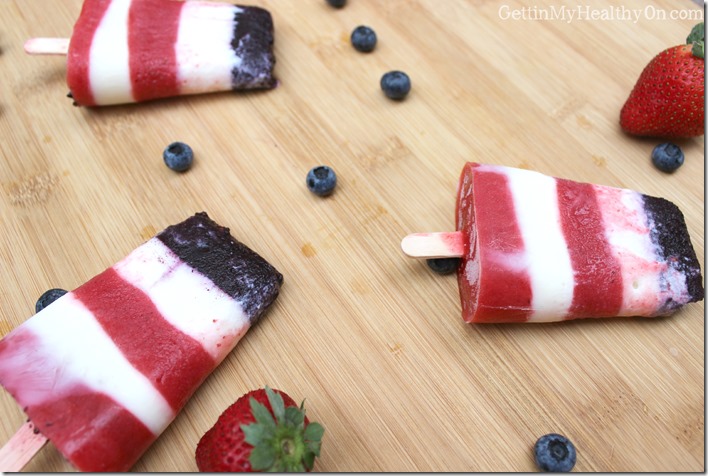 I was determined to make something red, white, and blue because Pinterest inspired me to do so, and I landed on the idea of popsicles! People are so creative out there, so I wanted to make these popsicles to be cool too…literally! (I love bad jokes, please forgive me.)
While they don't look like perfection, I'm happy with how they turned out. Apparently it's difficult to pour purees into popsicle molds without touching the sides (this will depend on the molds you're using though). I actually think the couple of blurred lines add some character—plus, they taste just as good—so I don't see any reason to stress over it.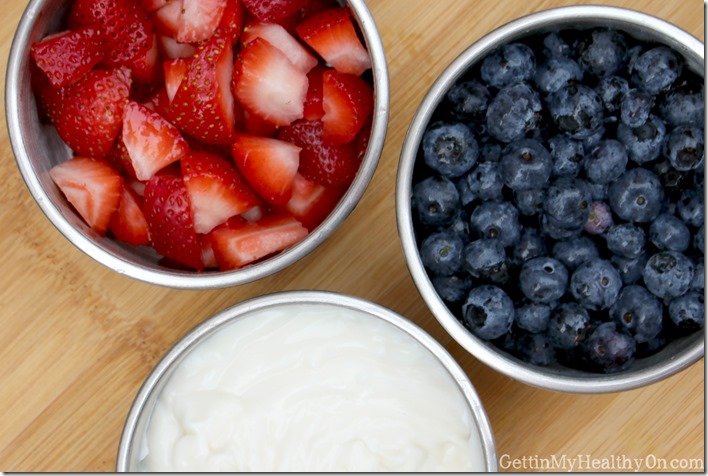 All you need is some vanilla yogurt and some strawberries and blueberries to puree (they can be fresh or frozen, as long as they're thawed). I only had plain Greek yogurt, so I made it vanilla by adding some honey and vanilla. Then I thinned it with some water. So basically, I made my own vanilla yogurt; hence why I say just use vanilla yogurt. For the fruit, you'll need to add a tablespoon or two of water to help thin it out so it's easier to puree and pour into the popsicle molds. When I was dealing with the blueberries, I actually learned something interesting.
The blueberry puree was a vivid purple color, so I figured…why not add a bit of blue food coloring to deepen it into more of a blue shade? Well something weird happened, so I don't recommend this. When I mixed a couple drops of blue food coloring into the puree, it gelled up. I can't find any info about why this reaction might occur, but I did read somewhere that blueberries have a lot of pectin (which is used in jams and jellies to make them gelatinize), so perhaps something in the food coloring turned it into gel? Not quite sure. Using just the puree, though, it actually looks much more blue than it did originally, so I thought it worked just fine without any supplemental color.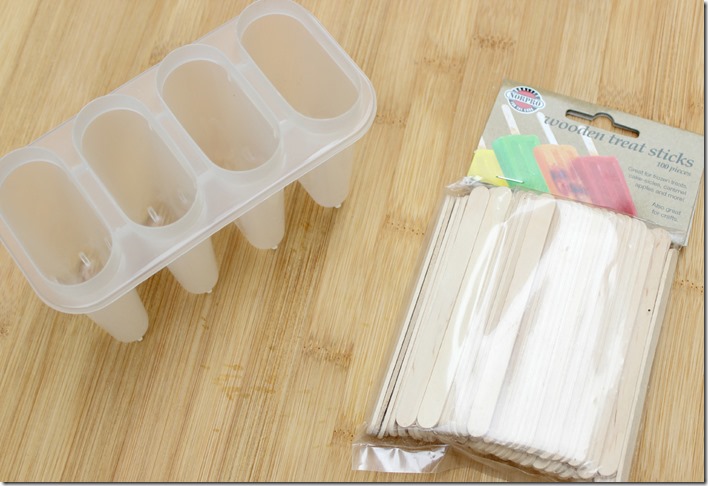 I poured the goodness into my popsicle mold that I bought at the dollar store a couple years ago, but I took out the lid/stick things since I needed to add the layers in at different times (waiting for each to freeze first). So I bought some popsicle sticks to use instead.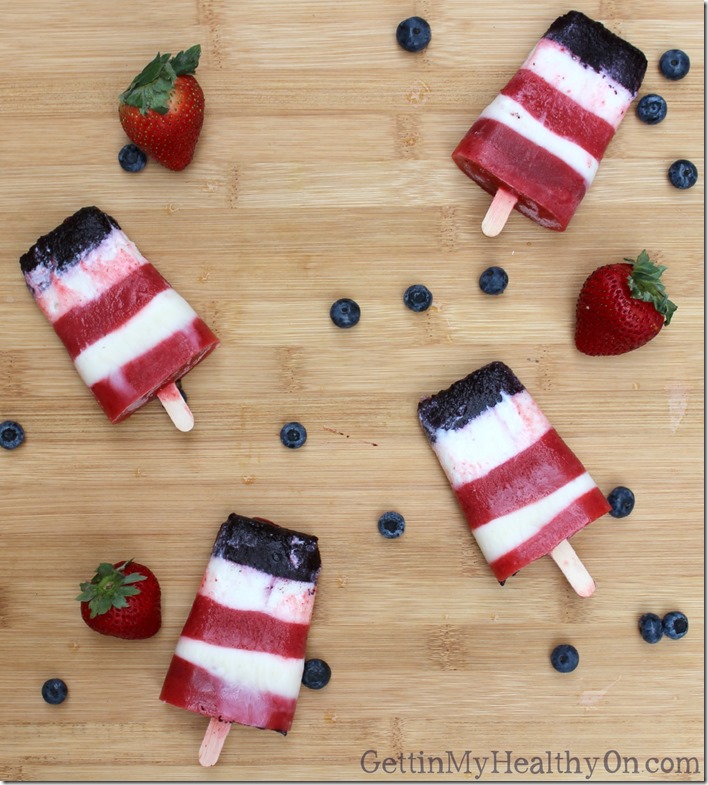 I gradually made these throughout the past week, but you could probably make them over the course of the day if you're around. I poured a bit of the blueberry puree into the bottom of each section, and placed a popsicle stick in each. I prevented the sticks from following to the side by simple laying a pencil across the top of the mold, which helped them stay upright and centered. After about an hour, if any fell, I found that I could easily just push them to where I wanted, and they'd stay because the puree was frozen enough. After a couple of hours in the freezer, I poured a layer of the yogurt into each compartment.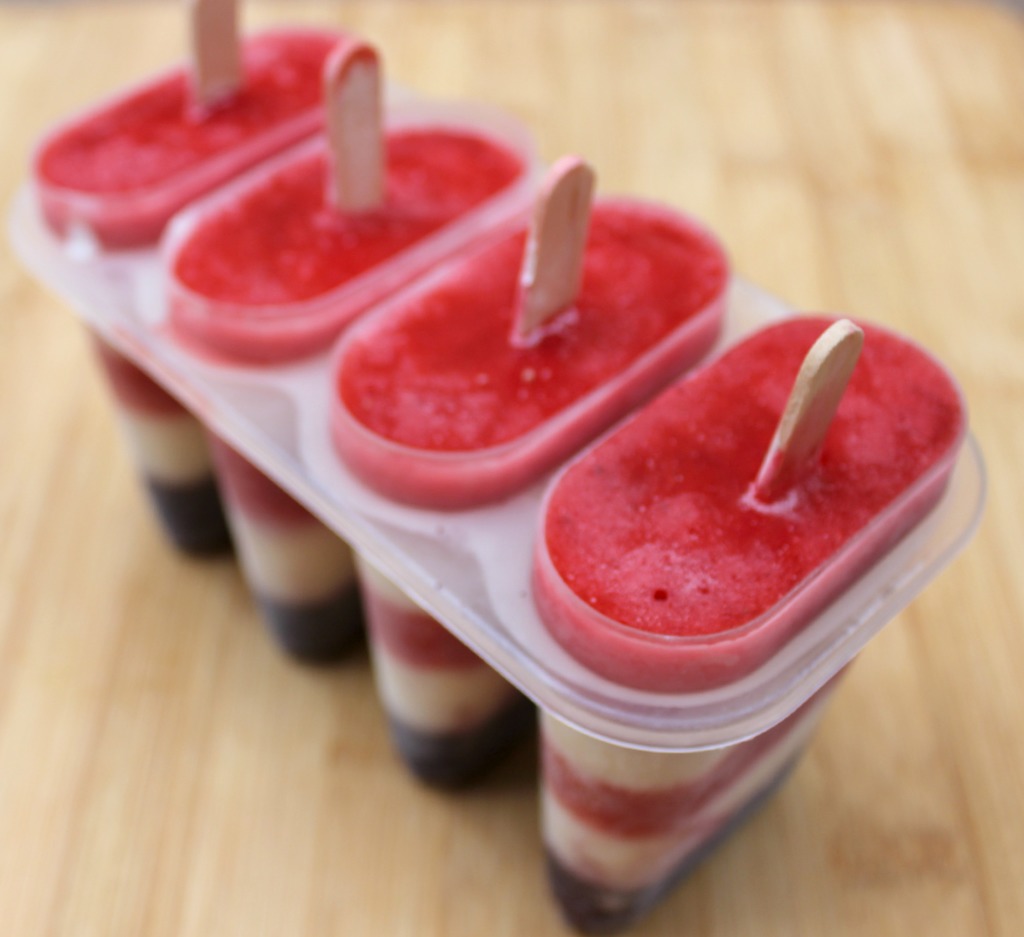 I recommend putting your ingredients in cup with a spout (I used a measuring cup) because it's much easier to pour them without getting it all over the sides. Once you've let at least a couple hours go by, add a layer of the strawberry puree. Then just keep repeating this process until you've reached the top!
Red, White & Blue Popsicles
Ingredients:
*1/2 c blueberry puree (thinned out with 1 Tbs water)
*1 c strawberry puree (thinned out with 1 Tbs water)
1 c vanilla yogurt
Instructions:
Divide the blueberry puree into the bottom of 4 popsicle compartments. Place a popsicle stick in each, and freeze for a couple hours. Make sure to move the sticks into the center once they've been frozen for about an hour.
After two or more hours, the blueberry should be frozen, and you can now add a layer of the yogurt. Freeze for at least a couple more hours.
Then pour a layer of the strawberry puree, freezing for an addition couple hours.
Repeat by alternating with yogurt and strawberry until you have reached the top.
To serve, place popsicle mold into a bowl of warm/hot water (not letting water reach the top) until the popsicles will loosen out of their compartments.
Notes:
*Want the water to help fruit puree and also so they pour more easily into the popsicle molds.
Recipe from GettinMyHealthyOn.com
Enjoy! And I hope you all have an amazing holiday weekend!