I'm really excited to share this recipe with you guys today.
It's a recipe from my aunt that I wanted to share before Thanksgiving, so anyone searching for an amazing dessert recipe could try it out.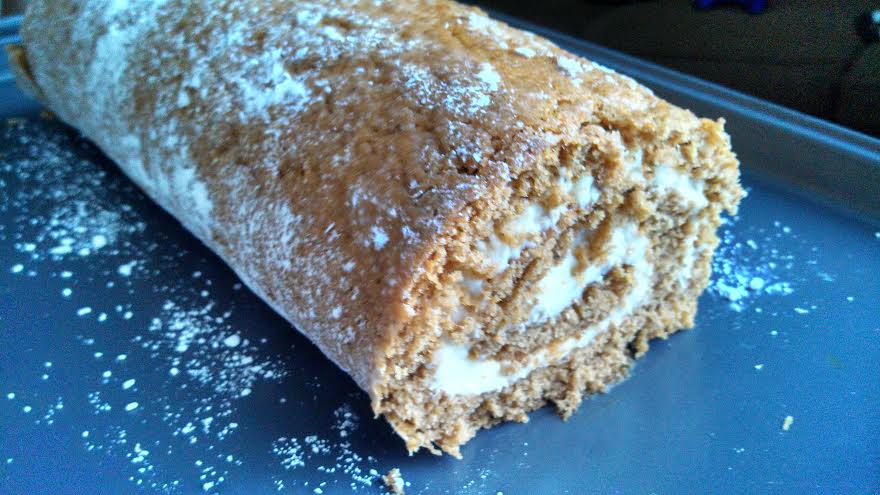 The Pumpkin Cream Cheese Roll is one of my all-time favorite holiday treats. The combo of cream cheese and pumpkin is a match made in heaven. I only let myself make it around the holidays, though, because it's a bit heavy on the sugar, but it's one of those indulgences you just have to give in to at this time of the year.
Not going to lie, I decided to bring most of it to work yesterday because I didn't want it staring at me all week. A few pieces for us is enough, I figured. I have other sugary plans for Thanksgiving anyways. My love for baking is dangerous, especially at this time of year.
Without further ado…
Pumpkin Cream Cheese Roll
Pumpkin Cream Cheese Roll is one of my favorite fall desserts. It's full of flavor and is sure to satisfy your sweet tooth.
Ingredients:
Cake:

3 eggs
1 c sugar
2/3 c pumpkin
1 tsp lemon juice
3/4 c flour
1 tsp baking powder
2 tsp cinnamon
1 tsp ginger (optional)
1/2 tsp nutmeg

Filling:

1/4 c butter, softened
6 oz cream cheese, softened
1/2 tsp vanilla
1 c powdered sugar
1 c chopped nuts (optional)
Instructions:
Beat eggs on high for 5 minutes. Gradually beat in granulated sugar.
Stir in pumpkin and lemon juice.
In a small bowl, stir together the flour, baking powder, and spices. Fold into pumpkin mixture.
Spread batter into greased 15x10x1 pan. Sprinkle with nuts.
Bake at 375 degrees for 15 minutes.
Invert cake onto a towel sprinkled with powdered sugar. Roll up cake starting on short end. Cool completely.
Beat powered sugar, cream cheese, butter, and vanilla on medium speed. Unroll cooled cake and spread cream cheese mixture evenly across the top. Roll back up and chill until ready to serve.
Recipe from GettinMyHealthyOn.com
What's your favorite holiday dessert?
What food do you look forward to the most every Thanksgiving? I'm usually all about the stuffing, which is funny because it's one of the few things I'm not making this year.