A protein-packed spin on traditional banana bread, this recipe uses protein powder, egg whites, and Greek yogurt for a nutritious snack sure to satiate your hunger!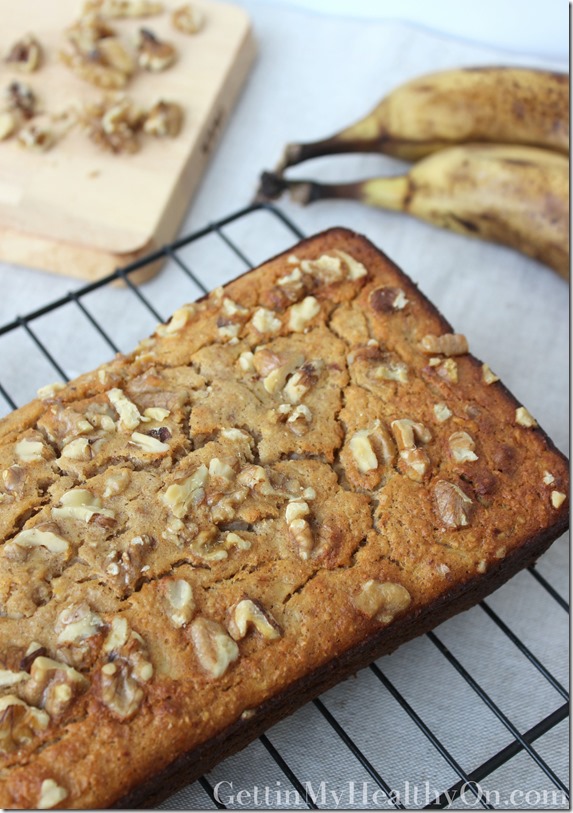 I've never met a banana bread I didn't like. Recipes that include other fruit? Good. Chocolate chips? Duh, amazing. Basic ol' banana bread? Delicious. Despite the many variations out there, I pretty much always just make my Greek Yogurt Banana Bread because it's one of my tried and true recipes.
In an effort to mix things up a bit—and make it even healthier—I wanted to use up some of the ripe bananas lying around (getting browner by the second) by trying something new: a bread loaded with protein for an especially nutritious weekday snack.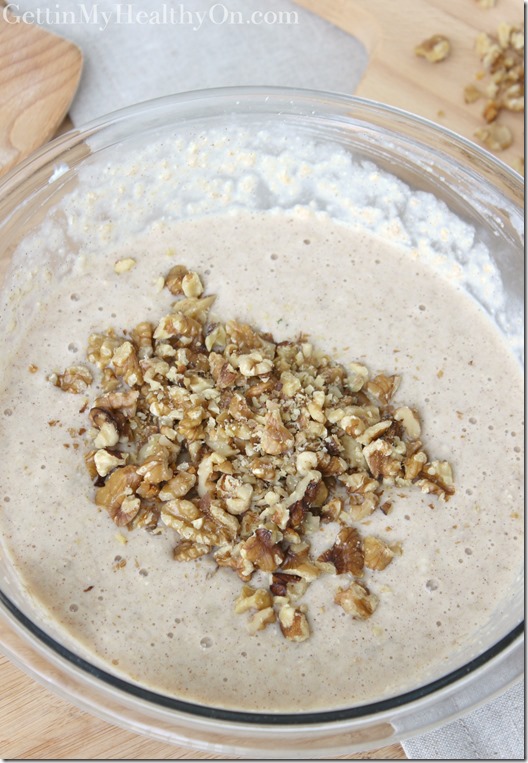 I had to play around with this one a few times to get the consistency just right (baking with a lot of Greek yogurt can be tricky), but after making it again yesterday, I've got it down!
This recipe is kind of crazy because it doesn't use any butter, oil, or even flour. Instead of butter/oil, the recipe uses Greek yogurt and unsweetened applesauce. Instead of regular flour, it uses finely ground oats (aka oat flour).
Depending on the yogurt you use (I used the generic Lucerne brand from Safeway), how large your bananas are, and how fine your oat flour is ground, the baking time for this may vary juuuuust a tad from how mine was. That's why I'd recommend starting off with baking yours for about 25-30 minutes and testing it by inserting a toothpick to see if it comes out clean. If not, stick it back in for a few minutes at a time. I had to bake mine for about 35 minutes to get the toothpick to come out completely clean (otherwise, the center's still a bit moist, which I don't mind, but I know it's not everyone's preference).
Eating this as a mid-morning snick throughout the workweek is great because I know it's such a healthy snack. The walnuts mixed in and sprinkled on top not only make this prettier, but it also provides such a great nutty flavor.
Ingredients:
1 cup oat flour
3/4 cup vanilla protein powder
1 tsp cinnamon
1 tsp baking soda
1/4 tsp salt
2 ripe bananas
3/4 cup plain Greek yogurt
2 large egg whites
1/4 cup unsweetened applesauce
1/3 cup granulated sugar
1 cup chopped walnuts, divided
Instructions:
In a medium-sized bowl, whisk together oat flour, protein powder, cinnamon, baking soda, and salt. Set aside.
In a large bowl, mash bananas, then mix in yogurt, eggs, applesauce, and sugar.
Pour dry ingredients into wet mixture, stirring until just incorporated.
Fold in most of the walnuts. Then pour into a greased bread pan. Sprinkle the remainder of the walnuts over the top.
Bake at 375 degrees for 30-40 minutes, or until a toothpick inserted into the center comes out clean.
Let cool for 10 minutes. Enjoy!
Recipe from GettinMyHealthyOn.com
What's your favorite kind of banana bread?