In Wednesday's post, I mentioned how the people at Pretzel Crisps sent me an awesome snack pack of seven different pretzel varieties in a reusable tote bag with a drink koozie. If you've never had Pretzel Crisps before, this needs to change. They're basically pretzels but in more of a chip or cracker form. They're thin, baked pieces of enjoyment. What I love is that they have that satisfying crunch of chips but without the trans and saturated fats.
Basically, they're a healthier alternative to the snacks a lot of us tend to pick up (anyone else overwhelmed with treats from the holidays?) and with only 110 calories per serving. The main problems I see are 1. I don't like to share them and 2. It's hard to stop eating them. Since the Pretzel Crisps people are cool and I like you, we will be sharing one snack pack, just like the one I got, with one lucky Gettin' My Healthy On reader.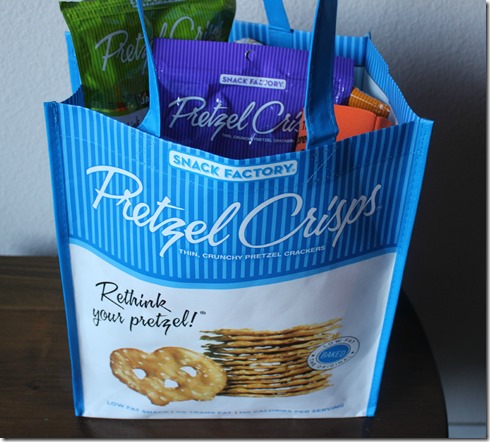 How to know if you should enter the giveaway:
1. You like pretzels
2. You eat snacks
3. You want to be healthier
4. You are reading this right now
5. Because I said so
If any or all of those apply to you, enter below!!