Make this mixed greens salad filled with fall flavors, including pears, bacon, pecans, pomegranate, and goat cheese—all tied together with a homemade maple balsamic vinaigrette.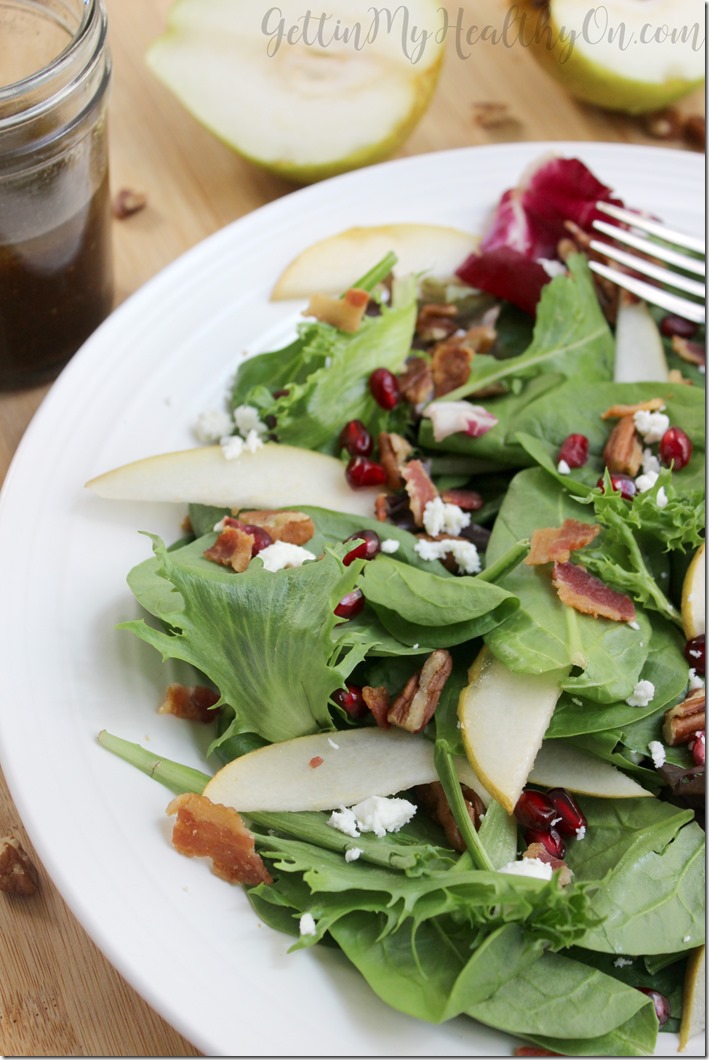 Happy week of Thanksgiving!!! I'm more than ready for this holiday season, and what better way to jump right in than with a week of food, people, and giving thanks?
I participated in my first Friendsgiving yesterday, which was so nice since I don't have any family out here in San Diego and can't make it home for the actual holiday on Thursday. I was entirely way too stuffed from all the food, but it was definitely worth it.
Since it was a potluck-style gathering, we all volunteered to bring various dishes. I brought my Cranberry Pistachio Goat Cheese Log for a simple yet to-die-for appetizer as well as today's out-of-this-world salad recipe that I dreamed up yesterday morning.
I was trying to think of some fall flavors to combine into a salad of mixed greens, and I ended up with pears, pomegranates, pecans, bacon, and goat cheese. Oh, and the best salad dressing I have ever made in my entire life—Maple Balsamic Vinaigrette.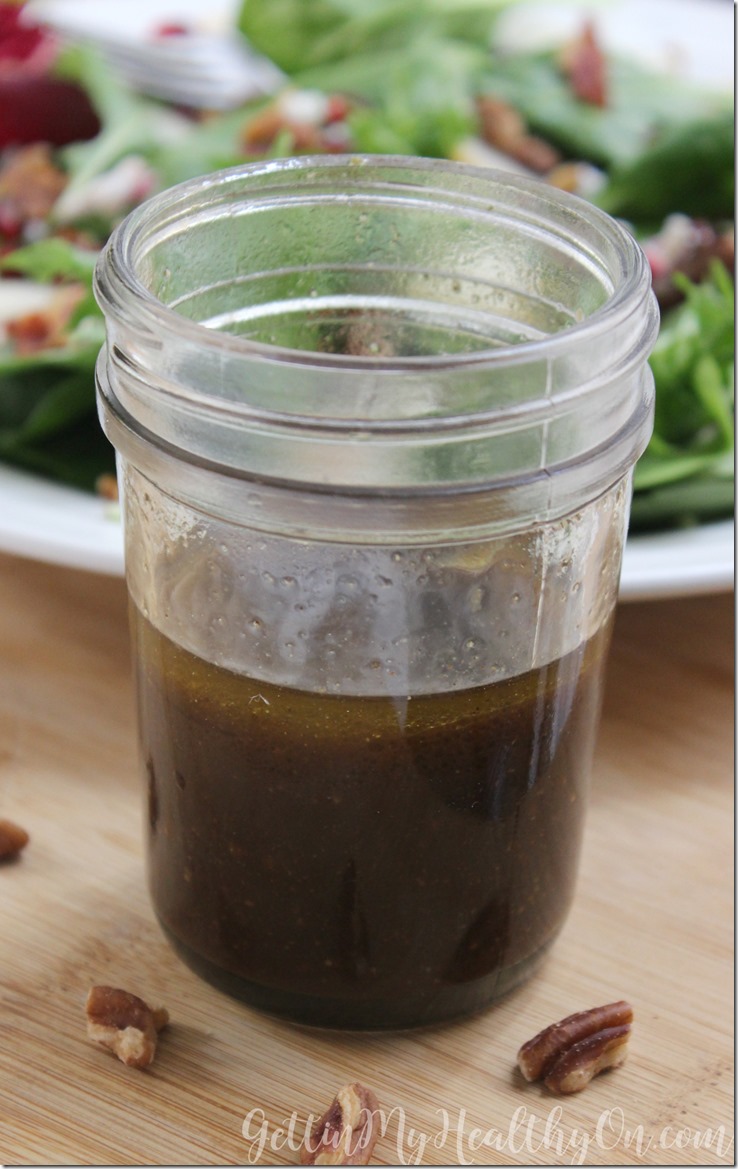 I used a couple different recipes to concoct my own, but it wasn't quite right until I added one specific ingredient: balsamic vinegar. Even just a little bit completely transformed this maple-flavored vinaigrette. I'm still so shocked at the depth of the flavors in this dressing. I straight-up wanted to drink it by the spoon-full, but then decided that's disgusting and I should put some greens under it.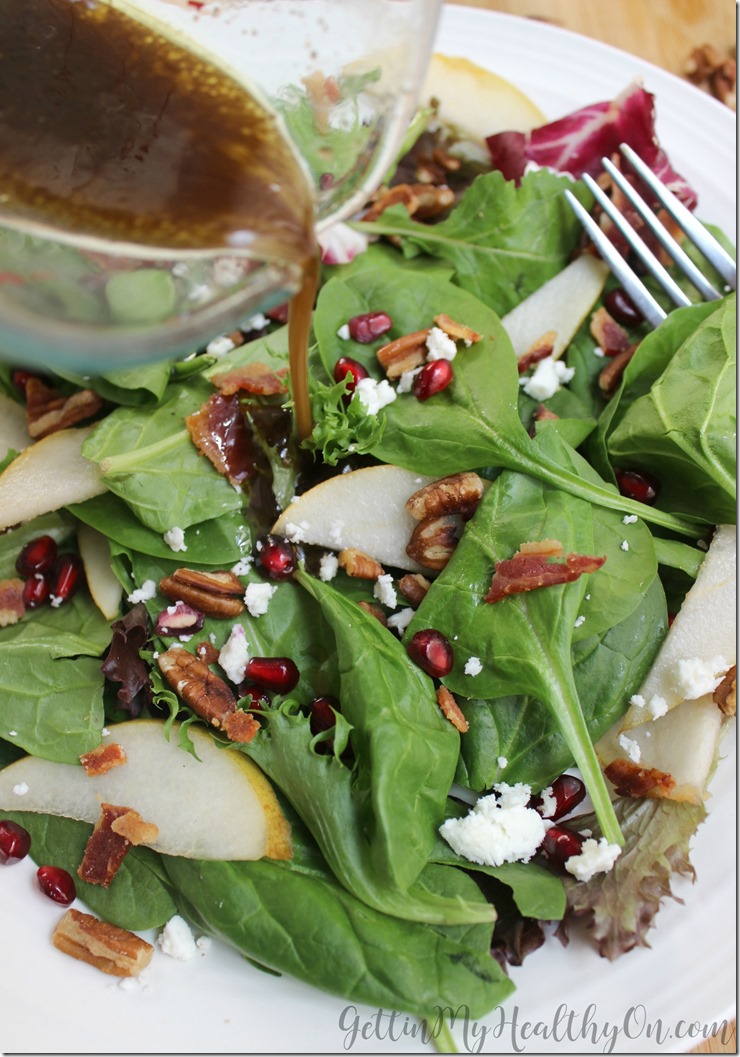 This turned out better than I could have imagined. I originally was planning to put dried cranberries in this, but due a friend at the party having a severe peanut allergy, and pretty much all dried cranberries I could find being packaged in a place with nuts, I opted for the fresh, juice-packed, vibrant-colored pomegranate. It was definitely a good life decision. (I left the pecans out for people to add themselves.)
Although I think every component of this salad was absolute perfection exactly as is, you could definitely make a bunch of different substitutions in this based on your preference. I'm talking apples in place of pears, dried cranberries instead of pomegranates, feta or blue cheese instead of goat, and whatever leafy greens make your taste buds happy. To make it exactly as I did, check out the recipe below.
Pear, Bacon, and Goat Cheese Salad with Maple Balsamic Vinaigrette
Ingredients:
Dressing:

1/4 cup olive oil
2 Tbs balsamic vinegar
2 Tbs pure maple syrup
2 Tbs apple cider vinegar
1 Tbs Dijon mustard
Salt and pepper to taste

Salad:

10 oz. mixed greens
1 pear, thinly sliced
4-6 strips bacon, cooked and crumbled
3/4 cup pecans
Seeds from 1 pomegranate
4 oz. crumbled goat cheese
Instructions:
Dressing:

Add all ingredients to a jar; add lid and shake before serving with salad.

Salad:

Pour greens into a large bowl. Add all toppings.
Toss to combine before serving.
Recipe from GettinMyHealthyOn.com
(Just a heads up, if you're planning to make this ahead of time, you'll want to cut up the pear as last minute as possible. Based on my personal experience, the slices don't hold up very well.)
Do you have a go-to dish you bring to Thanksgiving gatherings?
What's your favorite dish at Thanksgiving? I am ALL about the mashed potatoes….no, stuffing….no, green beans. I don't know. I need all the things.